The artspace exhibition of this northwest
Louisiana artist will color your world.
Color infuses all aspects of our lives. Just as music does, colors can evoke emotions and take people on a journey. Each color has a different personality or a unique story to tell, depending on who is doing the looking. Color combinations also create different associations—a place, a time period, or a memory. Brilliant, powerful, emotive color is the driving force behind the Shreveport Regional Arts Council's first artspace exhibition of 2023, Ellen Soffer: Pink Sky, curated by Kelly McDade, Bossier Parish Community College Professor of Art & Humanities.
It is an exhibition of more than 60 new paintings created in the past four years (2019-2022), including works of gouache and watercolor on paper, as well as large scale oil paintings on canvas that feature vibrant color, organic shapes, and dynamic patterns. The exhibition will remain at artspace until April 8, 2023.
Northwest Louisiana artist Soffer is well known for her bright, evocative greens, yellows, reds, blues, oranges, and pinks—
colors that compel you to pause, respond, to feel something. The titles of many of her pieces are also an homage to her passion for color: "Pink Shell, Blue Fish," "Green Alphabet," and "Blue Bird." There is a unique intensity of color and awareness of form throughout her newest works on exhibit in artspace.
Soffer says she creates intuitively, not always knowing how a piece will come together, but certain that color and its intensity will be the driving forces. "My intention is to capture the impressions and sensations left behind from dreams, emotions, or memories, without being limited to the specific details of the events, leaving room for viewer participation and interpretation," says Soffer.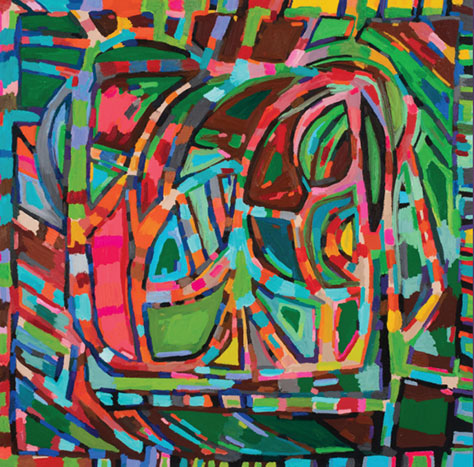 Pink Slice, Oil and Flashe on Canvas, 48 x 48 inches, © 2022 Ellen Soffer
Kelly McDade, curator for Pink Sky, says that Soffer's paintings ask the viewer to pause, absorb, think, and ultimately make something meaningful of the works for themselves. McDade's goal with this exhibition is to celebrate and recognize the work of Soffer, who she believes is one of the most prolific, meticulous, and focused artists she knows. "To become absorbed in Ellen's imagery is a thrilling and moving experience. She communicates with such bold brushwork and intense color," says McDade.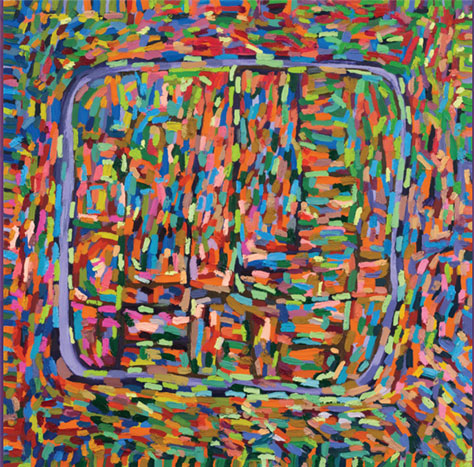 Purple Side, Oil and Flashe on Canvas, 48 x 48 inches, © 2022 Ellen Soffer
McDade goes on to describe Soffer's work as intuitive, while also being very analytical. "When I look at her paintings, while they have a sense of spontaneity and freedom within them, I can tell that nothing is haphazard— very brush stroke and color combination is strategic. I see her work as an invitation for critical thinking and individual emotion," says McDade.
Soffer creates on canvas and paper using mainly oils, but also gouache, acrylic, and watercolor. She has had solo exhibitions in Pennsylvania, Louisiana, Texas, and Georgia and has been featured in group exhibitions including Mary Tomás Gallery in Dallas and the Longview Museum of Fine Arts, among many other venues. She is a recipient of the Shreveport Regional Arts Council's Visual Arts Fellowship and has been awarded residencies from the Ragsdale Foundation and Skowhegan. Soffer earned her MFA from the School of the Art Institute of Chicago and her BFA from the Philadelphia College of Art.
Robert L. Pincus, who has been an art critic, author, book critic, and art historian for more than four decades and was the staff art critic of The San Diego Union Tribune for 25 years has contributed an essay to a full color catalog available in conjunction with Soffer's exhibition. Pincus says, "I have admired Ellen Soffer's paintings for a decade now, so it was a real pleasure and a lovely challenge to write an essay on her recent work. The paintings in this exhibition and catalog are teeming with exuberant color, formal ingenuity, and subtle symbolism."
When asked what she hopes to convey to those seeing the Pink Sky artspace exhibition, Soffer says, "I am happy to share a large body of my work together. I invite viewers to engage with and to interpret my paintings in their own way."