WHY

ADVERTISING IN SB IS THE BETTER CHOICE
Quality Distribution
We don't put our publication in racks to be rained on or taken to be used as liners for a
birdcage or puppy crate.
We distribute to more places of business – not just retail business but to Hospitals,
Doctors' Offices, all the hotels including Casinos, Grocery Stores, Gas Stations, Law
Offices, Salons, Dental Offices, Car Dealerships – any place that offers waiting patrons
the opportunity for something to read. We replenish these locations regularly because
readers are taking the magazine home to enjoy. We welcome this.
Quality Readership
The average annual income of our readers is over $100,000. Our reader has the disposable
income to spend on what you are advertising.
Quality Content
More of our readers are at a higher education level. With an appreciation for our editorial
content that includes business news, community events and stories that are of
interest to our diverse population, our readers are loyal and responsive.
Our monthly columns are not only engaging but are relevant to our readers' daily lives.
The better choice is SB Magazine 
Longer shelf life, an extensive pass-along readership and much better quality.
If you would like to have your place of business added to our distribution list, contact us at 318-221-7264.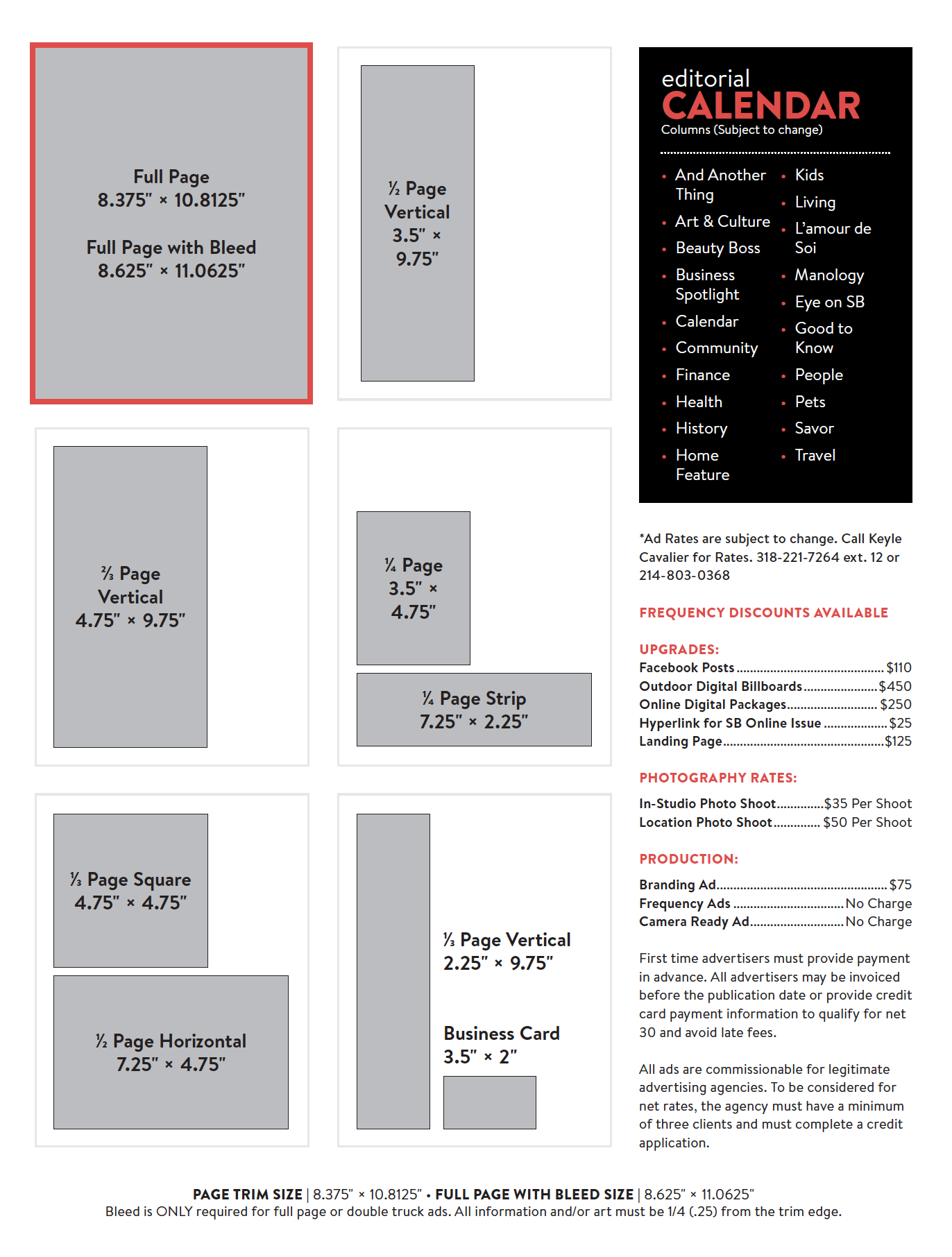 NEED TO ADVERTISE YOUR BRAND ON-LINE
Growing your brands exposure is our #1 goal. Paired with your SB Magazine advertisment, Our Partner May Marketing Group can elivate your businesses overalL branding through Photography, Video production, Social Media Managment and advertising, Google advertising, and Website design and SEO!
Contact your Sales Executive for more details about our

full service marketing services!