A woman recently posted on the Shreveport DDA (Downtown Development Authority) Facebook page that she 'loved downtown.' I was happy to be able to tell her that there is going to be even more to love in 2023.
The thing about downtown is that many of its treasures do a pretty good job of staying hidden. Building facades block the views of what is inside, signs are often discreet or nonexistent, and unless you're aggressive about reading the DDA weekly e-newsletter or checking social media and other marketing, business openings and activities may escape you. That's why we love the opportunity to pull back the curtain on all that is happening. 
For many years, the southeastern corner of Crockett at Marshall Street across from the public bus terminal was a sad-looking place; its two historic buildings home to a payday loan store and a quick mart. The buildings had been painted in unattractive colors and were easy to overlook. No more! New property owner and project architect Jason Cram is leading the charge on a complete transformation. The second floor of the two-story will be some of the most alluring apartments seen downtown to date. Downstairs will be clean and bright commercial space. The former one-story quick mart will be reopening in 2023 as the historic Glass Hat Restaurant offering breakfast and lunch options. The eatery's private room for meetings and parties will prove a popular amenity that is not offered by most downtown restaurants.
Across the street, the one-time SporTran bus terminal at 400 Crockett Street has been rebranded as Shreve Station, and the three new business owners- Jackie Brock, Robbie Buhl, and Blake Weittenhiller- are hard at work on exciting 2023 plans. The giant Kevlar tent that protects customers from the elements is the perfect spot for live music and outdoor events of all types, and Brock and company have hit the ground running with concerts, holiday festivals and other events.
Construction is underway at the Expo Hall along the Clyde Fant Parkway across from Sam's Town. The city-owned building is being transformed into an indoor sports venue; a large space that will be able to host youth and adult sporting events ranging from volleyball and soccer to pickleball and badminton. These types of indoor sports complexes have become popular around the country and attract locals and visitors alike. Once open in 2023, this will be the only such facility within about 200 miles of Shreveport, another benefit.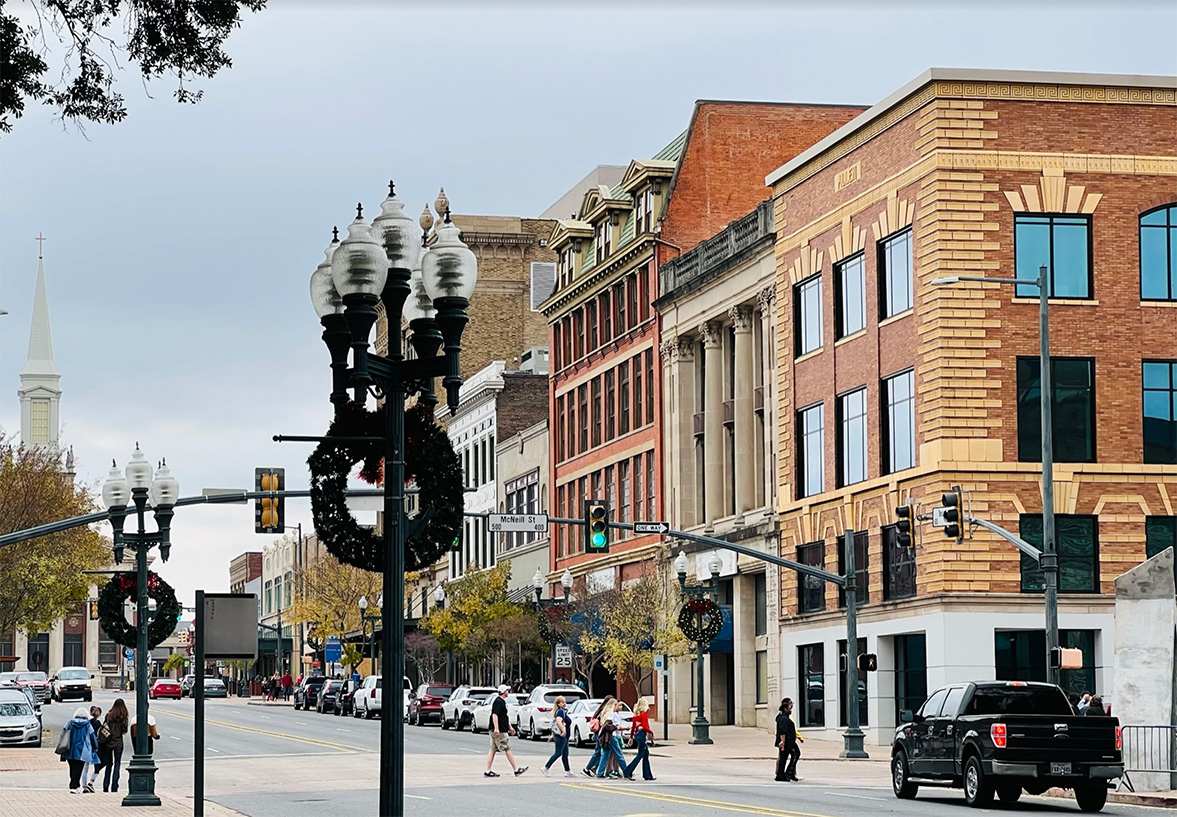 For those who love the great outdoors, the futuristic new performance pavilion at Caddo Common Park in the 800 block of Texas Avenue will kick off 2023 as a hub of music, theater, and other activity. The Shreveport Regional Arts Council (SRAC) will be programming 30 weeks in 2023, and on 'off' weekends, the pavilion will be available for others to use. The beautiful green space will be alive with yoga, outdoor art events, fitness walks, and more, and almost everything programmed there will be free to attend.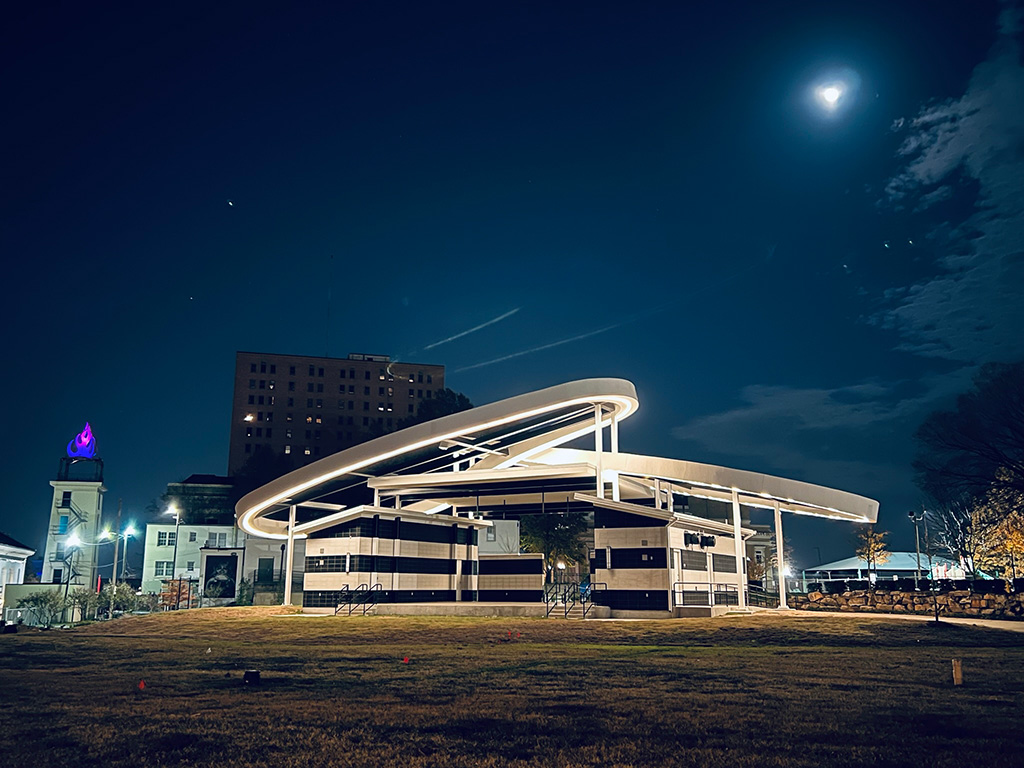 Nearby at 711 Milam Street, the iconic Uneeda Biscuit Building is racing toward an April 2023 opening.  We came very close to losing the beautiful five story building due to lack of maintenance several years ago, but it was painstakingly stabilized and rehabbed to become home to 32 spacious apartments geared toward artists and other creative types. When you drive by, you will see that the Uneeda Biscuit signage now pops with new color and window openings have been knocked through the west wall.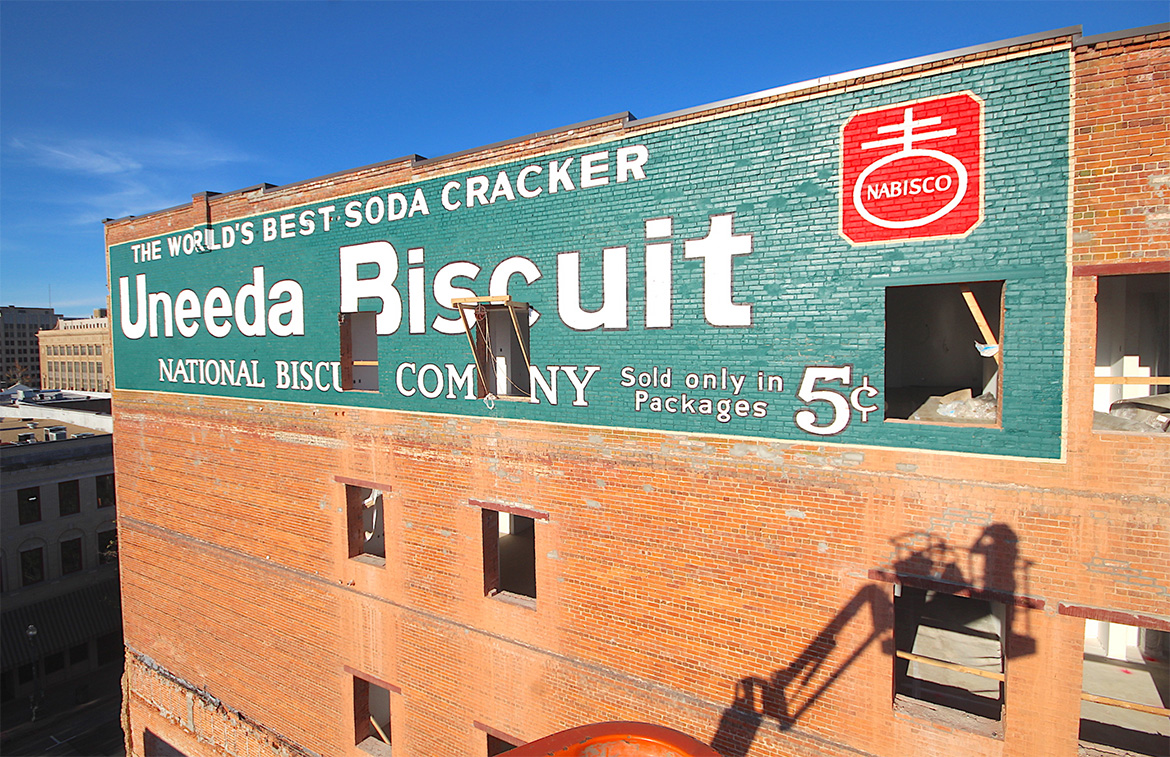 Two buildings to the west of Uneeda is the former Creswell Hotel. Recently purchased by a hard-working couple with a love of downtown and old spaces, it is currently being cleaned out of years of trash and debris. Plans for the 31,000SF space are not locked in, but expect multi use with traditional or extended stay apartments and some office/retail spaces. Construction will continue in 2023.
On the north side of downtown, the Shreveport Hilton Hotel is getting a full new exterior look with waterproofing, paint and a new, updated entrance. Inside, the lobby and public areas are seeing full upgrades, as is the pool deck and fitness room. The region's premier business class hotel is making the investments to retain their top business billing, and all should be ready for the 'big reveal' in April.
Cooper's Corner, named after the owner of the giant mule yard at the same site, has been a hotbed of construction activity. The building at 700 Texas Street most recently housed small practice spaces for musicians but has been rehabbed into eye-catching offices with perhaps a bit of retail space, too. Cooper's Corner will open in 2023.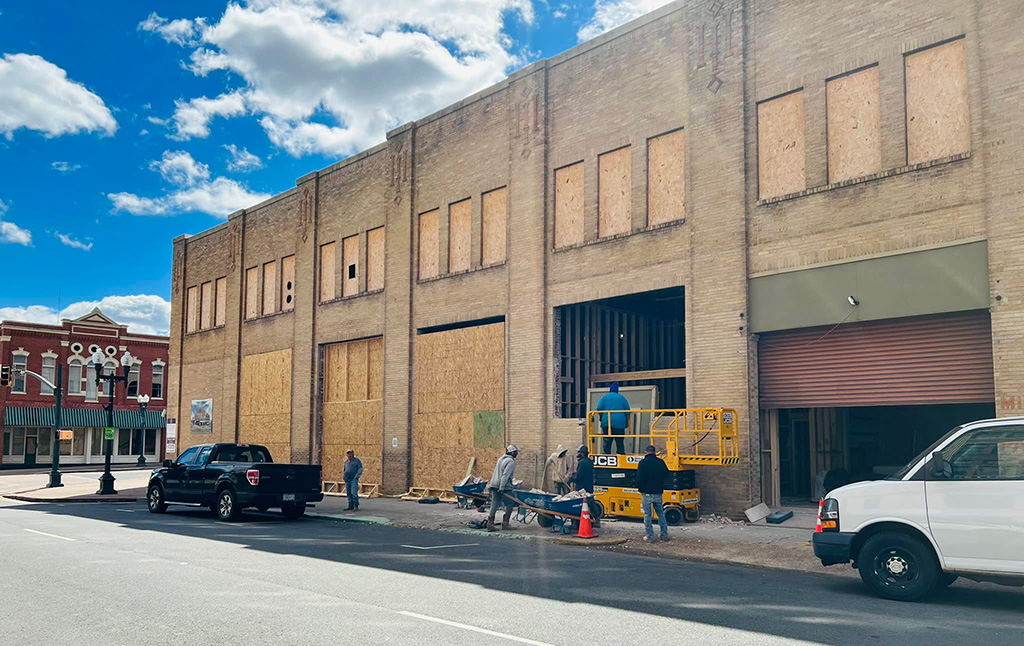 The uber popular Dripp Donuts will be throwing open the doors to their first brick-and-mortar on a high-profile corner downtown. Their new home is the former 421 Market, the former Dee's Photo building at the corner of Texas St. and Market. The 120+ year old building, owned by the Downtown Shreveport Development Corporation, has been under construction for the past two years for roofing, stabilization and waterproofing. Dripp will bring color, activity and tasty treats to a space that has seen little of any of that for a number of years.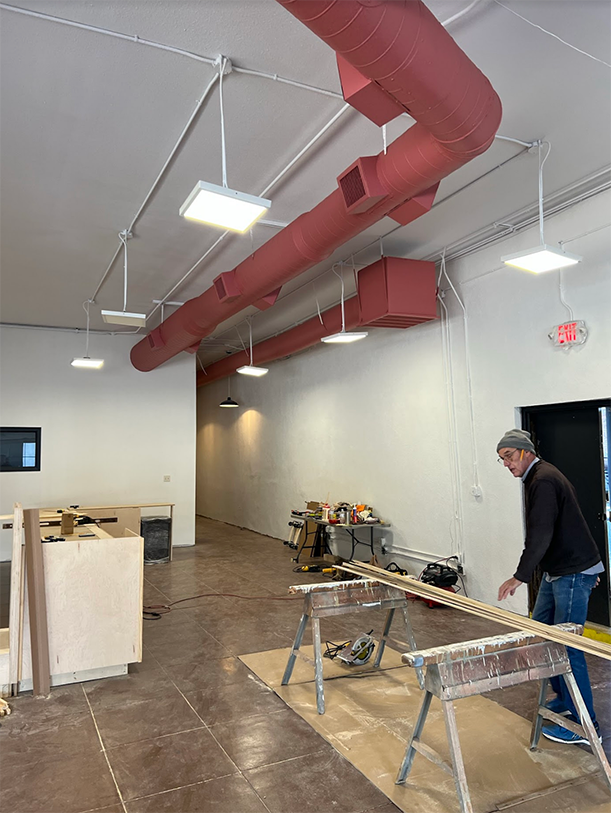 Other projects that are planning on 2023 openings include new office spaces at a former historic parking garage at 408 Cotton Street, apartments and retail space at a former printing shop at 719 Marshall Street, retail/restaurant space at 620 Texas Street, an office/Airbnb space at 709 Texas Street, a new boutique in the 500 block of Spring Street, and 120 apartments and commercial space at 961 Caddo Street. We are also hopeful that construction on two large residential projects, at 425 Edwards Street (Petroleum Tower) and 525 Milam Street (former Centerpoint), will get underway this year. 
Meanwhile, new art murals are popping up throughout downtown, the new Noble Savage, reconstituted in 2022, is winning over former fans and new ones alike, Sci-Port's IMAX has been upgraded to a more immersive experience and the Shreveport Aquarium continues to draw large and appreciative crowds. 
The one-two punch of the initial steep downturn in natural gas drilling and Covid and its aftermath have not been kind to downtown and many of its properties, but there is reason to be optimistic about its future. We're extremely excited about all that is to come and hope you'll share in the excitement, too.
Liz Swaine is the Executive Director of the Downtown Development Authority. Photos courtesy of the DDA.