Let me start by saying, THANK YOU to all of our clients! Every listing client trusted our process and believed in our strategy to get their home SOLD! Every buyer trusted our experience and determination to get their DREAM HOME purchased! We are so grateful and humbled and have loved the opportunity to serve each of you. The agents you see in this picture are some of the most caring, considerate, generous people I have ever known. They are communityfocused by serving Northwest Louisiana in different roles at our schools, churches, and hospitals. Each one of them is qualified, determined, and well-versed as a real estate professional.
Alissa Reed is our detail-oriented transaction coordinator and is the core of LBT. She keeps meticulous records of our offers, contracts, counters, addendums, every invoice, and for goodness sake, the termite inspection! She also is an exceptional agent and enjoys the hunt for the perfect home for her clients.
alissareed.leiaburfordteam.com
Mollie Chiles is our purposeful sister. Her every move is decisive, detailed, and determined. She is "in the know" about all the new happenings and opportunities that come into Northwest Louisiana. An exceptional agent on every level, buying, selling, or investing.
molliechiles.leiaburfordteam.com
Justin Batterton is our authentic brother. To know Justin is to know that he is unshakeable. He is sincere, genuine, and grounded. He is always working toward a goal. He will set one, achieve it and set another! You can count on Justin to hustle for you no matter what your real estate goal may be!justinbatterton.leiaburfordteam.com
Vanessa Davis is our newest sister, who is highly sought after in the real estate industry. Vanessa is credible, helpful, reliable, and extremely thoughtful. She brings forward to all her clients a trusted understanding that they are well represented by a skilled, seasoned agent.
vanessadavis.leiaburfordteam.com
Hope Marcantel is our determined sister. She is energetic and persistent when searching for the perfect home for her buyers. She is the eyes on the market, and she knows what inventory is available at all times. She studies the market and the trends and is always looking for the next opportunity for her clients. hopemarcantel.leiaburfordteam.com
The Leia Burford Team is a family and when you choose to work with us, we welcome you in and make you a part of our family too. I also want to take a minute a say a special thank you to our wonderful brokerage. Southern Grace Home and Property Group, Lori Beeman and Melissa Anderson. Lori and Melissa have built a local brokerage that is supportive, tech-savvy, and innovative. They believe in us; they support us and they continue to be creative in making the brokerage an out-of-the-box experience not only for the agents but also for our clients. To all the lenders, title companies, agents, and contractors who have been a part of our success, THANK YOU!!! To our spouses, children, family, and friends, THANK YOU!!! Keep those referrals coming; we appreciate every single one!!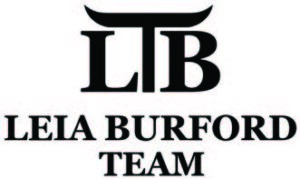 Leia Burford Team 318-218-5359
Southern Grace Home and Property Group
2911 Paradise Drive, Shreveport, LA 71105
318-723-7447 • www.leiaburfordteam.com