[vc_row][vc_column][vc_column_text]

NEUROSURGERY
JOHN REEVES, M.D.
[/vc_column_text][vc_column_text]
HOW CAN I PREVENT BACK PAIN?
Unfortunately, most of us cannot. I get it from time to time. One can often mitigateagainst back pain by doing things your doctors recommend for your health in general. Maintaining or achieving an ideal body weight is important. Biomechanical  physics say that for each 4 pounds of weight loss, you unload 16 pounds from the lower spine. Similar calculations have been worked out for other joints. Diet is important, as 90% of weight loss is governed by it. Many delicious foods with sugar and grains promote general inflammation…sorry, they are out. While you cannot lose weight solely by exercise, strength training is beneficial if not essential. It needs to be strenuous to build strength, so give the local physical and occupational therapists, strength trainers, and yoga instructors some business-they can help.
WHEN SHOULD I SEE A NEUROSURGEON?
That is a very broad question. If you havehad trauma and have severe disabling spine pain, you should see one promptly. If you have sudden severe spontaneous pain that causes leg or arm pain with  tingling, numbness, weakness of a set of muscles, incoordination, impairment of your capacity to walk or do your activities of daily living, you should get to an ER or your primary care doctor promptly for evaluation and a consultation to a neurosurgeon. For more chronic or indolent situations where a less intense version of these symptoms exists, you should still see a neurosurgeon. Speaking from an acknowledged bias that I share with my neuro and orthopedic spine surgery colleagues, the spine is our specialty and while we often rely on our colleagues for help, we should be involved rather early in the decision making.
WHAT IF I HAVE A BRAIN TUMOR?
That is a very frightening situation. There are bad ones and not so bad ones. These are firmly within the neurosurgery specialty and I strongly advise neurosurgery consultation if you have one. Significant progress in survival has happened over the course of my career with glioblastoma and other related tumors. Tumor of the brain linings, also known as meningioma, is usually less ominous. For some tumors, simple biopsy followed by chemotherapy and/or stereotactic radiotherapy is best. Tumors that spread to the brain from other locations are still a great challenge. Our colleagues in oncology have made great advancements.
WHAT HAS YOUR CAREER LOOKED LIKE AS A NEUROSURGEON?
After I got out of neurosurgery residency at LSU New Orleans, I practiced in Shreveport briefly before an opportunity arose in Wichita Falls, Texas, that I took. They were underserved in neurosurgery and I immediately began to practice the entire gamut of neurosurgery-tumor, neurovascular, pediatric, degenerative and tumor spine, peripheral nerve, neurotrauma, plus a fair amount of medical neurology. I shared offices with orthopedic surgeons for 20 of those years, which considerably expanded my diagnostic and surgical skills. Realizing one cannot be a master of everything, as time passed my surgical practice evolved into spine surgery, brain surgeries, trauma, and nerve. Exhausted at being a practical "lone ranger" neurosurgeon for many of those years, I accepted an offer to return home to Shreveport, where I was raised. I still enjoy seeing the wide spectrum of neurosurgery problems because they are very interesting and challenging. It has been a fun career so far!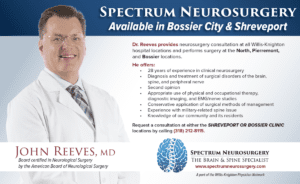 [/vc_column_text][/vc_column][/vc_row]