[vc_row][vc_column][vc_column_text]
SB SUMMER TRENDS 2022
The Beauty Boss!
[/vc_column_text][vc_column_text]
Summer Trends in fashion and beauty this season are sizzling hot! Some of the trends being spotted this season are truly new and innovative while others have carried right over from seasons past. Either way, sporting any of the trends will keep you as cool as a popsicle on a hot summer's day whether you are sunbathing poolside or at your favorite seasonal event.
Fashion
1. Brightly Colored Suits Long gone are the days of the classic business suits in the traditional neutral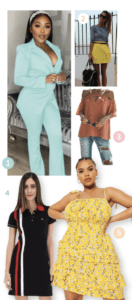 shades. This season's businesswoman is sizzling in well tailored suits featured in loud, bright, luxurious shades such as teal, lime green, and even hot pink. A simple, more understated way to embrace this vivid summer trend is to try adding in a few brightly colored pieces such as tops, shoes, or accessories, if you are not ready to go all-in on the head-to-toe look.
2. Miniskirts The mini skirt is back. Hem lines this season are rising higher than the mercury in a thermometer on a hot sunny day. If you dare to go bare and show off your beautifully bronzed legs, then go for it! If you don't want to show so much skin, try layering a cute pair of tights under your mini skirt or pair it with a sheer or loose knit duster.
3. Cut Outs & Splices. There is nothing new about fashion pieces that feature cut outs or splices. This trend has been hanging around strong for the past few seasons. This season we are seeing cut outs and splices in much more summer friendly fabrics and prints. The key thing to focus on is the placement ofthe cut out–a few inches too high or too low is the  difference between cute versus tacky!
4. Varsity Style. This trend has been hanging on since the fall. The key to pulling off this trend with some summertime flair is to be mindful of your fit, fabric, and colors. Brighter colors, light weight fabrics and flowy fits are more reminiscent of that "school's out for summer" vibe.
5. All About Yellow Many are saying that a bright sunny yellow is undoubtably the color of the season. No matter what your personal style is or what trend your look to achieve, you simply can't go wrong when you are in a sunny summer shade of yellow!
Swimwear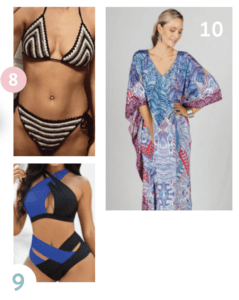 6. Funky Florals No matter what cut you prefer; bold busy exaggerated floral prints are a hot way to stand out this summer.
7. Sparkle & Shine Shining and sparkling in swimwear is a luxurious way to be on trend while standing out poolside. Sequins, rhinestones, even metallic materials are all the rage this year.
8. Knitted Fabrics Think 70's, think retro, think grandma's doily! Knitted swimwear can be done in many fabrics and can be quite comfortable while giving off fun, carefree, boho gypsy vibes.
9. Fun & Flirty Cutouts Cutouts are being displayed in many ways this season, with swimwear being one of the most prominent. Stick to the same rules as a fashion piece. It's all about the placement. Just one inch too high or too low can make all the difference!
10. Retro-Inspired Caftan The classic vintage caftan is being reimagined in many bold new ways, like swimwear coverups. This summer, if you want to look more elegant while water side, try a beautiful caftan as your swimsuit coverup.
Hair
11. The Loose Pony Instead of doing a slick, tight to the head ponytail, leave it much looser and wear it at the nape of your neck.
12. Space Buns Space buns are yet another trend carrying over from season's past. Whether at the gym, beach, running errands or just lounging poolside, this funky style works for any low key occasion. Plus, it's much more fun than a regular bun.
13. Top Knot Simply sweep your hair up and back into a knot form on the crown of your head much like a ballet bun, but just a bit more fun and messy.
Makeup
14. Bronzed Glowing Skin As an alternative to sun exposure, try some healthy for your skin options to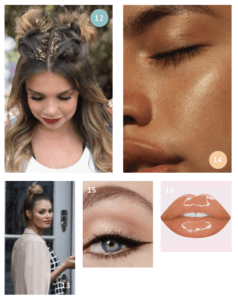 achieve bronzed glowing skin like air brushed tans, self-tanning lotions, and makeup bronzers.
15. Nude Glowing Eyes A soft, beautiful, highlighted, nude look—just softly highlight the high points of your eyes, brow bones & lids. Then sweep a rich bronze brown though the crease and along the bottom water line.
16. Luscious Lip Gloss That lacquered, dripping wet, super shiny lip gloss look is the look to go for right now. Gloss can easily be applied over your favorite everyday lipstick, too!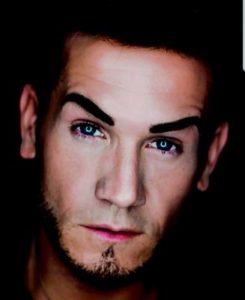 by- Jon Paule Calcote,  a MAC certified makeup artist and a four time certified licensed permanent cosmetic artist.
[/vc_column_text][/vc_column][/vc_row]