A visionary couple—probably the greatest ambassadors for living in downtown Shreveport—breathe new life into a rugged downtown building, and the results are a striking mashup of old and new with a nod toward fun.
Shreveport, LA. On a corner in downtown Shreveport nestled between three sets of railroad tracks, sits three buildings owned by a former furniture warehouse and showroom. When Liz Swaine and her husband Steve Culp first came across this trio of spaces, they weren't looking for a new project.
"We had literally just completed a cool new workshop addition for Steve at our converted grocery store/flower shop on Southern Avenue," says Liz. "We were really happy with the way the residential conversion there had worked out and intended to stay awhile. Things didn't work out that way."
In 2014 when the buildings were going on the market, Liz asked to take a tour and brought hubby Steve along. "It was not love at first sight for me," she says. "There was a lot of deferred maintenance; floors were rotten, bricks were falling out of exterior walls, one corner of the three-story building wasn't long from caving in, and everything was dark, dirty, and filled with debris."
Every floor of the building needed to be removed and replaced, none of the systems was up to code, it needed all new plumbing and electrical, gas, air conditioning and heat. "It was seventy-four thousand square feet of nasty and needy, and all I could see was the work it was going to take and the fact it was going to put us in the poorhouse. I could not see how it could work."
Steve, on the other hand, was smitten. "He kept saying, 'this place will look great, I can do this.' I responded with 'you and what army?'" Liz recalls.
But Steve persisted. "I loved the sense of space—a big, voluminous space—and the fact that it had that sense of having had a life before," says Steve. This property offered the potential for everything that we wanted in a residence—lots of space, an industrial aesthetic, and a fantastic urban setting. It just wasn't residential yet," he says.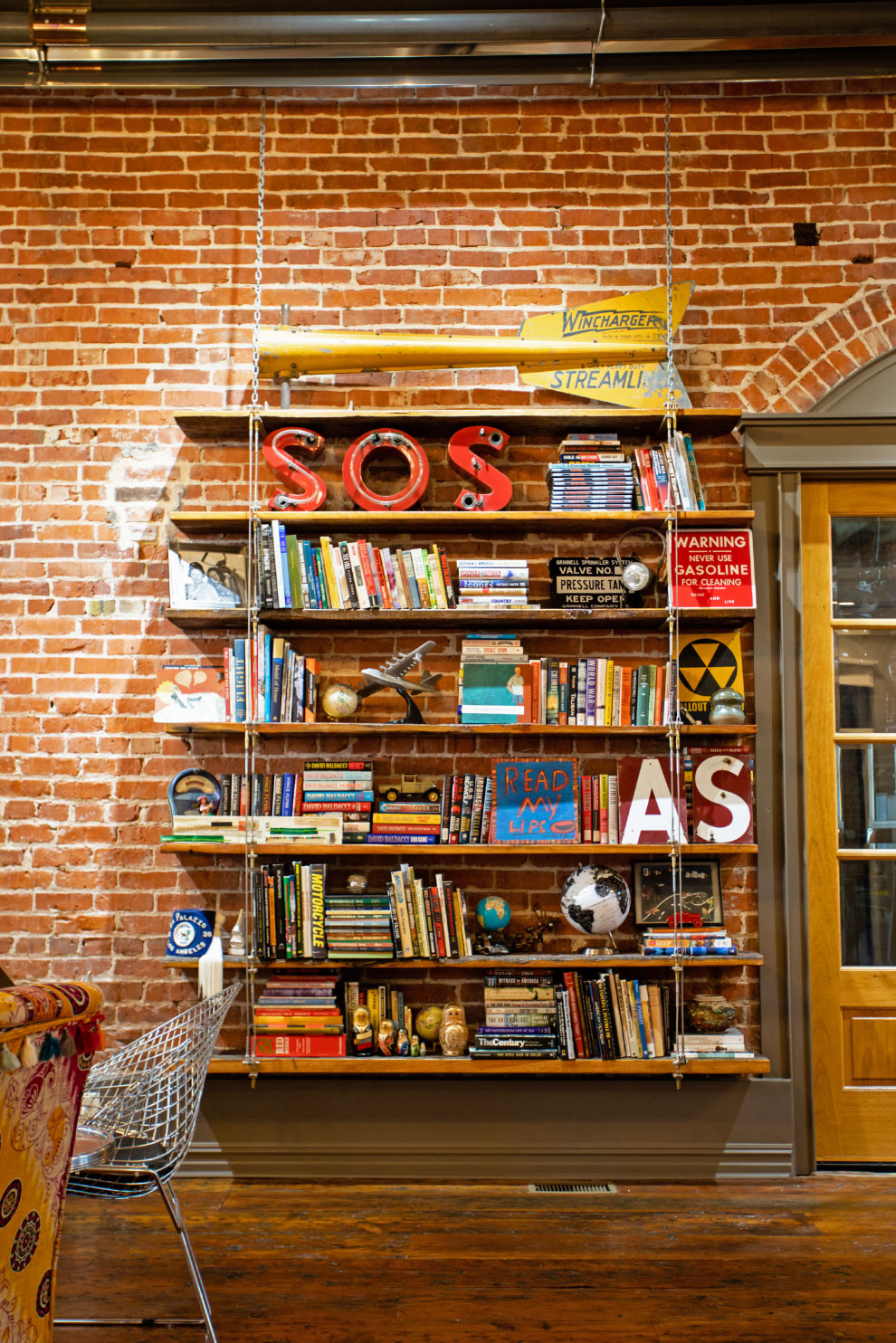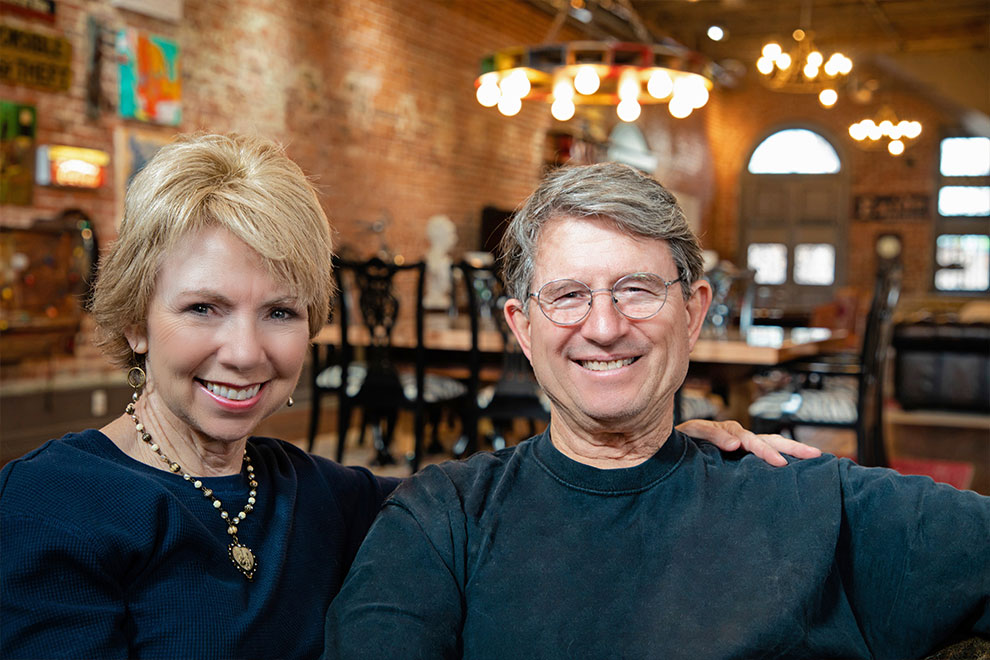 "Steve has proven time and again that he can build anything, so I didn't doubt that; it was just the scope of the thing," says Liz. "But he promised he could make it happen and I believed him. You can see he's a man of his word," admits Liz.
The couple has spent long evenings at the LSUS Archives and Special Collections, dug through old City Directories and Sanborn Fire Insurance maps and can tell you the history of their buildings, the businesses that came before, the neighborhood and railroad activity nearby. One of the buildings was an icehouse, one was a hotel. There was a period when the block was called 'Supplier's Row' and offered a variety of oil field supply services. During this period, one of the buildings was the Hughes Tool Co. There was a bar and several different furniture stores, including Awalt, Arnolds, Inc., Frank Lyons Company, and Interstate Wholesale Furniture.
To date, Liz and Steve have fully renovated about 10,000 square feet. Amid the trash, rotten wood, and leaking roof, they found potential—arched doors, brick walls, old growth timber beams, and tall windows topped by half rounds. "The oldest building of the three was built around 1895 and for most of its history operated as a hotel and bar. Liz and Steve sold that space to another like-minded couple intent on finding a space downtown to renovate and live in. The other two buildings seem to have been built in around 1902 (the three story) and 1906 (the middle two-story).
Liz doesn't think old buildings have to be stodgy and has worked hard to fill the place with surprises. In their living space, an old elevator has been converted into a spacious pantry complete with fire doors rescued from the former Sears building on Texas Street. Historic porcelain signs share walls with modern abstract art, and the lighting fixtures used in the showroom have been updated and reused. Steve built a hanging library shelving unit with wood from the building and airplane flying wire and turnbuckles. He used new galvanized tin ductwork but aged it with muriatic acid to give it a warm patina.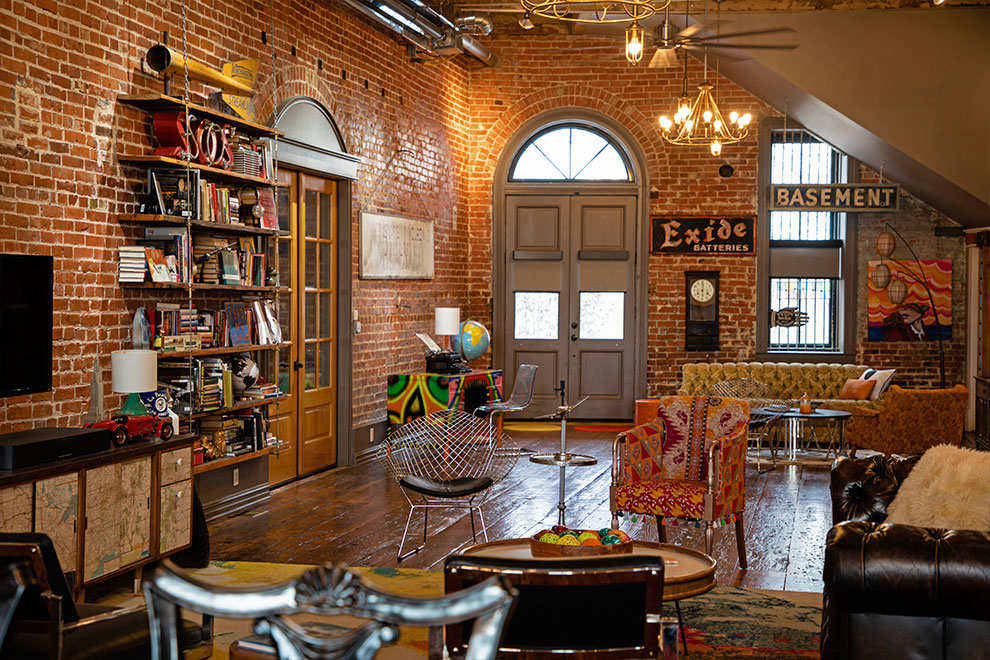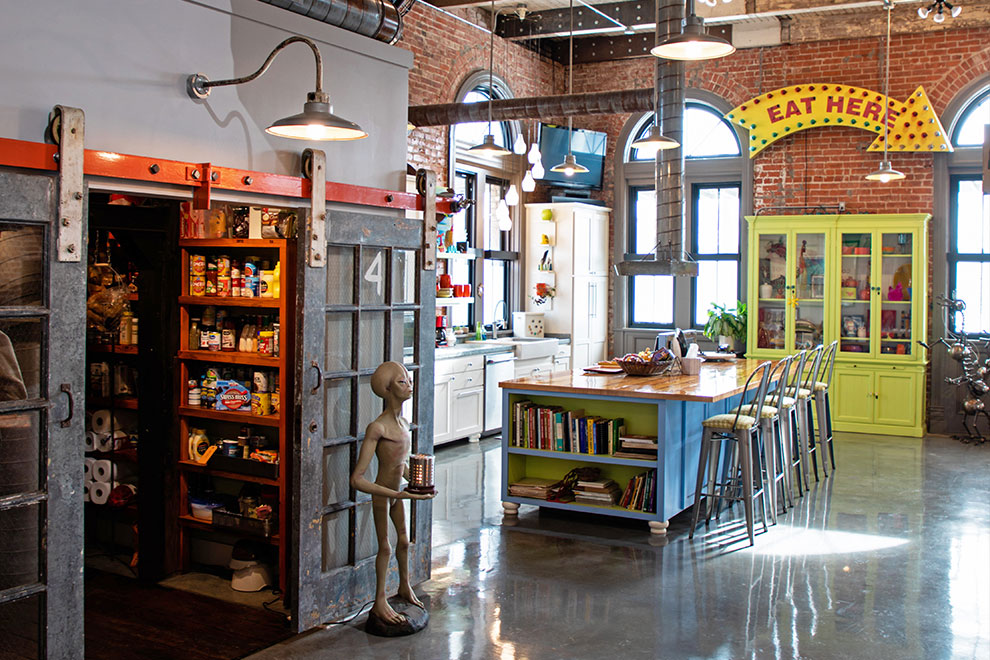 With their residence complete, the two have turned their attention to the middle two-story building, where work has already started. Eventually, it will see new life as artist, commercial and retail space. They are also thinking about ways to incorporate more of the area's railroad history into the building.
The only thing that might compete with the love of their comfortable and funky abode is Liz's unabashed enthusiasm for the revitalization of downtown Shreveport. After all, she is the Executive Director of the Shreveport Downtown Development Authority, where day-after-day she preaches the benefits of downtown living, working, and playing. Liz says she hopes the knowledge she has gained from working on these buildings will help other building owners and developers do the same.
"I think that Steve and I are showing people that every historic building, even the ones that are down on their luck, has another life left in them," she said. "Done correctly, these buildings can become part of the revitalization of downtown for years to come. These buildings tell a story. They are part of our history, and they deserve a chance."
When the quote for the material Liz wanted came in too high, Liz and Steve decided to use spare metal fire doors for counter tops in the kitchen and master bath, and everywhere old things were given new life. Both Liz and Steve joke that you can't even see much of what much of the money was spent on. One thing Liz remembers as a head-scratching challenge was the oven vent hood. "We found a great gas stove just like I wanted at a scratch and dent sale,' Liz laughs. "I wanted it built into the island so when I cooked, I would be facing guests instead of having my back to them. So, Steve and a carpenter friend of ours built this beautiful island and cut a hole in it for the oven- we were committed at that point! I figured we could go to Home Depot and find an 8-foot-tall vent hood, or worst case, find one online. Was I WRONG!" Liz says the vent hood they needed was going to cost thousands of dollars – IF she could find it. "It was Steve to the rescue again," she says. "He made it with a historic roof vent from the Sears building and more of the aged tin ductwork. It turned out fabulous!"
"We love the practice of renovating spaces, because we get better with practice, practice, practice," says Liz. "We've definitely matured as we do these types of projects. This place gave us a chance to work on some of the ideas we've been playing with for years, but it also required us to use some restraint, to get out of the way and let the bones of the building read through."
"That's been a challenge," adds Steve. "Sometimes we want to put every good idea into a project, but here, it was a place where we wanted to be as restrained as we could, so that we did not overshadow the good elements of the building."
So, the couple practiced deliberate minimalism, embracing negative spaces where walls would have traditionally provided a transition. Open spaces can be tough, they admit, because everything has to work together.