[vc_row][vc_column][vc_column_text]
SB Parenting 
Keeping Kids Engaged this Summer
by- Ursula Brantley
[/vc_column_text][vc_column_text]
As summer eases in, children look forward to all the free time they can catch up on now that school bells have stopped ringing. Children and adolescents see summer vacation as a chance for more screen time, less studying, staying up late, and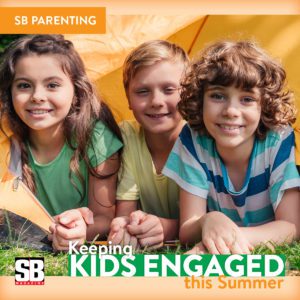 sleeping in. An article in the medical journal Frontiers in Public Health reports that sedentary behavior, or physical inactivity, increases during summer months from 1.7% to 8% for children ages six-nine. The article also states that, "Regular physical activity reduces the health risk of childhood obesity and associated chronic diseases as well as mental health problems." Though these findings were centered around children ages six to nine, children of all ages and socioeconomic backgrounds can fall victim to the summer slump.
Parents should do their best to keep their kids' idle hands and minds busy in a positive way until school bells start ringing again in the fall. The National Library of Medicine, part of the National Center for Biotechnology Information, published an article that states, "Out of school periods  affect children's physical activity as it is mainly left to the interest and motivation of their parent." Making sure children and adolescents stay active and engaged during the off-season keeps them healthy physically and mentally, ensures they don't fall behind educationally, and keeps them from finding or creating trouble.
Parents can do their part in lots of ways, such as taking their families on vacations, on field trips to museums or aquariums, enrolling kids in sports, participating in fun family time, or enrolling kids in a summer camp or class. There are all types of summer camps and classes geared towards children and adolescents' interests, such as art, STEM, outdoors, or dance. Summer activities can be very expensive, but some organizations offer fun half or whole day camps, classes, volunteer and/ or intern opportunities that peak many interests of children and adolescents at no cost or low cost to parents.
Though there are those who will participate in camps, sports, family vacations, field trips, family time, or other fun activities, there are some kids who aren't able to experience any of this. For them, summer is waiting around until the opportunities of the school year present themselves. The research services team at Miami-Dade County Public Schools in Florida reported that children deprived of healthy stimulation can lose a significant amount of the skills they learn during the school year. Researchers call it "summer learning loss." It can impact students at all grade and income levels, but its effect is strongest among low-income children.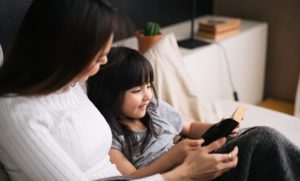 Summer learning loss can be prevented in the simplest ways possible. One big way is through reading, and many schools and libraries offer summer reading programs. Whether it's short picture books or an entire book series, the goal is just to read and enjoy.
The Shreve Memorial Library hosts a free summer reading program open to all ages. This year, the theme is Oceans of Possibilities. Registration will continue until August 15. Children up to age ten are encouraged to read at least five books, ages 11-17 are encouraged to read at least three books, and adults are encouraged to read at least two books. Participants will log their books online and receive digital badges for each book read. Those who complete the program will receive prizes like drawstring bags, books, pencils, and other assorted promotional items. Throughout the summer, there will also be live, interactive performances inspired by this year's theme at the local branches.
Another way parents can mentally stimulate their kids is by turning anything into a learning opportunity. Start a discussion about some things that your children are interested in, and then plan out a fun time to do a little Google research to find facts together. Parents can also buy or make fun learning workbooks for their kids to give them something to do on car rides or while watching TV.
If kids are going to have screen time, why not push them towards educational screen time? There are educational games, online quizzes, and short videos or documentaries.
Kids often see summer vacation as an opportunity to turn their brains off. There's nothing wrong with letting your hair down a little during the summer, but it's best to keep kids from completely checking out or breaking routines in the off-season.
 [/vc_column_text][/vc_column][/vc_row]