Hey Shreveport-Bossier! Meet LaTonya Jackson, mom to Buddy and art teacher at Herndon Magnet School who also happens to be an up-and-coming illustrator/author. Ms. Jackson recently had her work published in an amazing children's book called Josey Johnson's Hair and the Holy Spirit by Dr. Easu McCaulley. Ms. Jackson's beautiful illustrations fill the pages of this delightful book and bring it life.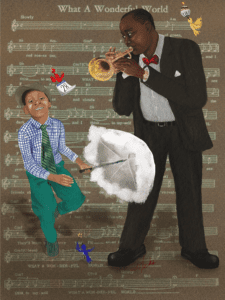 Ms. Jackson just finished her thirteenth year of teaching. She graduated from Dillard University with a B.A. in Visual Arts and from the Graduate Center of the City University of New York with an M.A. in U.S. Modern Art. Her artwork is fun, full of life, and deeply moving. Ms. Jackson's work is layered and nuanced. She captures the essence of childhood, imagination, and hope while balancing the emotions of sadness, heartache, and longing that life can bring. Her pieces encourage you to live life and go after your dreams. 
Much of her work is inspired by her son, Buddy, and his daily adventures. Recently, the two took a trip to the Louis Armstrong Park in New Orleans, Louisiana. Ms. Jackson shared on social media a drawing she did of Buddy and Louis. The piece was so full of joy and, you could almost hear the trumpet notes and Louis's one-of-a-kind voice through the drawing.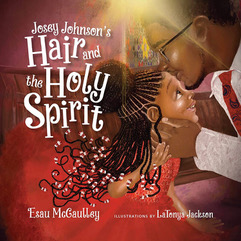 Currently, Ms. Jackson is working on illustrations for a children's story Bible and putting the finishing touches on her own book, Buddy's Missing Piece, a picture book dealing with grief over the loss of a parent.
To catch up with LaTonya and see her artwork and projects, you can follow her on Twitter and Pinterest: @artsy_mommy, Instagram: @latonyar.jacksonartstudio, Facebook: @latonyarjacksonartstudio and website www.latonyarjacksonartstudio.com. 
Josey Johnson's Hair and the Holy Spirit is available anywhere books are sold. You can find the book at our local Barnes & Noble on Youree Drive in Shreveport.
By Mindy Seekford