Bossier City, along Viking Drive, is the home of the non-profit organization Every Warrior. The group is comprised of civilians supporting active military members. Founder and President Trey McGuire says, "We want to be that family for them, that herd of support around them, so when life happens, they get the opportunity to go through it with people who really do care for them."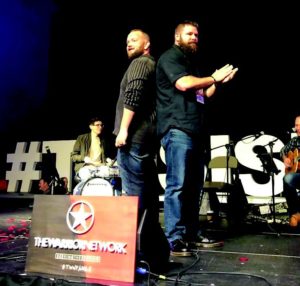 It all started with the desire to make sure that McGuire's military friends stationed at Barksdale Air Force Base had a place to go for Thanksgiving—to share the holiday with others.In 2014, McGuire organized a potluck Thanksgiving dinner for military members who did not have a place to go for the holiday and "wanted to  show them some love during that time."
The initial meal was held at the Old Reeves Marine building. Approximately 100 military members and families were fed. Afterwards, while cleaning up, a plan was hatched to incorporate a nonprofit with the mission to support, connect, equip, and mobilize the very core of every warrior. McGuire recalls, "We made a few phone calls, raised a little bit of money, got as many turkeys as we could find, and before we knew it, Thanksgiving 2014 rolled around." Thus, becoming the first Every Warrior Thanksgiving Feast.
Fast forward to today. "We have so many more things that we do for military members, explains Vice President, Eric "Buzz" Hoffman. "I emphasize the word 'do' because action is our business. Too many of the veterans servicing agencies are lacking in services. In addition to Thanksgiving meals, Every Warrior provides counseling services, financial support, a free venue space, temporary furniture program, disability support, food insecurity support, job location services, volunteer opportunities and transitioning services, and a Warrior Warehouse, which provides temporary household items for families."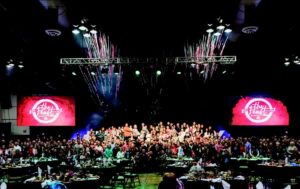 For the past two years, due to Covid, they improvised with food trucks and fireworks outdoors. But the Every Warrior Thanksgiving dinner is returning to the Shreveport Convention Center in 2022. They want to not only feed the military members and their families, but also speak some words of encouragement to them, and provide a family atmosphere for those who go without visiting families because of the high cost of transportation or the distance they would have to cover.
With summer just beginning, most people may not be thinking about fall. But planning for the dinner has already begun. "Every Warrior Thanksgiving feast is the current project that we are seeking support for," says Hoffman, a 24-year veteran of the U.S. Air Force. "The meal can be expensive, averaging around $25 per person and we feed 800 to 1000 military members and their families."
How can you help?

Every Warrior is offering an opportunity for donors to feed a family of four for $100 or to sponsor a table for $800.
To donate or find more information, visit everywarrior.org.