By Hailey Lawson
We've all heard the traditional wedding day phrase, "Something old, something new, something borrowed, and something blue," but what about something furry? Your wedding is an exhilarating day for family and friends to celebrate, and we all know that weddings can be very stressful, especially if you want to include your pet. For those pet owners who want to include their four-legged companion on their special day, here are some tips to make it a stress-free experience for all.
Add a Personal Touch: Including your pets in engagement photos and engagement announcements can make the big day that much more personal and special. However, the difficult part will be keeping your pet from stealing the limelight. Many pets are used to posing for the camera, but make sure that the indoor or outdoor setting for the photo shoot is safe for you and your pet. 
Determine Your Pet's Role: Before the big day, decide what role your pet will play. Is your pet going to play a large role in the wedding, such as best canine or best feline? Or maybe they're going to be the ring bearer or walk the bride down the aisle. Dress them to impress and make sure their attire is comfortable and fits correctly. Have their collar or leash match the colors of your wedding. Maybe a simple color-coordinated satin bow tie or dazzling tux for your furry friend will add the right touch.
Check with the Venue: Always check with the wedding venue beforehand to ensure that pets are allowed on the property. Also, don't forget to have some treats and water available, and take your pet to the venue before the ceremony to familiarize them with the surroundings. While you are there, take a minute to determine a quick exit in case they get upset, too excited during the wedding, or require an emergency potty break.
Be Prepared for the Unexpected: Tell your photographer that you want to include your pet in some of the wedding photos. This allows the photographer to plan photo ideas involving your pet and also allows them to prepare for unpredictable pet behavior. Even with well-behaved pets, there's always a chance that they'll misbehave or become stressed during the day. The day's commotion can be increasingly stressful for your pet, so make sure they can handle the excitement.
Inform Guests:
If you plan to have your pet at the wedding, it's essential to inform your guests in advance. Include this information on your save-the-date cards and invitations to allow people with allergies to plan accordingly. 
Plan Ahead: To ensure that both you and your pet can enjoy the event, consider hiring a pet sitter to take care of them during the ceremony and reception, and take them home so that way you don't worry about their comfort and safety or if they've accidentally ruined your cake. It's great fun to have your beloved pet around on this special day, but you don't want to worry about them the whole time.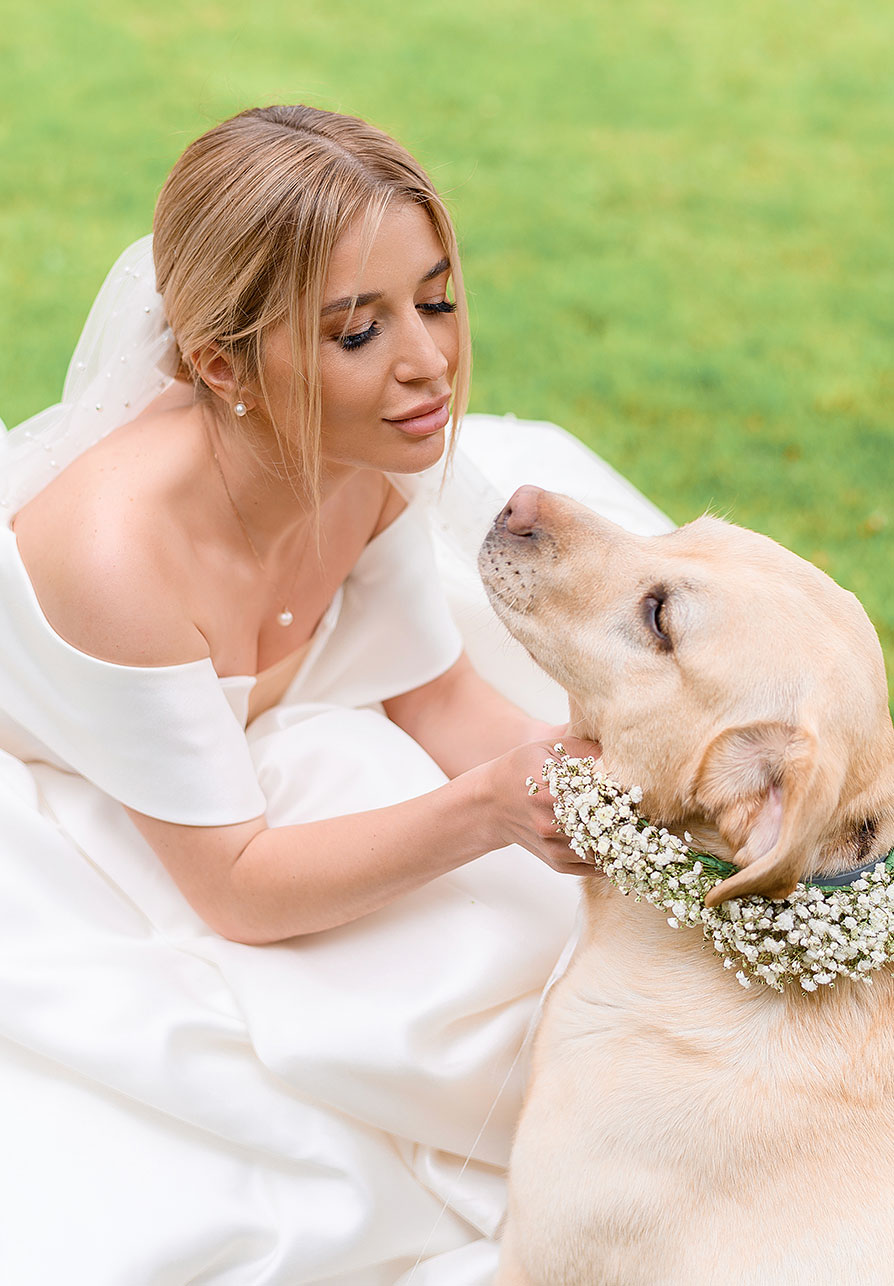 Incorporating your pet into your wedding celebration can make it even more memorable and heartwarming. However, it's essential to consider your pet's well-being and comfort throughout the process. With careful planning, you can create a paw-some wedding that will be cherished by both you and your furry friend for a lifetime.