By Seva May and Miranda Milner
Wedding planning is a multifaceted endeavor that requires a delicate balance of creativity and organization. It is an art form where every detail contributes to creating a unique and memorable experience for the couple and their guests. In this essay, we will explore the various aspects of wedding planning, from developing a concept to managing logistics, and the crucial role it plays in orchestrating a joyful celebration of love.
A successful wedding begins with a well-defined concept that captures the essence of the couple's love story. This involves understanding their preferences, cultural background, and personal style. By conducting detailed interviews and discussions, wedding planners can uncover the couple's vision and translate it into a cohesive theme. Whether it's a rustic outdoor affair or an elegant ballroom extravaganza, the concept sets the tone for every decision that follows.
Once the concept is established, wedding planners must work closely with the couple to develop a realistic budget. This entails meticulously estimating costs for various elements such as the venue, catering, decor, entertainment, and more. By maintaining a comprehensive financial plan, wedding planners ensure that the couple's vision can be realized within their means. They often navigate the delicate balancing act of prioritizing expenditures while considering the couple's dreams and aspirations.
It's never too soon to start working on the guest list for both the rehearsal dinner and the wedding.  The bride and groom should sit down and work on this together. It's a complicated process and depends on what your budget will be and the venue. Part of this decision will be whether to include children and who will be invited with a plus one. This brings us to the wedding stationery and save-the-date cards. As soon as you know your wedding style and have confirmed the venue send out the Save-the-Date cards (nine months before the wedding date for a destination wedding and four to six months prior for local nuptials). Formal invitations follow six to eight weeks before the wedding day. You should request that RSVPs be returned no later than one month before the celebration so there are no last-minute issues.
Creating a registry is a great way to help your guests choose meaningful presents that you'll cherish for a lifetime. From kitchen gadgets to honeymoon experiences, don't be afraid to include items that reflect your unique personality and interests.
Of course, no wedding would be complete without thoughtful gifts for your loved ones who have supported you along this journey. From personalized keepsakes to heartfelt tokens of appreciation, expressing gratitude through meaningful gestures adds an extra touch of warmth to your special day.
Weddings require diverse vendors, from photographers and florists to musicians and caterers. Last but certainly not least is music – it sets the mood for every part of the celebration! Whether you opt for a live band or a DJ, make sure to discuss your preferences and create a playlist that will keep everyone on their feet throughout the night.
Engaging a wedding planner is more than helpful in identifying reputable vendors who align with the couple's vision. Through careful research, portfolio reviews, and face-to-face meetings, they build a network of professionals to bring the couple's dreams to life. Coordinating between these vendors, managing contracts (reading every contract thoroughly), and overseeing communication ensures a seamless execution on the big day.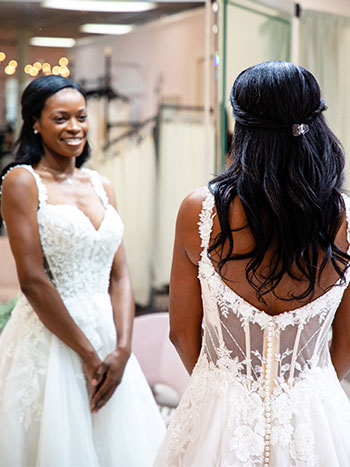 Wedding planners are masters of transforming spaces into enchanting settings that reflect the couple's personality. Venue options are endless. Whether you envision a romantic beachside ceremony or a grand ballroom affair, make sure to consider factors like capacity, location, and ambiance when choosing the perfect venue.
Meticulous attention to detail is required when selecting color schemes, floral arrangements, lighting, and other design elements. By harmonizing the smallest of details, such as table linens and placeholders, with the overarching theme, wedding planners craft an ambiance that leaves a lasting impression on guests.
The day of the wedding demands precise coordination and flawless execution. Wedding planners act as the conductors of this grand event, ensuring that every detail adheres to meticulously constructed timelines. From managing transportation arrangements and overseeing vendor setup to coordinating the ceremony and reception, their presence guarantees a stress-free experience for the couple, allowing them to focus on the celebration of their love.
Wedding planning can be an emotionally charged journey for couples. Hard decisions must be made but choosing the flavor of your cake together at a cake tasting will make up for that. Amidst the excitement and stress, wedding planners act as confidants, providing unwavering support and guidance. They offer a calming presence during moments of uncertainty and act swiftly to resolve any unforeseen complications. Their ability to adapt and problem-solve ensures that the couple's special day remains a joyous affair.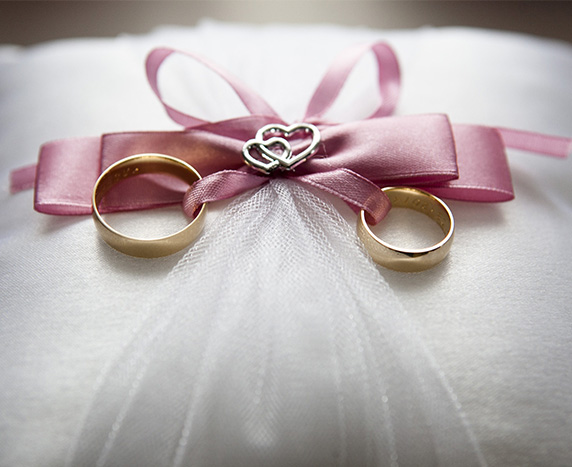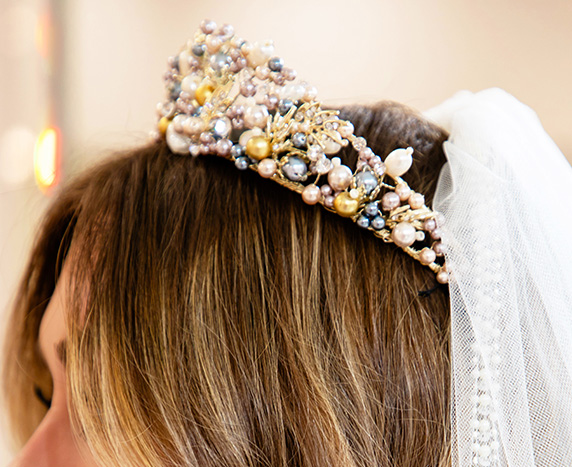 Do You Know:
WHY THE GROOM STANDS ON THE RIGHT SIDE OF THE BRIDE?
This tradition originates way back when men carried swords and the groom needed to keep his right arm free (assuming he was right-handed!) to be able to draw his sword to protect his bride. This means that the bride traditionally walks down the aisle on the left-hand side to be greeted by the groom on her right.
WHY THE BRIDESMAIDS WEAR MATCHING BRIDESMAID DRESSES?
Identical bridesmaid dresses may be a little passé these days but in Roman times, matching outfits meant good luck and were a common wedding tradition. Back then, people believed evil spirits would attend the wedding in an attempt to curse the bride and groom. To confuse the spirits, bridesmaids acted as decoys and dressed identically to the bride. The idea was that the spirits would be unsure which was the bride, which would lead them to leave her alone and allow the couple to wed.
WHY THE BRIDE CARRIES A BRIDAL BOUQUET?
These days, brides are carrying peonies and roses down the aisle, but back in ancient Greece and Rome, it was all about herbs. During that time, it was en vogue to hold aromatic bouquets of garlic, dill, and other herbs and spices. Thankfully, we've graduated from pungent herb bouquets to lush floral ones, often composed of the bride's favorite bloom. Carrying a favorite flower variety is a tradition that became popular in 1840 when Queen Victoria married Prince Albert and carried a bouquet of snowdrops, his favorite flower.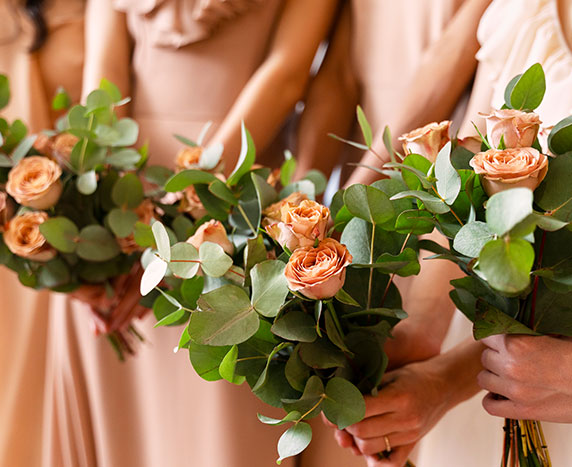 WHY THE RING IS WORN ON THE "RING FINGER?"
This tradition also traces its origins back to the Romans, who believed that the fourth finger on the left hand was connected directly to the heart by a vein called "the vein of love." Because of this hand-heart connection, this finger has been adopted through the ages as the ideal spot to wear one's wedding ring.
WHY GUESTS TOSS RICE AT THE NEWLYWEDS AT THE CONCLUSION OF THE CEREMONY?
Back in the day, marriage meant expansion, from starting a family to increasing one's assets. Rice symbolized both fertility and prosperity, and tossing it at newlyweds at the conclusion of the wedding ceremony conveyed best wishes and good luck—for babies, bountiful harvests, and everything in between. Nowadays, the wedding tradition of tossing things on the couple takes many forms, from dried lavender buds and blowing bubbles to biodegradable confetti.
WHY THE BRIDE TOSSES THE BOUQUET?
This tradition—first recorded in England in the 1700s but likely started earlier—also comes from the idea that it was lucky to have a piece of the bride's clothing. Single women would rush to the bride after the ceremony to touch her and tear off a bit of her dress. To avoid having her dress ruined, the bride would toss the bouquet as a diversion and then run! These days, it's more about the bride having a fun and special moment with her single friends before embarking on married life.
WHY THERE IS A FOOT-WASHING CEREMONY?
In recent years, many couples partaking in Christian wedding ceremonies in America have included the practice of foot washing in the wedding ceremony. Inspired by the Bible passage in John 13:1–17 where Jesus washes his disciples' feet, this act is meant to symbolize sacrificial love and devotion.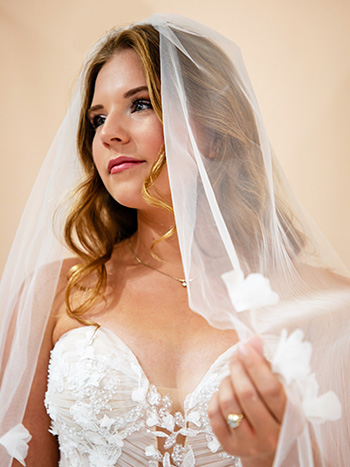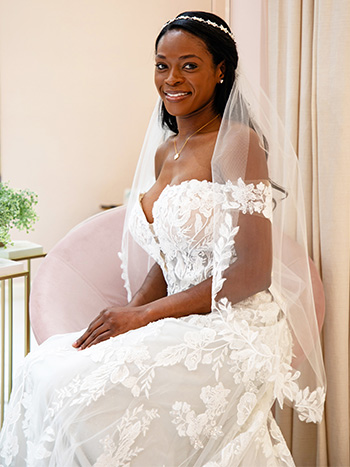 WHY THE BRIDE WEARS A WHITE WEDDING DRESS?
White is by far the most popular color for wedding dresses in the Western world, but that's a fairly recent tradition. During the royal wedding of Britain's Queen Victoria and Prince Albert in 1840, Victoria wore a light-colored satin gown. So many brides wanted to look like royalty that they mimicked her dress, including the hue, said to symbolize purity and virginity in Victorian culture.
WHY THE BRIDE AND GROOM HAVE THE FIRST DANCE?
The first dance was considered the official opening of dancing by the newly married couple who were the guests of honor. The first dance between the bride and groom is the most awaited moment for the newlywed as well as the guests. It shows the love and unity between the new couple.