HEATHER HARRIS
BY ELIZABETH DEAL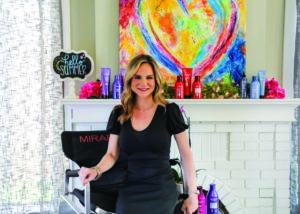 Success is personal to each of us. For Heather Harris, it's achieving her personal best in the hair and makeup industry. Growing up as a pageant girl, she was exposed to the beauty industry early on but embarked on a couple of different career paths. Today, she is 5 years into her dream career in hair and makeup—something she always wanted to do—and loving every minute of it.
Feeling as if she'd gotten a late start, she was determined "to make up time." She told herself, "If I'm going to do it, I'm going to do it 150%." "I hit the ground running and within six months was a Redken hair specialist." The training to become a specialist from New York Citybased Redken teaches discovering solutions to every hair need in order to meet the needs of all clients.
Nominated by Grace Anne Blake, the salon owner at Avalon Hair Salon, Heather became a Salon Ambassador for Mirabella Beauty, a top minerals-based cosmetic line (cruelty free, gluten free and paraben free) sold only in salons, after completing a certification course. Heather has natural talent and deep product knowledge, and also helps in some day-to-day business aspects at Avalon.
"Whether it's coloring someone's hair pink or purple or just a natural root touch-up, I love helping my client to feel beautiful," says Heather. "When my client is elated, I am elated!"
Heather does makeup for the Krewe of Centaur royalty for their Coronation and Bal (where she was past royalty) and has worked on a few short films and with a team of makeup artists and hair stylists for the Fashion Prize.
She works closely with friend and colleague Chrystal Bassett and together they are affectionately known as the "Dream Team" when it comes to hair and makeup for wedding parties. Heather's goal for a bridal portrait is that the bride "feels the best she has ever felt in her life." Since weddings are a stressful day, she tells her brides, "Let me take on the stress for you." And she doesn't leave the premises once her job is done. She stays with the bride to maintain her hair and makeup for the photographs and reception.
In 2020, Heather received the call of her dreams: to interview as a hair and makeup artist for a reality television show. After she was hired, the show was delayed by months due to COVID-19. But once it was finally time, the producers released the name of the show to her: "At Home with the Robertsons." She was ecstatic. "My children were obsessed with Duck Dynasty. We even have a chocolate lab named Sadie." Being a busy stylist in Shreveport and a busy mom to three children, she was determined to make it work, even though she would need to travel to Monroe for a few weeks at a time.
Heather was able to work out her schedule at the salon in order to participate in the show. "I feel incredibly blessed to work for a salon owner who has my back, and serves as a mentor and a guide. No dream is too big; she'll do everything in her power to make it happen."
She wasn't interested in taking just any television job. "I wanted to be involved in a project I truly believe in. I'm not going to compromise my integrity for any job. I want to make my children proud. This was an easy job to take." She was fortunate to work alongside a hair and makeup artist who was a trusted friend from high school, and she liked the fact that she shared Christianity and a strong belief in family with the Robertsons.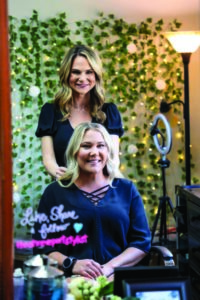 'Miss Kay' was her first client on the first day. "Within 30 seconds of meeting her I knew it would be a good day. She is kind and funny with a sweet presence," says Heather. She describes the Robertson family as "what you see is what you get—a genuine, kind, sweet, caring family." Overall, Heather says that working on this show was "the most raw experience I ever had." She loved being involved and learning the production process and seeing firsthand what goes into reality TV. Her position also gave her an eye into a different side of the hair and makeup industry. After hair and makeup was complete, she would then go on set to check the looks through the cameras during filming and help make any adjustments.
While Heather aspires for more opportunities working in the media industry, she doesn't plan to do it apart from the salon. "Whatever I'm accomplishing, I want to bring my team along with me. Avalon is a very, very, very special place to me."
Looks like she's well on her way to achieving that success.