EAST BANK
Mafia
BY ELIZABETH DEAL
Old Bossier, the city's historic downtown neighborhood, had struggled for decades. Like most communities in the US, the city had looked for ways to revitalize its downtown area but had always been faced with the challenge of how to go about the process and how to finance the project. Since knowing that a re-energized downtown would aid in the success of the new high technical jobs that were coming to the area, Bossier City took action.
The Role of Rebranding and Infrastructure Improvements
Recognizing that Old Bossier lacked the charm and polish of newer developments, the Bossier City Council began the process in 2014 with public input forums with young professionals in the area and asked what they would like to see in a downtown area. These forums led the city to the design of a downtown area to be built with a modern, clean, and contemporary feel and style about it. The city did not want to simply copy the styles of typical architecture of a Southern community but wanted a unique look and vibe to the area.
The goal was to create a vibrant arts and entertainment district, rebranding Old Bossier's identity to attract new visitors, shoppers, and businesses. The city council believed that upgrading the public infrastructure would spur private investment, attract businesses to the area, and ultimately help create the desired arts and entertainment district.
THE The East Bank District
The area had been struggling for an identity for many years and the newly renovated area is now bringing a new synergy to the area. Along with that new synergy, the area needed a new name different from "Old Bossier," so the area was branded as the East Bank District.
The district has been designed to create a unifying thread that ties the East Bank District together with the adjacent River Front Development area, which hosts our local casinos. Visitors can easily enjoy its entertainment plaza, bike paths, revamped sidewalks, and landscaping, as well as numerous local restaurants, bars, and sporting establishments. Located less than half a mile of nearly two thousand hotel rooms, five casinos, the Louisiana Boardwalk, and I-20—East Bank has quickly become the entertainment jewel of Northwest Louisiana. The East Bank District already had some favorite fixtures in the area like The Original L'Italiano Restaurant, Flying Heart Brew and Pub, and the Bossier Arts Council.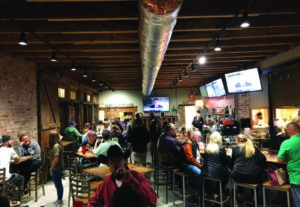 The district has seen a new growth of small businesses that are proud to be a part of the synergy that is taking place in this newly renovated area. Beau Hays, Aaron "Chef Peanut" Hanning, and Brian Reeve opened the first new restaurant in the new district: BeauxJax Crafthouse, a creole and cajun restaurant with plenty of craft beer and cocktails. Peanut and Hays operated the BeauxJax food truck which preceded the restaurant.
"I think the city had a real focused plan at one point for there to be some synergy there. And then I think everyone was like, 'I don't know if it's really gonna work.' But they had already presented the opportunity for us to just kind of step in. We got in at the beginning and we were able to run with it. I think we ran as hard as we could as fast as we could to get as much done as possible while it was cheaper. And now that we take a breath we look up and now the property values are all up," says Hays.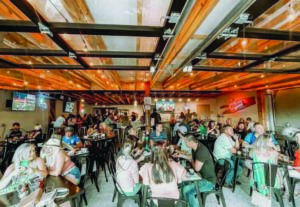 On a trip to Dallas, a friend took Doug Rodgers to "throw axes and drink some beer." They went to place in Fort Worth similar to a storage unit with a roll up door. "They had a water jug and a boom box. That's all there was in this place and there was a line around the corner," says Rodgers. He decided to open up an axe-throwing joint in this area and was set on an East Bank location. "I said 'It's gotta be right here.' I just knew it had to be by these guys. It's hard for the pioneers. The new East Bank District didn't kick off until these guys did what they did," says Rodgers. He opened Bayou Axe Company, North Louisiana's first indoor axe throwing range. Bayou Axe has a full bar and is located next door to BeauxJax. The four soon went in together to open a third business, The Frozen Pirogue, a seafood restaurant and bar offering Gulf Coast cajun food, oysters, and specialty daiquiris.
The East Bank Mafia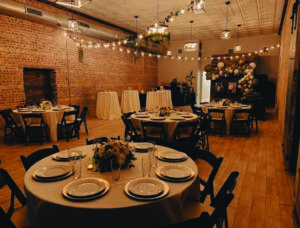 Soon after they opened the Frozen Pirogue, they decided they should put a brand together representing their group of businesses. "We've always called it 'the 500 block.' We've just always wanted to kind of make that our home base," says Rodgers. That's when they came up with the idea to call themselves the "East Bank Mafia." "The mafia name really started as a joke, but then it took off," says Hays. "I'd call it a hospitality group." Building the district—not just individual businesses—became priority.
"The one thing that's different about what we do and what everybody else does is that most restaurants are very competitive. But we figured out that if we work together, our businesses grow together. It's a rising tide kind of mentality," says Hays. As the saying goes, a rising tide lifts all boats.
When Covid hit, they didn't stop. It was just another hurdle and they were used to jumping hurdles. "We were already in that adapt-as-quick-as-you-can mindset," says Hays. "We'll figure out how to do because we've always had to figure out how to get the doors open or get past this or that. So really it was just 'give us the new rules and let's figure out what we can and can't do and let's roll with it,'" says Rodgers. "They said everybody had to eat outside. We're like, 'alright,' and we got 60 picnic tables," says Chef Peanut. They now had an outdoor area in the back.
They kept moving toward the goal of a true, vibrant arts and entertainment district which didn't exist before. "On Bourbon Street, people can bounce in one place and then to the next and there's never been anything like that here. And that's what we have now—just cleaner and safer." says Hays. And the "mafia" takes care of business: they hire the Bossier City Police Department, the City Marshall's office and the Sheriff's department to patrol the area. "The one thing that would prevent the area from turning around, is it not being safe," says Hays. "We keep it safe and keep it friendly." Rodgers notes that the East Bank is Louisiana's only open container district outside of New Orleans. These business owners encourage people to walk up and down the street and go to any number of places. "Yes, go check it all out. It's what it's about," says Rodgers.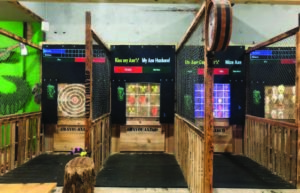 With the success of the 500-block outdoor dining area, they realized they might be onto something, and the idea for Hurricane Alley was born. The four purchased the land behind the restaurants to build Hurricane Alley, a space like no other in the Shreveport-Bossier area. "I think the property owners always had a vision of bringing Bossier back. They saw our effort of going in and redoing some things and I think they trusted us enough to fulfill their vision," says Hays.
Hurricane Alley
Hurricane Alley is a block-wide outdoor entertainment space featuring a large patio, green space, and performance stage one the back side of the 500 block businesses. The division betwe
en the businesses and Hurricane Alley is almost seamless, with picnic tables on the patio and walkup windows to purchase beverages. There's a giant television screen, outdoor lighting, outdoor heaters, and even restrooms. Hundreds of people of all ages show up to eat, drink, and be merry, to listen to music or just hang out. Two thousand showed up for a recent concert and more talent is lined up. The four all grew up in the party scene around the same time. "That's why it's so atmosphere driven, because we're doing things that we think are fun," says Hays.
The atmosphere of the East Bank District attracts all ages— from families with small children and young couples to retirees.
It's the perfect spot for both locals and tourists alike. "I think it's the first time in the city that you could do everything right there in the same area. You don't have to eat dinner one place and drive someplace else for entertainment," says Rodgers.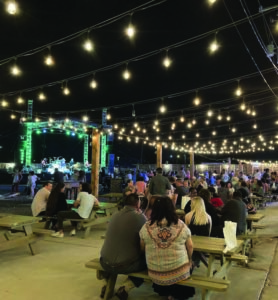 "And it's the first time ever that you really see traffic coming out of the casino, getting out of town traffic start to support local culture. The casinos have been really good partners. We're building an area that is a destination not only centered around gambling," says Hays. "I thought we might be the first step for the business that's coming from the casinos outward. And, I think as time goes by, you'll see more and more of all the businesses working together.
Peanut and Hays have since expanded to open Chef's Table by BeauxJax a few doors down. This small private event space and catering kitchen has on-site dining and beverage service for birthdays, anniversary parties, rehearsal dinners, corporate meetings, private cocktail hours, networking events, and small weddings. According to Hays, "we've spent the last several years listening to what our guests want, and a private space seems to be high on their list."
"I don't think we ever could imagine what it has turned out to be today. So many other things are coming in now—breweries and restaurants and more that we encourage. When we started there was nothing down there. For those coming in now there's built in traffic already," says Rodgers.
"In true "mafia" form, we do get a lot of the new businesses that are coming in wanting to meet with us and ask us for advice," says Hays. "When they come in, we say 'here's the playbook.'"
Cheers to the East Bank Mafia — they're good guys.