"STRONGER THAN A GARLIC MILKSHAKE"
BY CHRIS JAY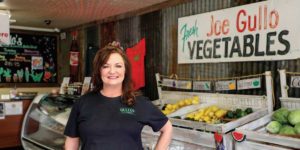 Theresa Gullo, owner of Gullo's Fresh Produce and Classic Bake Shop, is a fighter. Since 2011, she and a small team have operated the homestyle restaurant and farm stand that her parents opened in 1970 at 724 E. Flournoy Lucas Rd. in Shreveport.
Spring of 2020 marked the restaurant's fiftieth year in business, but Gullo was too busy surviving to celebrate. She'd been through too much—including a fire that gutted the restaurant's kitchen in 2015—to let the pandemic put her out of business.

"I knew we were gonna make it when someone came by for curbside pick-up, a regular who's been coming in here for years," she said. "I said: 'Bob, I don't know if I'm going to make it.' He said: 'Aw, yeah, honey, you're gonna make it. You're stronger than a garlic milkshake.'"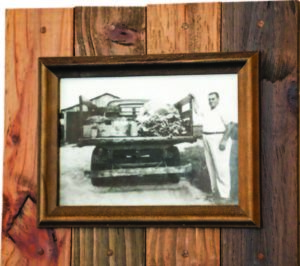 Gullo laughed at the memory, but her eyes sparkled with emotion. It has not been an easy road.
She grew up farming Gullo land, which her first-generation Italian immigrant grandparents purchased up and down the Southeast Shreveport riverfront. Much of what is now the southernmost end of East Kings Highway, formerly Hart's Island Road, once belonged to her grandfather, a truck farmer named Joe Gullo. The original, hand-painted sign for Joe Gullo's Produce can still be seen at her business.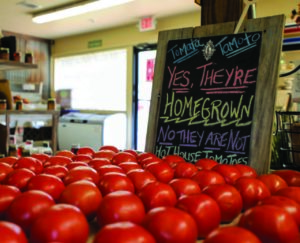 "When I was five or six years old, my grandfather would put all five of us grandkids in the back of his farm truck," she recalled. "He'd take us to the field, and he'd leave us there to pick produce 'til lunch. The next morning, he'd head to South Highlands, and the housewives would come out to buy produce from him."
Gullo's parents, John and Reatha Gullo, began cooking hamburgers and plate lunches to bring in money during the winter months when farming operations ground to a halt.
"They had a little kitchen in the back, where mom cooked hamburgers in a skillet and had a FryDaddy for the fries," Theresa said. "Then she started doing casseroles, and she kind of made a name for herself."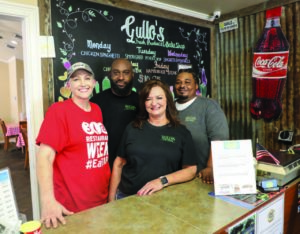 Gradually, the restaurant came to be revered for Reatha's stick-to-your-ribs plate lunches like chicken- fried steak, smothered pork chops, fried catfish (still served every Friday), and spaghetti and meatballs.
Theresa assumed responsibility for the restaurant in 2011 after both of her parents passed away within months of one another. Her mother's funeral was held three days before Christmas. Reatha Gullo had left behind a notebook stuffed with unfulfilled holiday orders for Christmas hams, turkeys, cakes, and pies. The same day that they buried Reatha, Theresa and one of her cousins reopened the restaurant.
"We came back to the kitchen after the funeral, and I didn't know what we were gonna do, but we filled every single order," Theresa said.
A fire in 2015 threatened to shutter the business for good, requiring nine months of renovations prior to reopening. Without a dining room for customers, she was able to hang on thanks to regular customers who continued to purchase to-go meals, fresh produce, and frozen casseroles. Gullo never considered shutting the place down. She remembered her mother's warning: Because the restaurant is "grandfathered-in" to local zoning ordinances, it would be difficult or impossible to reopen if it were ever to close.
"A lot of people would have said, 'Well, that's it,'" she said. "I came in here the morning after the fire, and it was the worst thing I've ever gone through. But it never occurred to me not to reopen."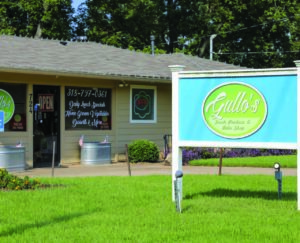 In recent years, the reputation of Gullo's hamburgers has spread throughout the region. An enormous, double- patty bacon cheeseburger called "The Weekender" has won a number of local votes for best burger, and the restaurant's exemplary chicken-fried steak (available each Thursday) has also built a dedicated following. After dining, many guests will pick up grab-and-go casseroles, fresh vegetables, baked goodies, or canned salsas and preserves made by locals.
What's the secret to surviving hard times? Just keep showing up, she said.
"You gotta get up, put one foot in front of the other, and deal with it," she said. "You get past it, you really do."
For more information including menus, follow Gullo's on Facebook at @GullosFreshProduce.