Your SB Fashionista, Casey Craig, here!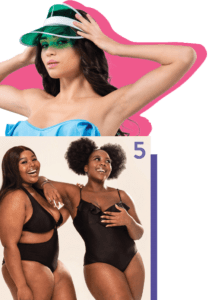 Summer officially arrives on June 21st, and I like to think that whoever created Spring Cleaning was truly focused on sprucing up their wardrobe for Summer-Summer-Summertime! Yes, that's a 90's reference.
Get those base tans and beach waves ready because bright, sunny days are just around the corner! What better way to kick off the arrival of warm weather than with a complete wardrobe refresh? It's officially time to clear out the old and celebrate the new by upgrading your sunny-says-ahead wardrobe to include the hottest trends and must have colors, styles, and cuts! As you replace your heavy sweaters with bikinis and tall boots with strappy sandals, your swimwear stash from last season is likely in need of an update as well.
A stellar place to start is with the top trends of 2023. Swimwear trends tend to follow after fashion trends but with unique adaptations to address swim needs. The sheer looks that were prevalent on Spring 2023 runways are reimagined as barely-there cover-ups, while cutouts have inspired alluring cutout one-pieces and unique bikinis.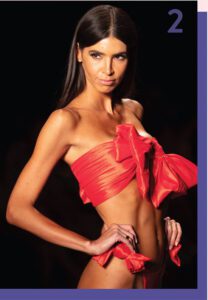 As your resident Fashionista, I present to you the hottest colors, accessories, details, and silhouettes that will be everywhere this season. Stay ahead of the biggest fashion trends with SB Magazine to showcase your unique style while lounging by the pool or enjoying a beach vacation. Snag these sizzling must-haves before your eagle-eyed fellow fashion lovers do!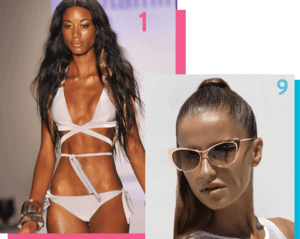 String Bikinis with extra string
These sexy suits have become all the rage this season and can easily be taken from beach-to-dinner by wearing the top as a beachy bralette. Wear a classic white linen button-up over it with trendy denim shorts for a more casual look, or an oversized blazer and sleek pants or tailored shorts with a low ponytail or bun for a sexy, sophisticated look.
3D Embellishments
Unapologetically over-the-top embellishment details like rosettes, bows, and oversized ruffles with amped-up visual impact are trending heavily now. These suits are harder to find, but they are sure to be the flashiest flare in the crowd!
Cut Outs
Empower yourself to break out of the basic bikini rut by going for a one piece or bikini with strategically placed cut outs to show off your glowing skin in all the right places. Dare to bare! This fashion trend has been spotted all over runways across the world and is gaining massive momentum. Cutouts add a fierce, modern edge to your summer expose!
Hardware & Chain Details
Avoid losing your jewelry in the ocean by accessorizing with your swimsuits instead. Edgy styles held together by metal piercing-style hardware and eccentric ornaments artfully hits the bullseye with this trend. Silver- or gold-tone O-rings are popping up in tons of shops, as well as customizable suits with interchangeable shoulder straps of beads, pearls, and chain links.
Black One-Pieces
For an "I just got back from my Riviera yacht" vibe, choose a more mature, sophisticated look by wearing fashionable solid black one piece with kitten heels, a sheer floor length coverup, a black wide brim hat with low bun or ponytail, and oversized black sunnies. Jackie O would be proud!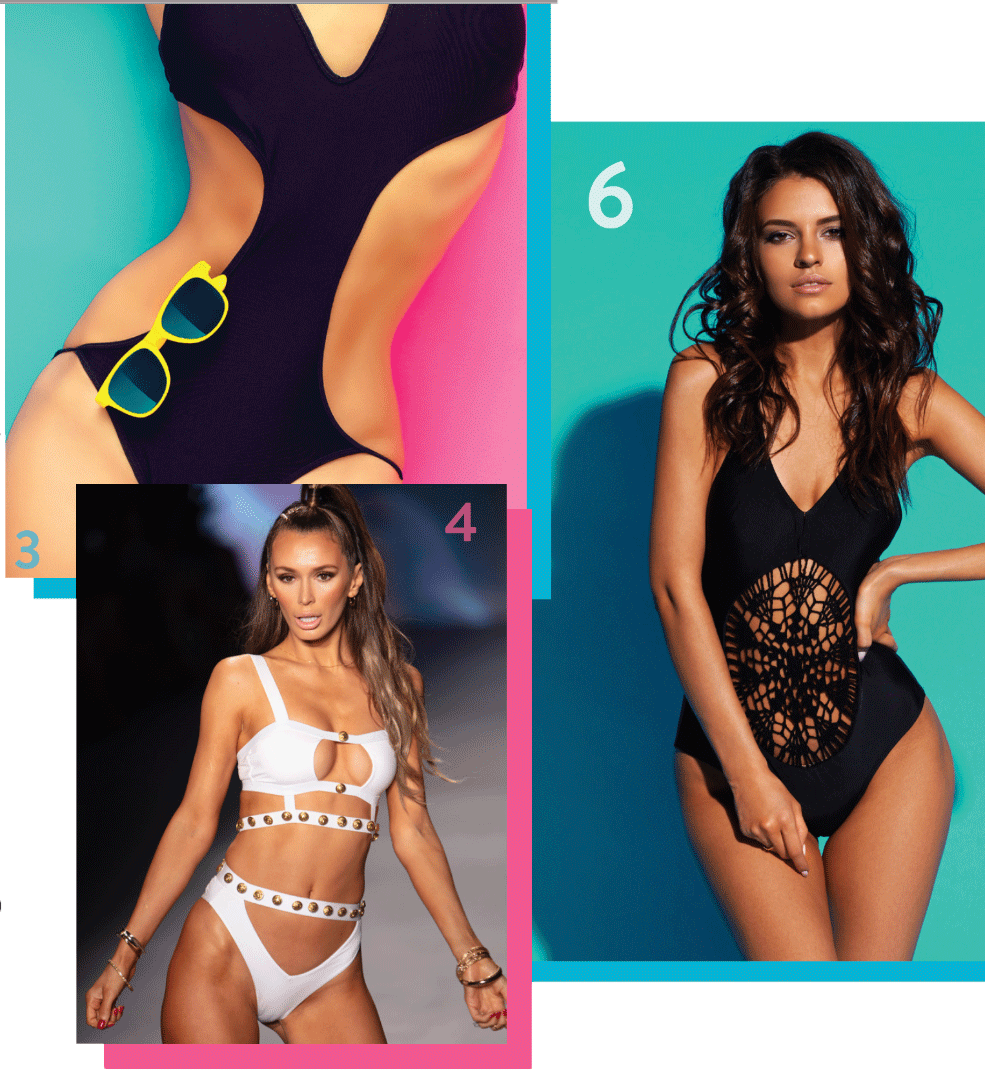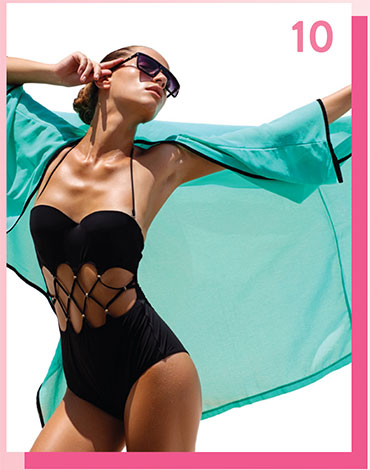 Crochet
Peeks of skin tend to steal into the spotlight but move over cutouts because a plethora of top brands are favoring the hand-made look. Newly coined Mermaidcore, the crochet swimsuit/cover up trend is the perfect way to serve "she sells seashells by the seashore" all summer long. Add in the beachy waves hairstyle, a white mani/pedi, and some shimmering tanning oil for the ultimate sun kissed sea-maiden aesthetic. Sailors beware…for a siren lurks nearby! 
Bucket Hats, Baseball Caps & Visors
Ditch the straw! Break away from the ho-hum norm by replacing the typical, overworn wide brim straw sunhat with a trendy new option. Thanks to the resurgence of nostalgic fashion, bucket hats are a trending silhouette and come as structured or distressed, offering a fun retro twist as it protects your face and neck from the sun's rays. If you're a baseball cap girl, this versatile classic style will become your year-round go-to. Snag a cap that is lined in satin to help protect your hair against frizzing and breakage. My new fav, protect your lovely poker face with a visor that has a colorful transparent bill that gives a sporty-sassy vibe to everything in your summer wardrobe – from your tennis whites to your slinky poolside bikini. 
Big bags and totes
Again, ditch the straw! Step into the limelight with the chic, functional preference for Summer 2023 by opting for a colorful, whimsical print on your large beach tote this season instead. If you must have straw, snag a whimsical one that is stylishly woven with patterns and embellishments.   
Angular Cat Eye, Shield & Sporty Sunglasses
Let's talk sunnies! Embody your inner Audrey Hepburn with an edgy twist with classic yet sharp angular cat-eyes that scream empowerment. Shields have hit the fashion scene in a major way the last few years and have culminated with the Hello Moto mashup blending Shields and Sporty aesthetics. Wrap around sporty sunglasses have gotten a modern upgrade this season with colored lenses. And, of course, be sure to protect those peepers with polarized lenses!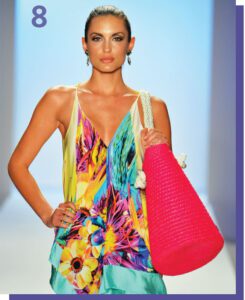 Honorable mentions: Metallics and Sheers