Simply Southern. A 2,400-Square-Foot Cottage Bursting with Southern Charm.
Imagine a century-old home, resurrected at the intersection of love and hope, laid upon a foundation of faith, and then clad in history. This once-abandoned Acadian-style cottage is now a delightful historical haven—and a testament to one local woman's vision and persistence.
Minden, LA. Blogger Sara McDaniel is the quintessential girl next door—a brilliant combination of soft and strong with a side of Southern sass and spunk! Born and raised in Springhill, she would often visit Minden and remembered the quaint north Louisiana town filled with scores of historic homes, all filled with loads of charm and hospitality. Sara left Webster Parish after high school, vowing never to return.
Then, in December of 2014, while visiting with family for the holidays, she drove past a completely broken down, dilapidated 1920s cottage on the edge of downtown—overtaken by red tip photinias, oak trees, azaleas, daffodils, and poison ivy—abandoned for nearly a decade.
Barely visible behind an overgrown tangle of trees, bushes, and vines—the worn and weathered porch gave way to a maze of tiny rooms piled floor-to-ceiling with years of discarded belongings, long-forgotten papers, and covered furniture. But even the caved ceilings, rotting wood, and animals in the attic didn't deter Sara—as she envisioned only the beauty the 1926 cottage once was and could become again.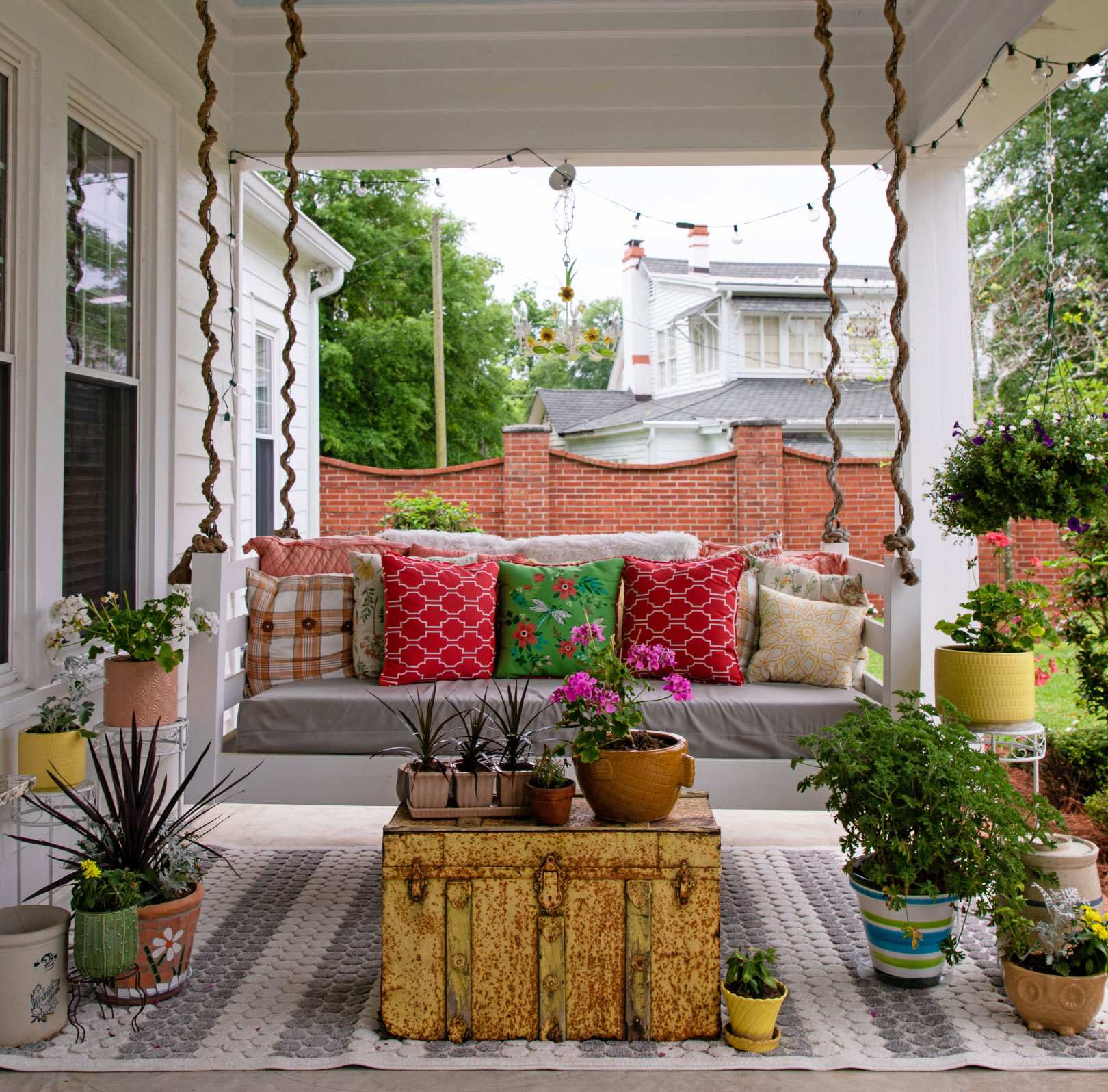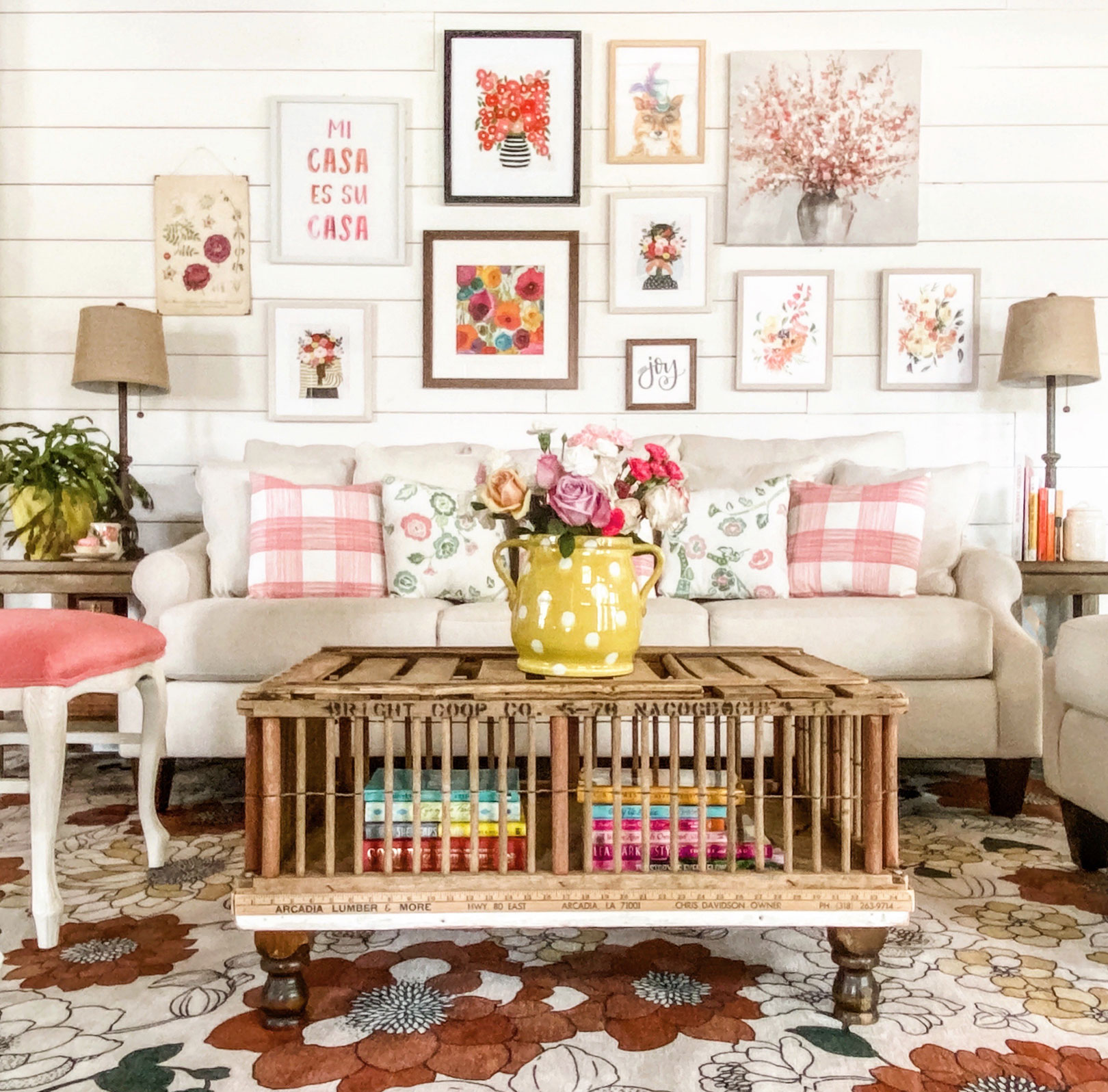 "I was unequivocally smitten," Sara wrote on her website Simply Southern Cottage, which documented her restoration of the home. "I felt the draw and knew it was supposed to be my home. But it was in bad shape. It was rotten on the outside, the roof was bad, and the ceiling was caving in." 
Unfortunately, it was not for sale.
For the next two years she tried convincing the owners, whose family had owned the property for over 90 years, to sell it. The process proved extremely challenging, even for Sara, a woman of great faith. But her "pleasant persistence" as she describes it, paid off, and she finally purchased the cottage in September 2016.
Upon buying the property, Sara began a full, "down to the studs" restoration. She put on a tin roof, and installed new plumbing, electrical, insulation and HVAC. Three layers of wallpaper, cheesecloth and paneling were torn out, revealing 90+ year-old shiplap. All the existing light fixtures were restored and reused.
"It was very important to me to reclaim and repurpose as much of the original house as I could while adding modern convenience," Sara says. She removed walls on the first floor to open it up and make the kitchen larger and turned the open attic into a functional living space for guests. "I repurposed as many of the original details and architecture as possible," she admits. "Every interior door of the cottage is original. The fireplace mantel was relocated to a more functional location. I added a big, ole southern back porch." 
As the layers of filth, dirt and clutter were peeled away, unique architectural details were discovered, as well an interesting piece of history. As the original hardwood floors were being removed to be refinished, Sara found a document titled "The Autobiography of Belle Howard Mayfield" hidden in the floorboards. The autobiography details happy and painful memories of Mayfield's childhood, her marriage, and the birth of her children. The details of which Sara published to her website. 
Other bits of history are made use of within the house. The kitchen island is made from reclaimed wood, locker baskets from Springhill High School are used above her mud bench and her greenhouse is made from the original windows of the house.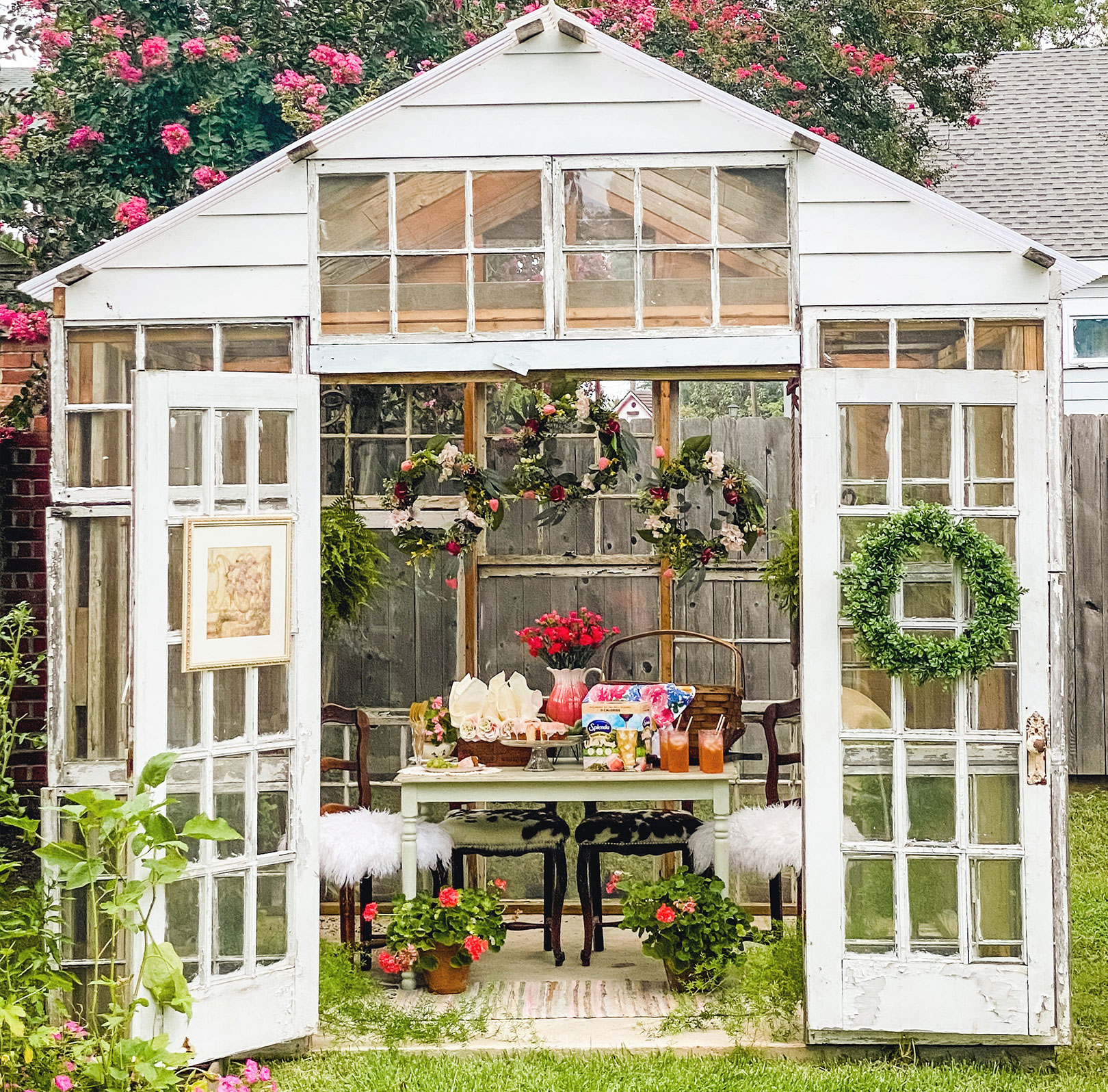 To help with the project, Sara was generous in using local talent and supporting locals who work on old houses and crediting them for their work, such as J-Dog Junk Removal of Minden, Red River Remodelers of Shreveport, and Ali's Creations of Caster, to make her home the special place it is.
Sara said she never felt overwhelmed as she took on the project, and she encourages anyone in the market for a new home to consider taking on similar undertakings. "Do it. Don't hesitate," she says, "There are so many houses that are just sitting vacant. Don't be afraid. It is so rewarding to bring something back to life and houses aren't built like this anymore."
Step inside to see this beautiful cottage with lots of charm, both inside and out. Every room offers a bit of a surprise—delivering interesting decor that engages everyone who sets foot in the space. And while Sara brought in a little bit of a funky flair, there's also a lot of nostalgia worth pointing out.
Go with the Flow
From the front porch to the direct, unobstructed passageways between living areas, the almost 2,400-square-foot, 4-bedroom, 2-and-a-half-bath home is designed to make moving around as smooth as possible. Sara thought through every detail, down to the back porch bed-swing—one of her favorite places to relax. "It's attractive and quaint," she explains. "I wanted it to have a cozy warmth, to feel like it hugs you when you are there."
Take Design Cues from the Landscape
If there was ever a porch that begged for views, it's this one. "When people are here, I want them to soak in the beauty all around them," Sara says. "The setting is amazing, and the landscape plays off that. I get asked a lot, "Why the yellow door?" Simply put, I wanted a bright, cheery, colorful, and inviting exterior. This yellow door exudes joy and positivity and anyone who sees it, just has to smile."
The landscape, too, is welcoming with 'Dwarf Burford' hollies and trailing vinca along the front porch, complimented by crape myrtles, dwarf gardenias, and liriope on the ends. A pale blue on the beaded-board porch ceiling stems from Southern folklore that the hue repels everything from ghosts to insects. Sara brings dinner guests out on the porch here to relax with dessert and coffee.
Fine-Tune the Details
"Lighting gives the home a little bit of edge," Sara says. "I just took a few more risks—doing things differently than one might have and it really set the tone for the rest of the house." Sara considers the windmill-inspired ceiling fan a worthwhile splurge as the statement piece for the master bedroom, a tranquil retreat thanks to her use of minimal color and warm wood tones against a white backdrop.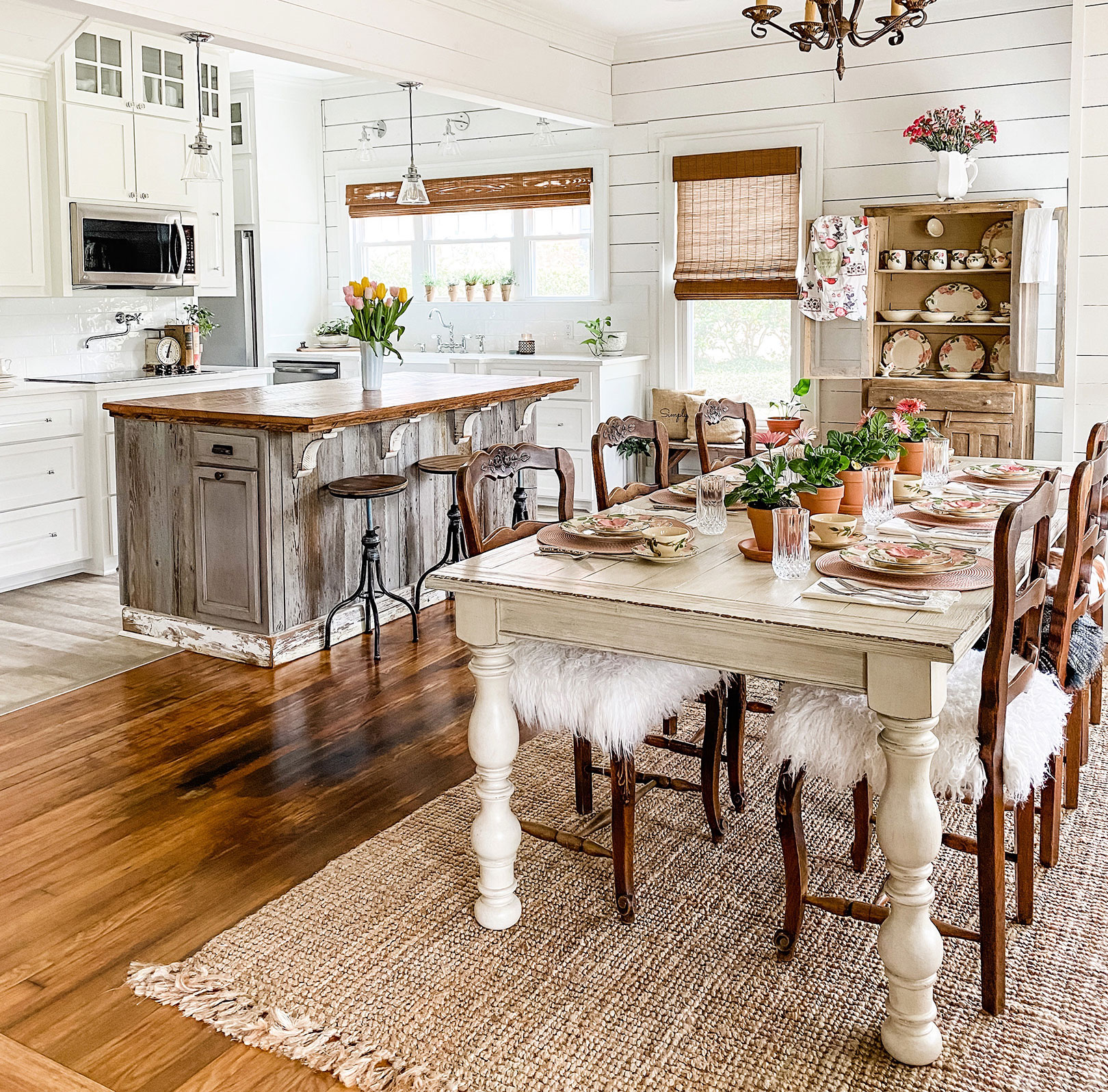 Don't Be Afraid to Break with Trends
"I wanted to do something other than a typical island," says Sara, who took inspiration from the cottage's light hardwood floors when she settled on the revamped kitchen's slightly more contemporary island. Shreveport Salvage built and stained the top a honey-blond hue that complements the floors. Light walls, casement windows, and a flat ceiling strike just the right balance and keep the space bright.
A spot to grow plants in the winter and enjoy the backyard in the summer, the new greenhouse is composed of the cottage's original windows and is home to a wicker settee Sara found on the roadside. The master bath is a testament to the union of beauty and practicality: waterproof laminate planks provide the look of wood; the ladder towel rack was another roadside find; and the vintage-look chandelier is an Amazon purchase.
Embrace That Old-Home Soul
A deft mix of accessories and vintage furniture placed throughout lends the home an immediate sense of both history and personality. A pair of folding wood seats along one wall of the library was salvaged from a Michigan theater. Sara cleverly surrounded an oversize quote artwork with open books. "I used a lot of textural pieces to give the layered, lived-in feel—as well as to give the room some dimension."
Lean Into the Lifestyle
The kitchen remodel entailed a new farmhouse sink with an old look, white cabinets topped with quartz countertops, and a trio of windows to usher in daylight and cooling breezes. In the upper-level bath, an antique vanity Sara found in a junk shop proved to be a perfect fit under the eaves and atop blue-and-white cement floor tiles that bring a punch of pretty pattern and color to the space. 
Add a Touch of Whimsy
Throughout the house, Sara's passion for combining family pieces with thrift store finds creates an air of welcoming, collected charm. Sara's mother found the bench, knowing it would fit perfectly beneath this window beside the kitchen, and a friend made the pillows. Faux herbs wrapped in brown paper tied with twine bring simplicity and everlasting color to the kitchen windowsill.
"I love shopping garage sales the most because of the bargains," she says. "But I'm very intentional. It's not a huge investment and gives so much character. I feel like these spaces should be memorable. I want to keep my life—and surroundings—simple."