By Ursula Brantley
Dental office on wheels
Serves children in Caddo, Bossier, and Webster parishes
Did you know that Louisiana is ranked among the lowest when it comes to the oral health of its citizens, especially the K-12 population? Though there are young Louisianians with dental benefits through Medicaid or private insurance, there are still not enough students being seen by physicians on a consistent basis.
Dental visits usually mean parents and guardians must sacrifice needed time at work and students miss learning time at school having to be checked in and out for dental visits. SBC natives Dr. Jeremy Simms Alexander and his wife Anneka Simms Alexander have made it their mission since 2015 to do their part in providing quality dental care for the K-12 population in this area. 
Dubbed the unicorn dental office, Miles for Smiles is a mobile dental facility that provides excellent dental care right at the school. By providing on-site care, parents can rest assured that their child is receiving the best dental care and education possible without having to leave the school grounds. 
The Miles for Smiles mobile office is equipped with all the top-notch dentistry equipment you'd find in a brick and mortar building so that the MFS Team can perform everything from cleanings to x-rays. They are the only facility that offers mobile dentistry in this area. The services are not free, but they do accept most insurance. 
MFS offers dental care and dental education for all students in Caddo, Bossier, and Webster Parishes throughout the entire school year. Mrs. Simms Alexander's career as an educator and her husband's career in dentistry began to mesh in 2010 when Dr. Simms Alexander was inspired to bring mobile dentistry to the SBC while working with another mobile school-based facility in Atlanta.
"My role within the company is as an Education Coordinator. I am a former educator and I facilitate the transition between the clinical aspect and the educational aspect. We coordinate and provide resources by partnering with school districts," says Anneka Simms Alexander, Miles for Smiles Education Coordinator/PR Partner and SRAC board member.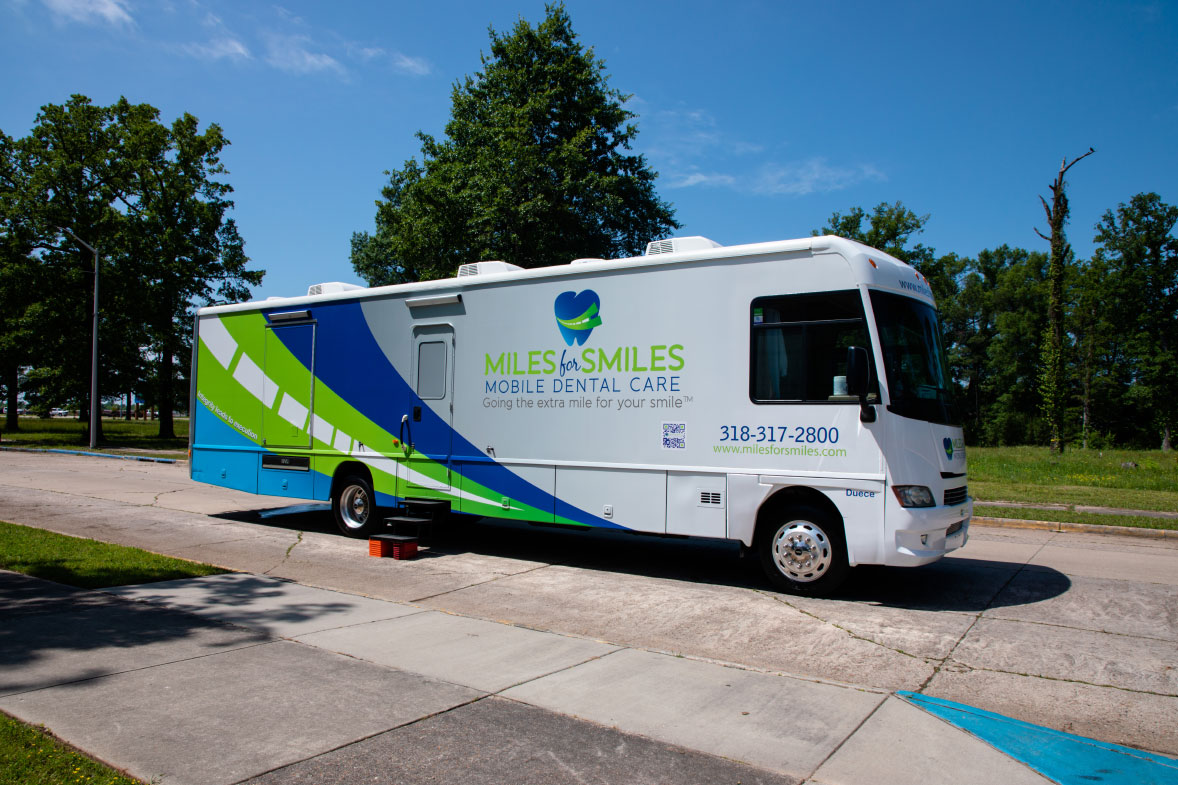 She explains, "It's a true collaborative partnership with school districts. Once we are in partnership with that school district, from there we usually have some type of administrative leadership team meeting. At those meetings, the district leaders make all school site principals aware of Miles for Smiles services. After that, I go in. I'm kind of like an outreach coordinator. I meet with each school leader individually, and each campus is just like each child. I tell people, just like no child is alike, no school campus is alike. So, we plug in, we feel the climate and the culture of the campus, and we literally become an additional resource to what that campus already has." 
She partners with the school principal to determine an initial start date, and then Miles for Smiles works on a four-week or six-month basis to make sure students have access to services.
In August 2022, MFS opened dedicated office building on Mackey Lane. Being that the mobile unit is already visiting the schools throughout the school year, the location near the corner of Mackey Lane and Walker Road will be for summer breaks and other school breaks. Summer 2023 will be its first summer servicing out of the office. This year, MFS will be partnering with SRAC to present two awards, literary and visual, at Artbreak. The yearly award will revolve around art that represents smiles or teeth and will be open to all grade levels. 
Dr. Simms Alexander, who was named a DentaQuest Health Equity Hero in 2021, always knew that he wanted to do something impactful that would change people's lives. He and his wife, Anneka, together believe their calling is oral health and education. They are dedicated to this mission and vision of continuing to provide quality oral health outcomes to students. Their devotion to these kids just makes you want to…smile!