BY ADAM BAILEY
Enjoy a backyard patio or take off on an outing. There are lots of places to revel in the spring weather in Northwest Louisiana right now!
Calm, Classic Outdoor Living. 
Designed for entertaining, this outdoor-friendly patio-pool arrangement provides a great place to socialize by offering indoor comforts and outdoor style. An outdoor bar, along with seating around a fireplace, encourage leisure time and easy conversation while being surrounded by copious plants and greenery–adding life to the space and making it welcoming. The use of multiple textures is soothing and evokes nature. Color accents in the furniture elevate the space and enhance the elegant decor choices. Far from feeling cramped, this space is cozy; it invites nature in, creates a space as beautiful as it is comforting.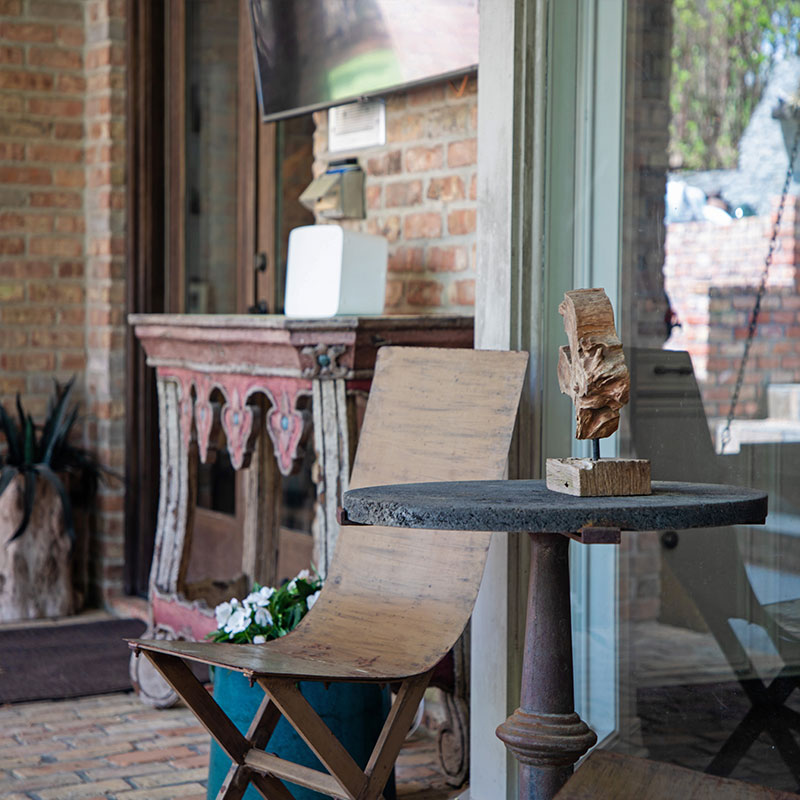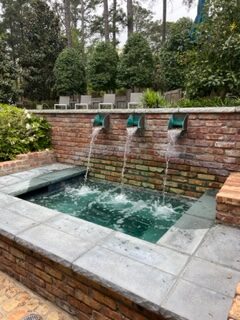 Blending Color and Textures for Casual Elegance.
Using soft, neutral tones—in addition to the wood, brick and furniture selection—help create this refined, rustic back porch escape. These small touches add visual interest to the smooth blend of colors and textures. Just plush enough, the pillows and cushions create some contrast to the hardness of the brick, furniture edges, tile, and beadboard ceiling. The clean mix of beiges and browns works well, and the bench—which can easily be moved around the space—creates additional seating and serves as a perfect place to rest a book or beverage. The arrangement of potted plants and the vibrant fresh flowers add a pop of color.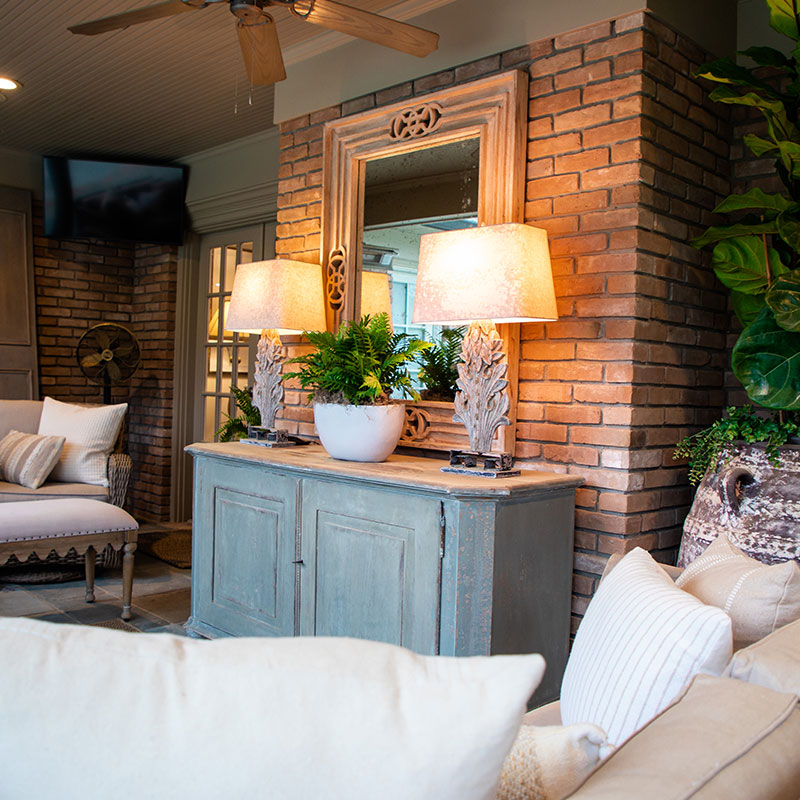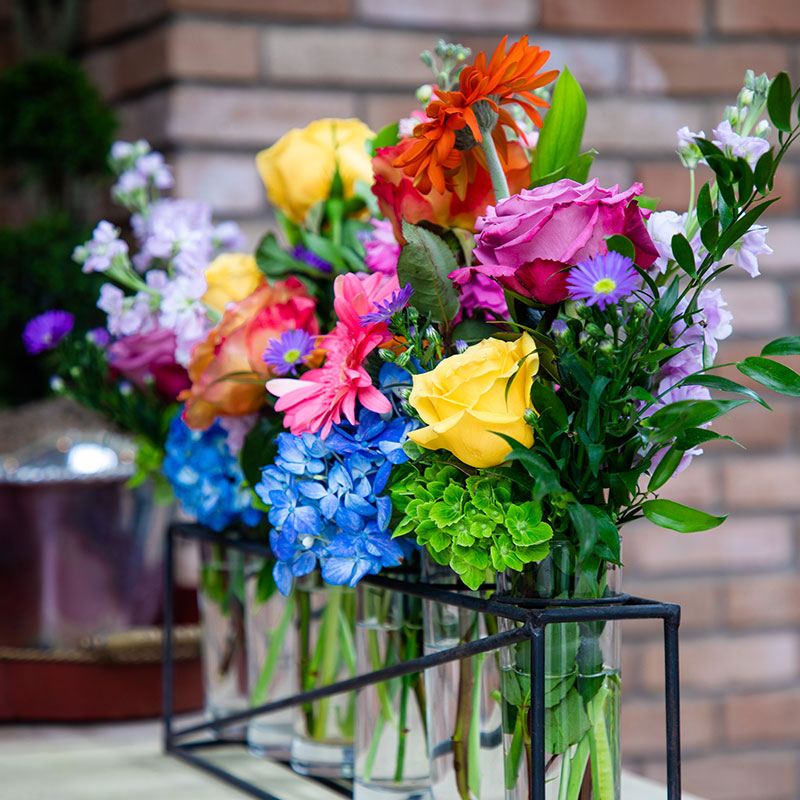 Caddo Common Park
Caddo Common Park, also known as "The Common," is a 1+ acre creative greenspace located at the center of Shreveport Common at 869 Texas Avenue. The new pavilion opened in November 2022. The location and design of the park were informed by a nationally-awarded creative placemaking community vision plan process to revitalize a 9-block historic yet long-blighted area between the downtown business district and the eastern edge of Shreveport's oldest neighborhood, Ledbetter/HUD Choice Neighborhoods. Today, through a large and tenacious public/private effort, nine parcels of broken concrete slabs, weeds and razor wire have been transformed into an active urban greenspace with tree-lined walking trails, an iconic outdoor Performance Pavilion, an Art Bosque Food Truck Court with 20' tall solar and LED lit Artistrees, and a Bioswale.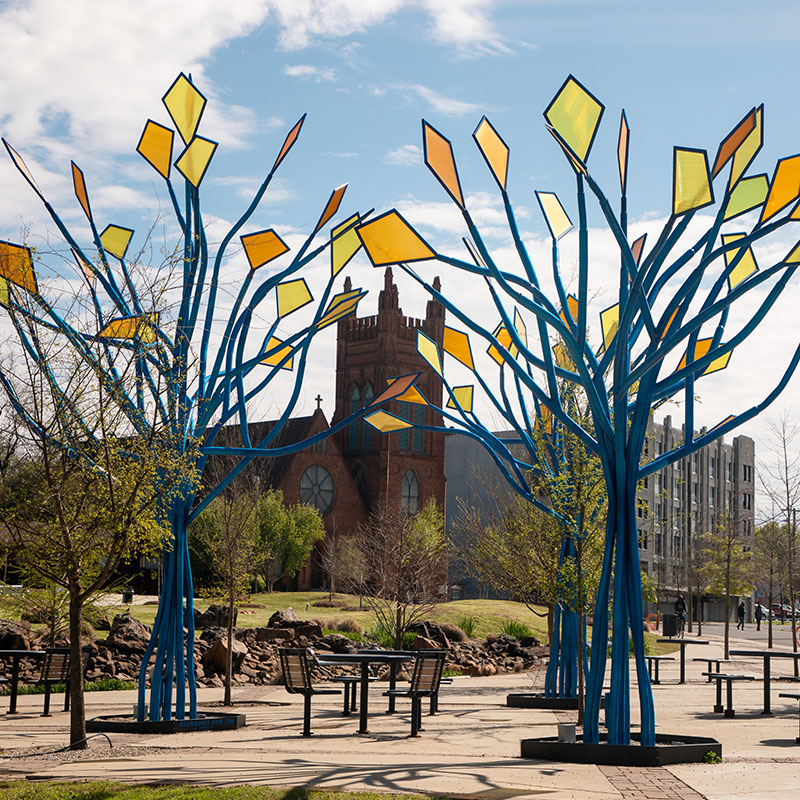 Betty Virginia Park
Betty Virginia Park was given to the city by A.C. Steere and his partner Elias Goldstein in honor of their daughters Betty Goldstein and Virginia Steere. Open from dawn until dusk and is free to visit, it's one of the top-visited parks in Shreveport and has a little bit to offer to everyone. It has a baseball diamond, picnic areas, playground equipment, and walking trails. There is not a place in Shreveport where Shreveporters have played as long or as hard as at Betty Virginia Park.
North Bossier Park
A lovely park hidden away in a residential neighborhood in Bossier City. Within the park, a dedicated picnic area is a great place to eat lunch or dinner. There are four pavilions for shelter, which means you can enjoy shelter from the sun while eating. After eating, enjoy a walk on the park's jogging trails that wind through the park, and the on-site restrooms are kept clean. It also has some climbing rocks, spray park for the kids, and a playground, so you'll have plenty of things to do after your picnic.