"I was born in a trunk In the Princess Theater in Pocatello, Idaho. It was during a matinee on Friday And they used a makeup towel for my didee. When I first saw the light It was pink and amber Coming from the footlights on the stage. When my dad carried me out there to say hello They tell me that I stopped the show."
This is the first verse of one of Judy Garland's musical numbers in the legendary movie "A Star is Born," (Warner Brothers, 1954). As the song goes, she was born for the stage and destined to be an entertainer. Do you know anyone like that? I do.
So too, is the story of our very own, local legend, Ginger Folmer. A woman who literally grew up in a dance studio, Ginger is well known through-out our community (and beyond) as a talented yet humble southern lady. Her family's dance studio was in their home. The front two rooms were designated the studio and the back two bedrooms, kitchen and bath were home to her, her Aunt Gloria, grandmother, mother, and two uncles. Ginger describes it as "cozy."
Ginger began her teaching and choreography career at the tender age of 6. Yes, she was 6 years old when her Aunt Gloria, who taught dance, caught Ginger charging the neighborhood kids a nickel a lesson on the sidewalk in front of the studio.
But this was just the beginning of a dance career that has spanned from 1942 until the present time. Taking trips to Los Angeles and New York City beginning at age 9, Ginger and her aunt would take classes with the likes of Ernest Belcher, and Harriet and Al DeRea, and concentrated classes at the Ernest Carlos Studio. Ginger never passed up the opportunity to learn and improve her skills.
She began teaching (legitimately this time) while in high school and has been performing, choreographing, and inspiring other dancers ever since. If you prod her enough, you could sit for hours and listen to stories of her theatrical experiences and adventures on stage. I've personally had the opportunity, on many occasions, to witness her career on the stage both sitting in the audience and performing in one of her many shows. I've been privileged to have been one of her college students, and to have participated in many of her dance classes. I remain in awe of Ginger Folmer as do so many of this area's community theatre actors, patrons, and friends.
I am fortunate to be called Ginger's friend and to have worked with her on and off stage over the years. Her life has been full to say the least and interesting to say the most. It would take all the pages in this issue to adequately chronicle all that Ginger has accomplished. Even though I've known her for decades, I feel that Ginger has only shared with me bits and pieces of her life. She has so much more to tell. Fortunately for me and especially our readers, East Bank Theatre, through the generosity of the Bossier Arts Council, is presenting a one-night-only expose of Ginger Folmer.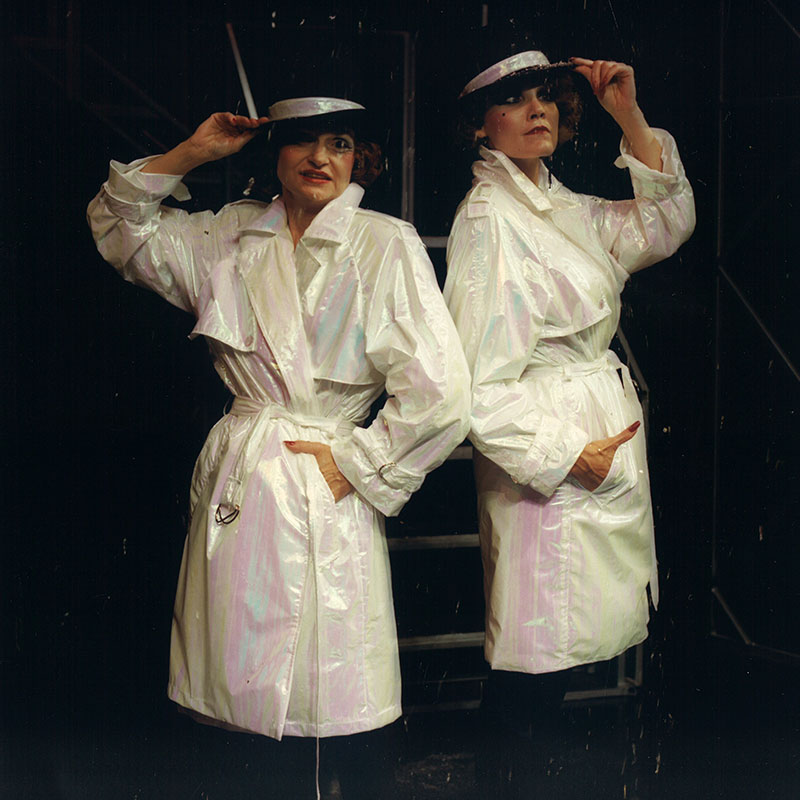 Hosted by Shreveport's own Erik Champney (a graduate of Centenary College and the NYU Tisch School of the Arts, and a playwright and film director now based in NYC), this two-hour Q&A will, no doubt, be an evening to cherish. Reservations are available at the East Bank Theatre Box Office. The proceeds from "One More Time: A Life of Dance & Theatre with Ginger Darnell Folmer" will benefit the Company Repertory Theatre (the still active theatre company her late husband, Richard, created).
"One More Time: A Life of Dance & Theatre with Ginger Darnell Folmer"
Saturday, June 17, 2023
7:30 pm.
East Bank Theatre
bossierarts.org
318.741.8310
Mark your calendars for ARTini 2023, the 13th annual ARTini fundraiser for the Bossier Arts Council. ARTini celebrates various forms of creative expression and encompasses the culinary, musical, and visual arts. Local mixologists create signature martinis and compete for the coveted title of "Judges Choice," "People's Choice," and "Most M'artisanal." Funds raised support the Bossier Arts Council's programming, local artists, and outreach projects for the entire year. Tickets include entrance to the event, a hand-painted martini glass, live music, catered food, and a myriad of martinis from some of the area's most popular restaurants and bars!
ARTini 2023
Saturday, June 10, 2023
7:00-10:00 pm
Louisiana Downs Casino & Racetrack
bossierarts.org
318.741.8310