FERTILITY SPECIALISTS
POSITIVE STEPS FERTILITY
WHAT IS AN REI?
An REI is a reproductive endocrinology and infertility specialist, which requires subspecialty board certification after becoming an OB/GYN.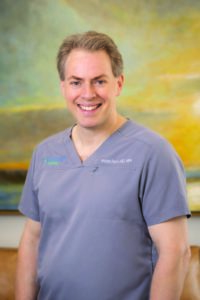 WHY DOES BEING AN REI SUB SPECIALIST MATTER?
If things are going smoothly, then an REI isn't always needed. But people are good at what they do. If I lift the hood of my car, I can't find spark plugs—I don't look there. As someone who looks at fertility almost every day of my life, I routinely find things that others miss. That isn't their fault—it's simply that we have technologies and perspectives that help couples more quickly, successfully, and affordably to get pregnant and stay pregnant.
FAMILY MEMBERS AND FRIENDS OFTEN GIVE THE ADVICE TO RELAX AND TAKE A VACATION OR A GLASS OF WINE AND THEN THINGS WILL HAPPEN. IS THIS USEFUL?
75% of women under age 35 who are having relations after stopping contraception get pregnant in three months. If it has been a year without success, odds are five to one against over the next several years, and a year and a half, the odds are ten to one against. It's not that it can't happen, but after a year is a good time to get the right advice.
SO HIPS IN THE AIR, BOXERS INSTEAD OF BRIEFS, AND TAKING ROBITUSSIN WON'T HELP?
If those worked, fertility specialists would prescribe them. However, cold showers for the man won't correct ovarian failure. Hips in the air won't cause polyps or fibroids to go away. Having pineapple core won't open blocked tubes. Much of fertility has an underlying medical cause that can't be fixed through lifestyle changes.
DOES FERTILITY TREATMENT MEAN IVF?
True infertility often has a spontaneous cure rate similar to cancer. I have an enormous respect for the power of IVF and regularly see all these babies that wouldn't exist without it. However, just as not everyone needs chemotherapy, there are a lot of low-tech, low-cost solutions so we can save people money for the college fund and decorating the baby room.
WHAT SHOULD PEOPLE DO FIRST?
Start with a consult and just get answers. We have breakthrough single visit testing that can go a long way. And then think positive—we see and help create miracles all the time!
DR. PRESTON PARRY
9391 ELLERBE RD, SHREVEPORT, LA
833.767.7837
WWW.POSITIVESTEPSFERTILITY.COM