LANCE THOMSON
bringing generations TOGETHER 
He has an infectious smile that radiates joy. His serious look is shadowed with calmness that is both composed and super cool. Lance Thompson, one of Shreveport's own sons, is one of the most musically talented young men I have had the pleasure of meeting. He sings, he dances, he writes original music and lyrics and can entertain a diverse audience.
You will have the opportunity to see for yourself July 9th as Lance brings his show to the Rooftop of the Remington in downtown Shreveport.
Lance was born to sing. At the age of three, he had his first solo, "Jesus Be a Fence All Around Me," at
the Little Union Baptist Church in Shreveport. His late mother, Brenda Wesley, recognized his gift and was instrumental in nurturing his love of music. She passed away when Lance was 16 years old, but her influence and support has long been a vital part of his success. The late Betty Akins, his piano and music teacher at South Highlands Elementary School, also contributed to the development of his many musical talents. He further developed his confidence in front of an audience with his membership in the Red River Children's Choir.
Lance got serious when, in 2016, he began building his music career. He has been on the rise ever since with a Pop R & B style that has become his signature. Inspired by his favorite artist, Michael Jackson (favorite song: Human Nature), Stevie Wonder, and Bruno Mars, Lance composes the music and writes the lyrics to his songs in his home studio. He choreographs every movement that brings dynamic energy to his shows. On July 9th he will be joined by two, exceptionally talented dancers: Rachel Jackson, who comes to Shreveport by way of the United Kingdom, and DaniaAlvarez, who was the first dancer in his first music video. DJ Josh Scott will be on the mix.
For those who have never tried it, dancing while singing high energy songs is no easy feat. Lance compares his shows to a roller coaster ride. He starts with a huge rush of energy, a twist to the right, a slow steady climb to the next peak, another burst of excitement, a left twist, and
a slow down before you get out of your seat. And just like every roller coaster, you cannot wait to get in line for the next ride. Lance "brings it" with energizing visuals and aunique vocal quality I have not heard in a while. His music has purpose and tells a story – a refreshing concept in today's music.
In addition to having a successful musical career, Lance has another goal. "To express unapologetically a love for God in a secular arena." He believes that when you show sincere love with people, they will feel that love and be inspired to pass it on to someone else. He draws his inspiration from a personal relationship with the Lord, his life  experiences, and his relationships with people.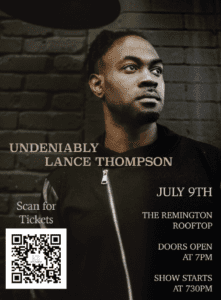 Among his many accomplishments, Lance won a Golden Ticket and went to Hollywood to compete on American Idol. He has performed throughout the state including headlining at the Red River Balloon Rally, the Red River Revel, and the State Fair of Louisiana. He was also the 2020 LA Music Prize winner, a division of the LA Prize Fest that was live streamed to thirty-seven states and nine countries despite the pandemic. He serves on the Shreveport Community Church Praise and Worship Team.
Lance has succeeded in building bridges with his music, transcending age, race, ethnicity, and gender. He appeals to almost everyone and is just what we need in this crazy world. He has just returned from Prescott, Arizona, where a diverse group of fans were so enamored with his performance, they went with him from his first venue to the next one. That, my friends, is the very definition of "a following."