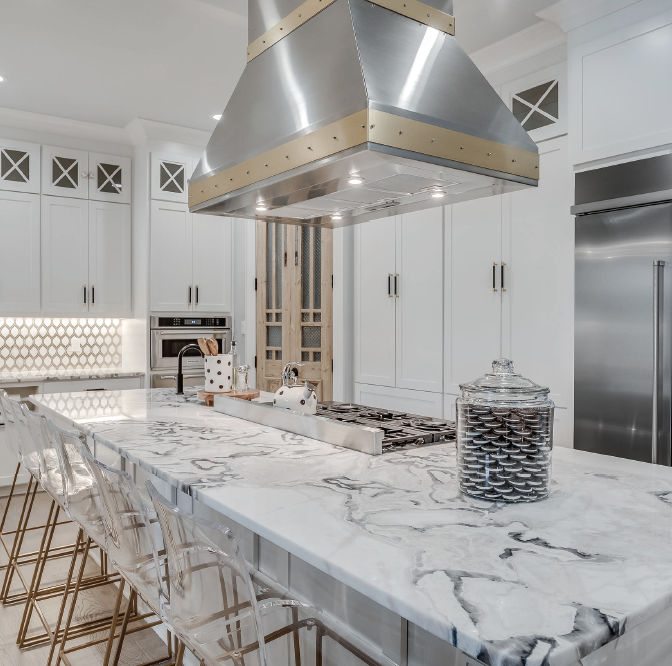 Luxe fabrics, colorful wallpapers and beautiful furnishings give this fully renovated custom-built family home a truly modern flair. Filled with artsy decor ideas that we can't wait to copy, step inside, and see how this realtor makes it all come together.
BY ADAM BAILEY
PHOTOGRAPGY BY MARC GIBSON
Originally built in 2009, this ren-ovated French-Acadian home in Stonewall's North Desoto Estates was spectacularly ren-ovated in 2021 and brings clas-sic European architecture into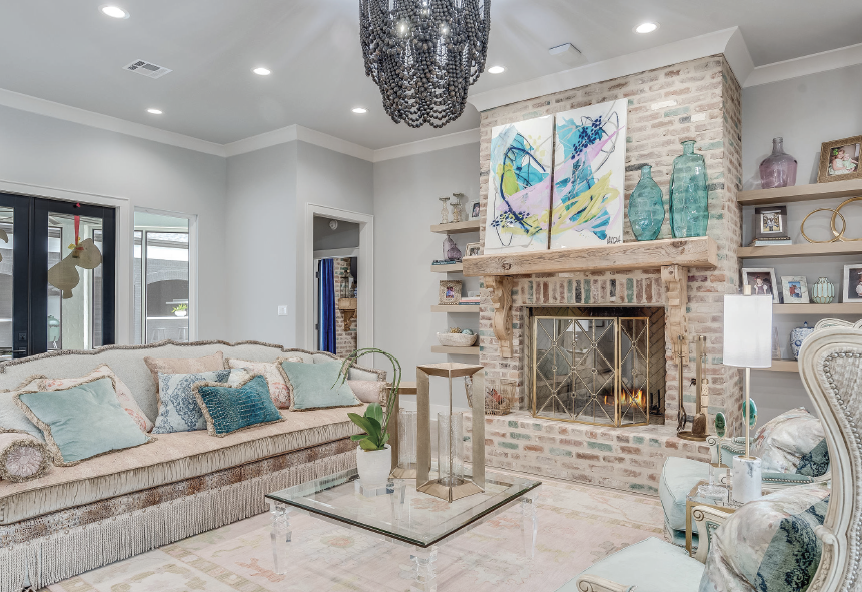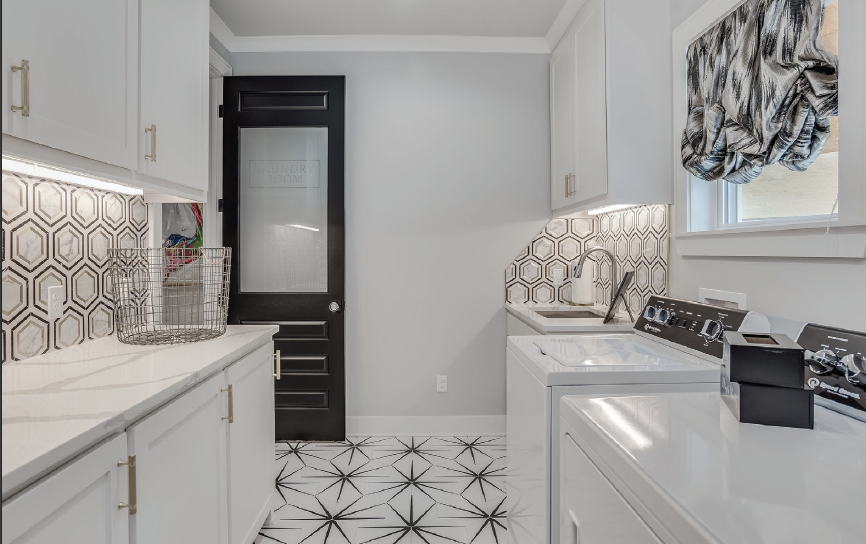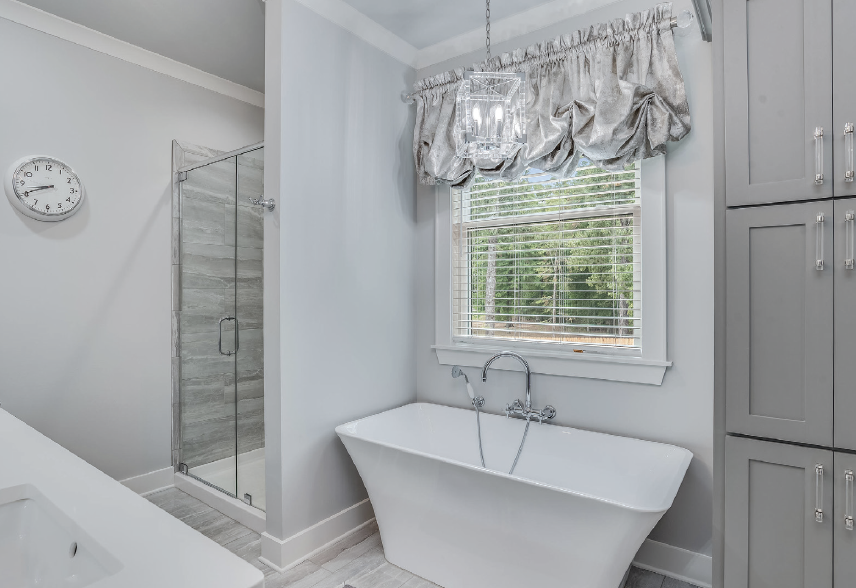 the present day all with a sense of charm and artsy modernism. So, when homeowners Brian and Yvonne Davlin wanted to modernize their family home the renovation quickly turned into a re-creation. According to Yvonne, the sky was the limit. Brilliantly combining rustic and refined, today, the main house is a 2,000 square foot expansion of the original two-story structure all with a hipped roof, beautiful en-try and new porte-cochère. A shop forms the opposite side of a central courtyard where the pool is perfectly placed perfect for entertaining. A screened porch that overlooks the pool area can be easily accessible from the inside or outside. While not a 'traditional' open floor plan, the main entry does open into a large open space—easily combining the living and kitchen spaces, deco-rated with a little more glam than the rest of the house. "This house is so much about the entry," says Yvonne. "It is very much a part of walking in and welcoming guests. It such a wonderful place to entertain." A celebration of natural material—wood beams and exposed brick—is apparent throughout the house. The hardwood floors, brick and wood beams tie the interior spaces together. The home is a celebration of natural material and a beautiful rendering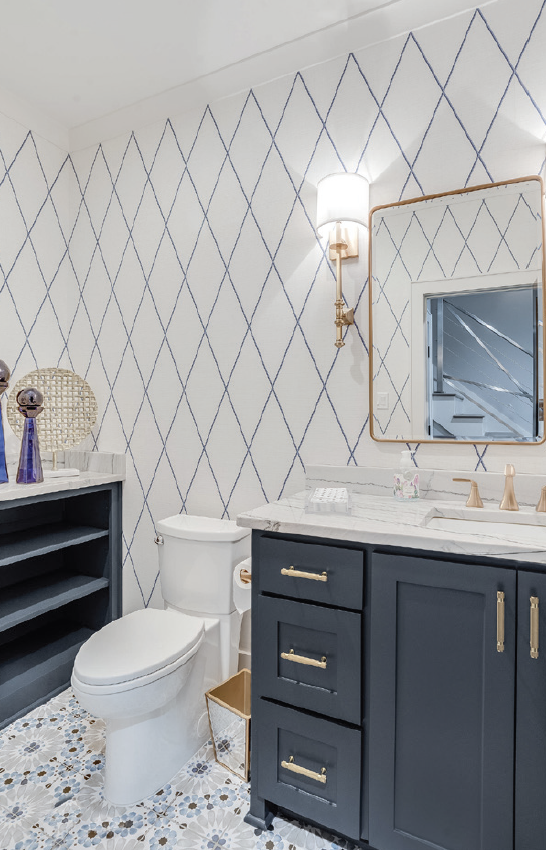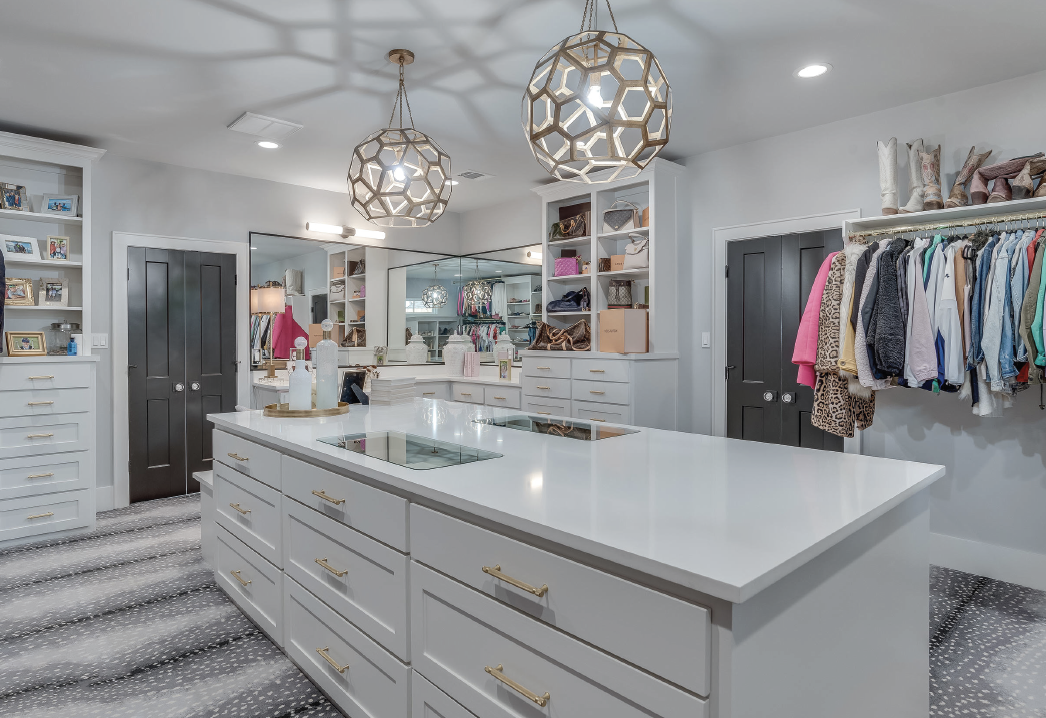 of the French-Acadian style. But don't let those quaint subtleties fool you. Bright airy color, sleek fabrics, imported tile and more await as you pass from room to room. SB Magazine sat down with the Yvonne Dalvin to find out how she along with her contractor husband, Brian so elegantly created a design with an eye on a warm family home perfect for entertaining.
What inspired this home's design?
"Inspiration for us came in many forms, over many years. We were very fortunate that we got to renovate this house from the ground up, literally! Brian originally built this home in 2009. So, after looking at all the homes he had built over the years, talking with his clients, flipping through magazines for ideas, and, of course, living here for fourteen years we easily figured out what did and didn't work. We understood what we truly used and what needed to be discarded. And, most importantly, we knew where to delete and where to add. Ultimately, we wanted to design this house to age in place to be able to entertain, as well as have the ability to accommodate future grandchildren."
What did you want as the end goal for your house design?
For it to be traditional, yet modern design with artsy feel throughout the interior spaces. I felt that—with all the fur-nishings, bright colors, fun wallpapers, and fabrics you would really set off the house and bring some dramatic elements to the French-Acadian style.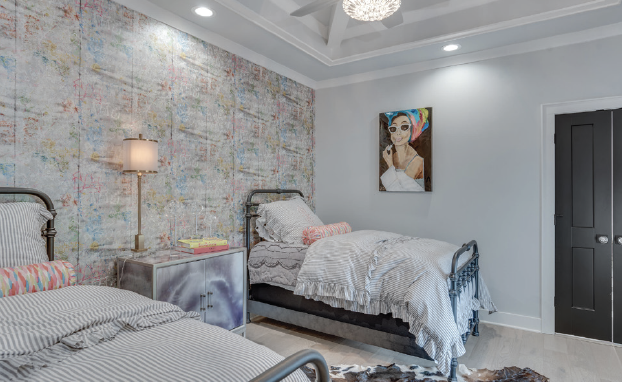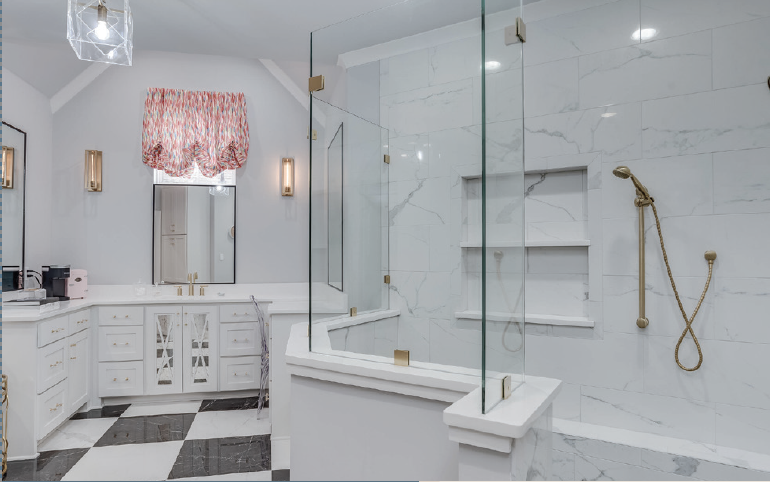 would really set off the house and bring some dramatic elements to the French Acadian style.
What was your biggest obstacle in designing the home?
We were bound by an existing slab and odd shaped lot. The largest challenge was finding out where we could and couldn't add square foot age. Some areas we were able to go out, others we could only go up.
How did you choose the color palette?
Mrs. Gina Jenkins of Jenkins Construction helped with the color palette. We wanted a neu tral and light wall color to really showcase the patterns and colors of the upholstery, drapery, and wallpaper.
What was your favorite room to design?
The kitchen is the winner hands down. Not out of necessity, but because I'm too happy there. Why should I move? I enjoy company and can easily sit eight people at the island. The pantry doors came from Belgium and were hand picked from The Corbel in Jack son, LA. The kitchen, because of its proximity to everything I miss nothing that goes on. A close second? My master closet. I really enjoyed watching it come to life.
Did a particular element tie the design together?
The porte-cochère on the exterior really added a complete element to the exterior and helped ties the old with the new.
What is your favorite feature of the home?
"Lots of favorites, but probably all of the smart home features really stand out. The automation systems that allow us to control everything remotely lighting, security, entertainment, etc. through phones or computers has been a game changer. There is nothing more relaxing than know-ing that all your systems are opti-mized for efficiency without you having to monitor everything."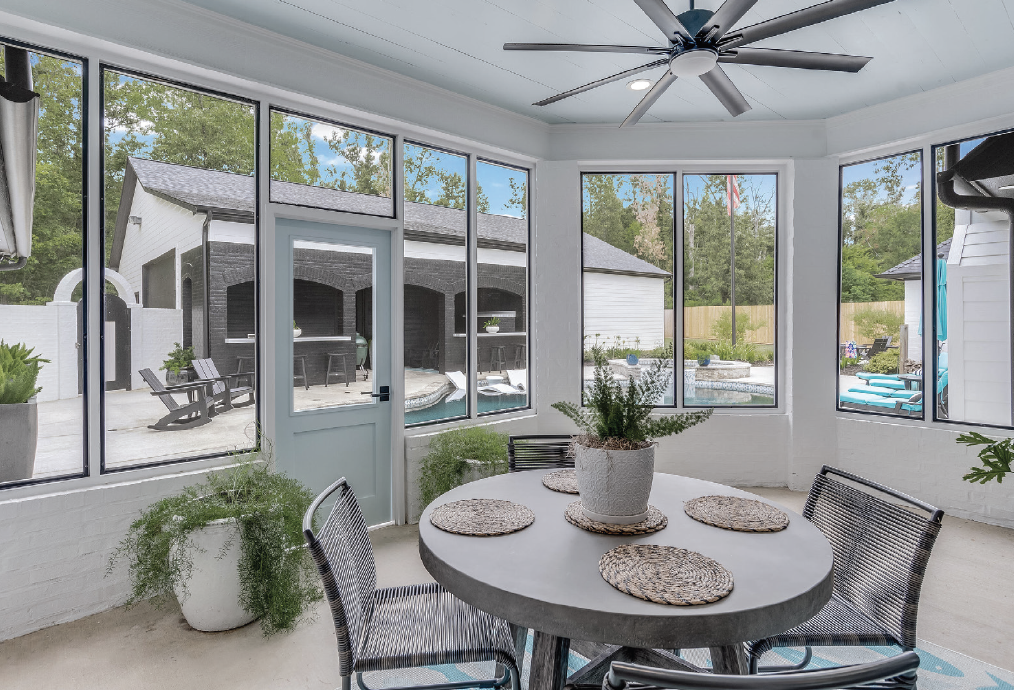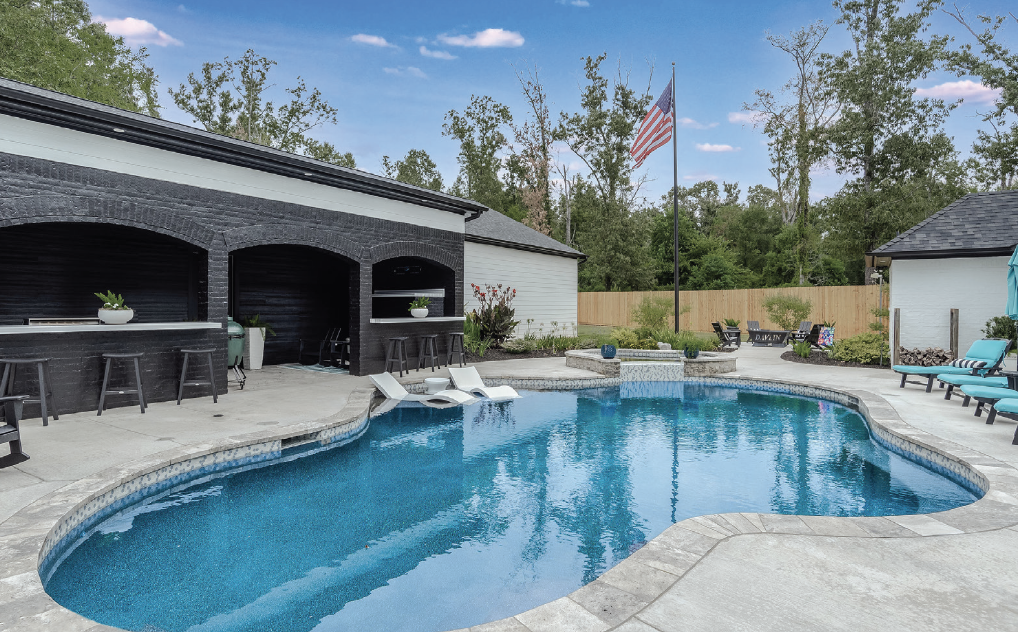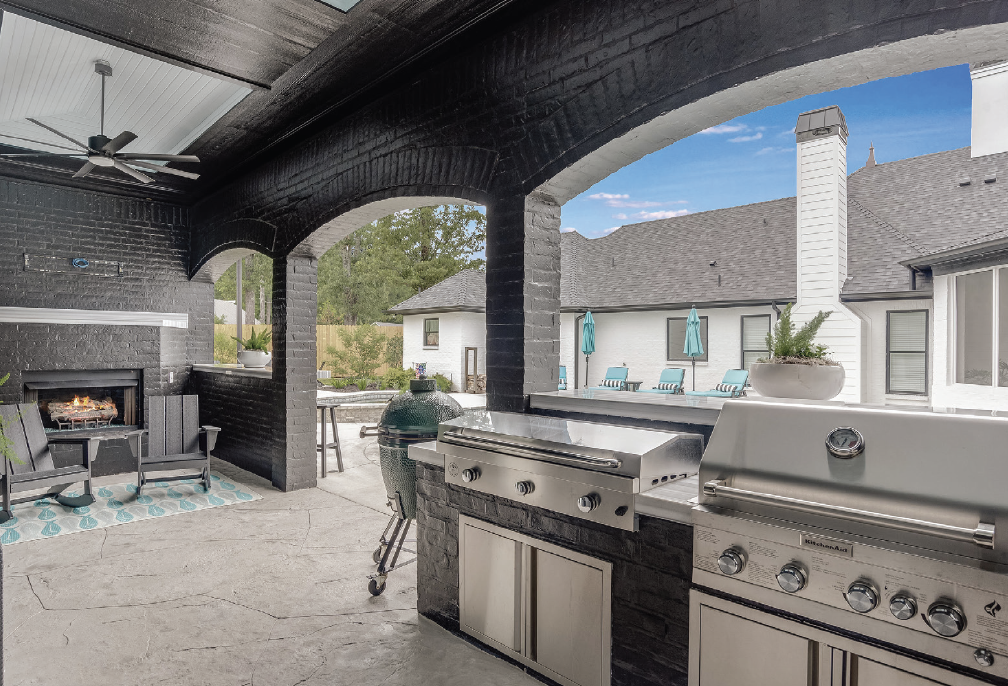 Tell us about some of the special and custom touches throughout.
The pantry doors were hand-made in Belgium and we pur chased them from The Corbel. The hood, along with the stair railings, were custom made by Mark Ross at DMR Mechan ical. Each bedroom can serve as its own master suite, with its own bathroom and walk-in closets. Obviously the master closet, with an eleven foot island with glass tops for jewel ry display and other personal items. The master bedroom also has its own laundry room, apart from the kid's laundry room which is, of course very convenient and efficient.
What makes this project uniquely yours?
There isn't anything specific. I'm always bursting with in spiration to try something different; however, I do think my personality is shown in the interiors. I think they are not only artsy and modern with all the custom furniture and décor but always chic, relaxing and approachable. I'm a laid back kind of girl and I get that real life happens in these spaces. They make me feel homey and comfortable. I know firsthand what's going to be practical and what isn't.
What "hidden gems" are in your design?
The fireplace mantles, which are antique beams along with the corbels they sit on, are from The Corbel. The brick on the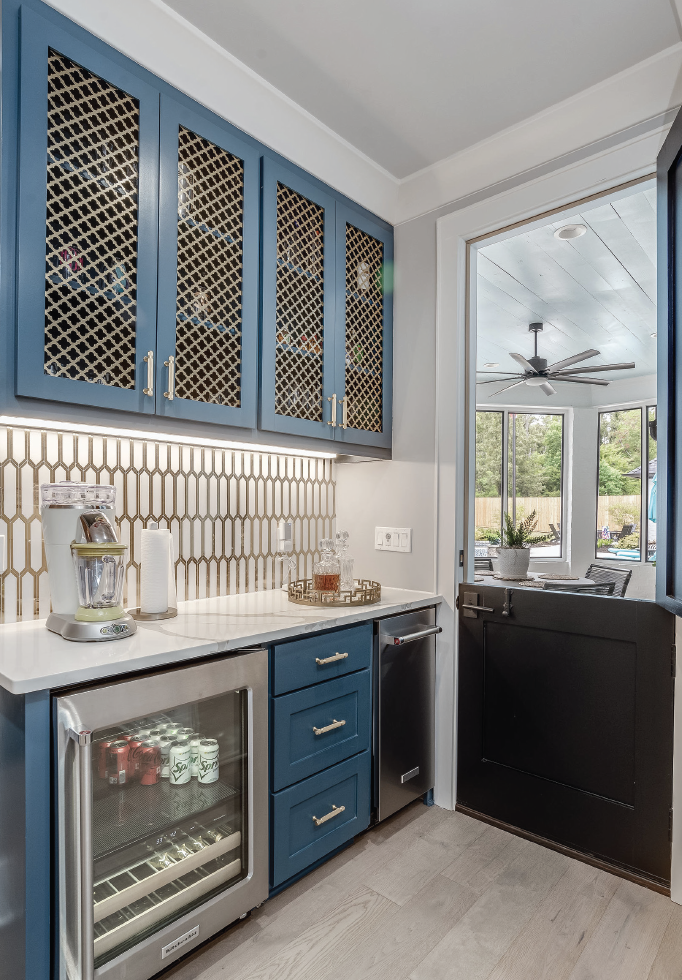 fireplace, as well as the brick in the master bed-room, is off of an old building. We wrote bible verses and quotes on the backside of the walls in every room. The kitchen drawers that have lots of my personal touches for how I cook and store things. Finally, the small windows on the porte-cochère are actually two storage rooms, which are great for storage instead of using the attic. Many of the items were salvaged from old building materials, like the brick—giving the home a sense of history and casual elegance.
Needless to say, there is something about all this décor that makes this house feel like a home.
Brian and Yvonne Davlin would like to thank each and every person involved in this project, including all the subcontractors, suppliers and vendors who supplied products, materials, time and energy into this very large and challenging project.
House plans drawn by Jack Crawford and Josh Contairo; Cabinetry, windows and doors by Custom-Bilt Cabinet and Supply; Plumbing by Peace Plumbing (Jeremy Peace); Plumbing supplies by National Wholesale Plumbing Supply and Coburn Supply Company; Electrical by Caddo Electrical Contracting
(Shaun Pendleton and Brandon Greenslate); Site Prep by Performance Demo-Land Company (Clint Davlin); Drywall by Cowtown Materials, Inc.; Roofing by RSI/Advanced Building Products; Lighting by Henson's Carpet One Floor & Home; Construction trim and frame by Chad Garcie; Flooring by SJ Flooring (Harold Johnson); Concrete by Red River Ready Mix
(Chris Jackson), Davila Concrete (Chris Davila) and; Pool by Moorehead Pools (Michael Moore);Interiors by Jenkins Construction (Gina Jenkins); Cabinets by McDowell Cabinets (Brett Walker); Paint by Caddo Paint (Brain Sneadger); Garage Doors by Ark-La-Tex Garage Doors (Rocky Burk); Surround Sound by Custom Media Connections, LLC (William Pendleton); Brick by Acme Brick and McDaniel Masonry (Jared McDaniel); Vent Hood and Handrails by DMR Mechanical (Mark Ross); Outdoor furniture by Corner Collection; Landscaping by Beau Cook Lawn & Landscape
(Beau Cook); HVAC B&B AC Service and Repair (Bobby Mitchell); and Photography by Marc Gibson.