LEAVE THE "EATEN" PATH BEHIND FOR A NEW CULINARY PERSPECTIVE ON LOUISIANA'S OLDEST CITY.
If you were to line up every Natchitoches meat pie that I've ever eaten, end-to-end, their combined length may span the stretch of I-49 that connects Shreveport and Natchitoches. During my first year as a graduate student at Northwestern State University, I commuted between Louisiana's oldest city and my home in Shreveport three or four times per week. Throughout that year, I frequently ran late to work or low on funds. Meat pies met all of the prerequisites for meals: they were delicious, cheap, and could be eaten while driving. When my commute became untenable, I rented a room in Natchitoches not far from my summer job on campus and spent the next three months eating everything that Natchitoches has to offer other than meat pies. From some of the finest homestyle "country cooking" that I've had anywhere in Louisiana to a haven for fans of homemade pizza, I was continually surprised by all that Natchitoches has to offer beyond their famous meat pies.
CLASSIC SOUTHERN
I've Got the Recipe Soul Food Diner (621 Bossier Street, Natchitoches) serves what I believe to be the finest Louisiana plate lunches outside of Lafayette. My first meal from I've Got the Recipe was unforgettable, a golden-brown pair of baked turkey wings served with spicy cornbread dressing and giblet gravy, meaty mixed greens, and the best candied sweet potatoes I've ever tasted. For dessert, choose from homemade banana pudding or several varieties of classic Southern cake. If you happen to be there when butter pecan rum cake is on the menu, grab a slice it embodies the un adulterated joy of a classic Southern cake. I've Got the Recipe Soul Food Diner is open for lunch only, Tuesdays through Fridays and occasionally on Sundays. Expect to spend about $20 per person with a drink and a tip.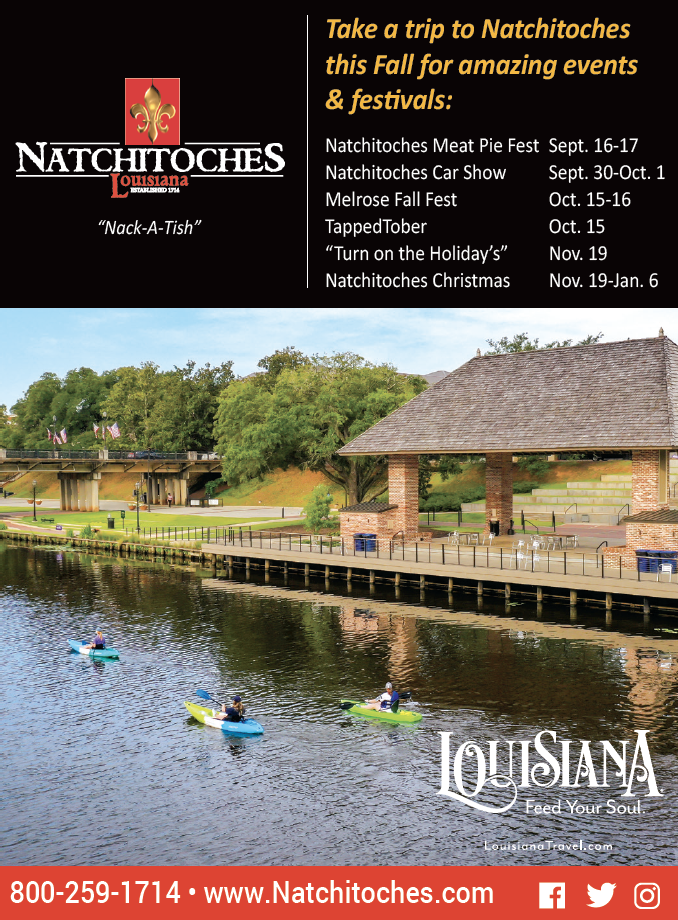 If you're still hungry for classic Southern comfort food, head to the Bread House Nakatosh (1202 Texas Street, Natchitoches). The sweet-and-spicy greens at this friendly meat-and-three remind me of Wine Country Bistro's famous greens, and their pimentolaced mac n' cheese brings to mind the version once served by Ernestine Moody of Moody's Café in Minden. Need a little taste of something sweet? Grab a bag of tea cakes at the register. If you're going to be exploring Natchitoches by car, you'll want that bag of tea cakes moist cookies, rich with vanilla and nutmeg within easy reach during your drive. Bread House Nakatosh is open, 11 a.m.-7 p.m., every day. Expect to spend about $15 per person.
PIZZA
A great independent pizzeria can be hard to find, but Natchitoches has one in Peggy's Homemade Pizza
(4116 University Parkway). When you call in an order here (which you absolutely should do), don't be surprised if the person who takes your call says something akin to: "Let me ask Peggy how long it'll take." This pizza isn't quick, cheap, or "hot n' ready" instead, it's old-fash-ioned, made-to-order, and delicious. Though I enjoyed all of my meals at Peggy's, my favorite by far was a piping-hot calzone stuffed with the ingredients used to make Peggy's signature Greek pizza: mozzarella and feta cheeses, spinach, red onions, and black olives. For the Greek calzone, get the homemade balsamic vinegar and feta cheese dressing on the side
and use it as a dunking sauce, like you'd usually use marinara. Peggy's Homemade Pizza kept occasionally erratic hours during my three month stay in Natchitoches, so it may be best to confirm the hours first. If you're traveling up or down I-49 and are looking to grab takeout, Peggy's is an especially easy option. A traveler could exit I-49, pick-up a pizza they'd called-in to Peggy's, and be back on the road within ten minutes' time. Expect to spend up to $20 per pie.
BARBECUE
Both of my go-to recommendations for barbecue in Natchitoches re-quire a bit of effort on behalf of the consumer, but they're worth it. If you're anywhere in Natchitoches—whether you're window-shopping on Front Street or attending an event on the NSU campus—you're never more than a fifteen-minute drive from Grayson's Bar-B-Q (5849 US-71, Clarence). Famous for smoked ham sandwiches on soft homemade buns, Grayson's is an edge-of-town barbecue roadhouse in business since 1965. While the tiny, counter-service-only dining room at Grayson's is fun to see, the best seats in the house are the quiet picnic tables located out front, where guests can lazily enjoy a chopped ham sandwich and an RC Cola in the mottled shade of a pecan tree. Grayson's Bar-B-Q is open,
9 a.m.-7 p.m., Tuesdays through Saturdays. They close at 6 p.m. on Sundays.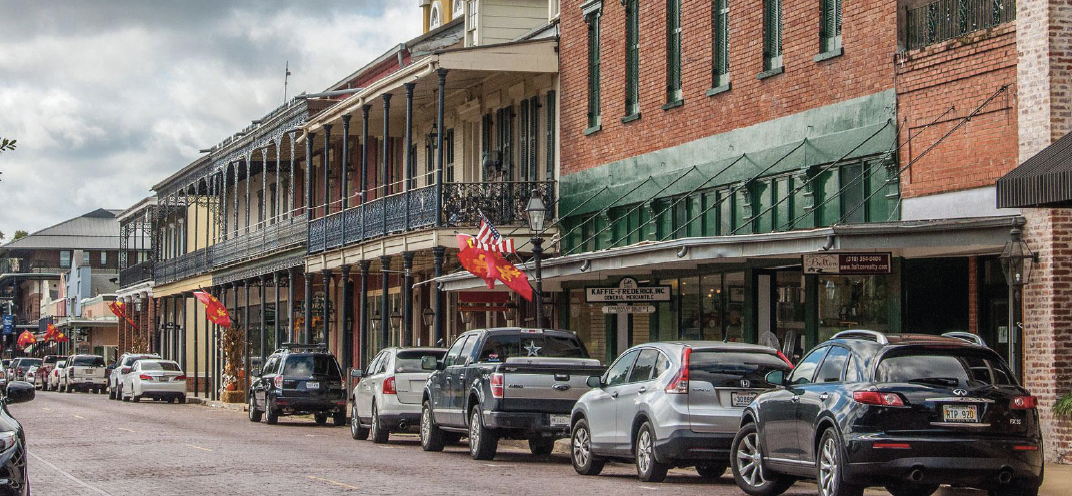 If you love barbecue and are up for an adventure, head to Texas Street and look for roadside vendors. From the 1200 block, where Bread House Nakatosh smokes barbecue in the parking lot from time to time, to the 400 block, where Sweetie's Bar-B-Q serves competition quality 'cue from a huge, black trailer parked at The Wing Shack, there are usually a half-dozen solid barbecue options on Texas Street at any given time.
AND MORE…
Look out for Roosevelt Sykes, a Texas Street food vendor who cooks and sells "wash basin"-style, double-fried hog cracklins by the roadside. For dessert, visit Angel's Tacos and An-tojitos, an outstanding Mexican food trailer parked in the 1700 block of Texas Street, beloved for their fresh, cream-filled churros.
 If you'd like to grab a beer or mar-garita from a bar with a unique view, head to El Rio Cantina (1125 Washing-ton Street, Natchitoches), a Tex-Mex restaurant with a picturesque back patio bar overlooking Cane River.
I seldom leave Natchitoches without making a stop for yam cake at French Market Express (5109 University Park-way, Natchitoches), the sprawling con-venience store, bakery, and restaurant located near the foot of I-49. The reci-pe for this carrot cake-like confection made with mashed yams, shredded co-conut, and pecans was adapted from a prize-winning family recipe with roots in the 1930s. Owing in part to the yam cake's popularity, the bakery at French Market Express has consistently expanded for three decades. Today, yam cakes are prepared around-the-clock in a free-standing bakery facility located immediately behind the store. If you don't feel like yam cake, there are lots of other delicious things on the menu at French Market Express, including outstanding fried shrimp po' boys. They've even got Natchitoches meat pies.
Written by  Chris Jay is a freelance writer and longtime Shreveport resident currently residing in Round Rock, Texas. Read more of his food writing at StuffedAndBusted.com.