There are few experiences
more fun than going to a stadium and watching your favorite team play, and one of them happens in the parking lot in the hours leading up to game time. Tailgating is one of the most popular social gatherings in sports where friends meet and enjoy a celebratory warm-up with food, drinks, and lots of team spirit.
To ensure you're getting the most out of your next game-day experience, here is everything you need to know about having an epic party at your next tailgate.
Where did tailgating get started?
According to Food and Wine Magazine, tailgating can be traced back to ancient Greek and Roman harvest celebrations, known as "vestavals" after Vesta—the goddess of the hearth. Today's version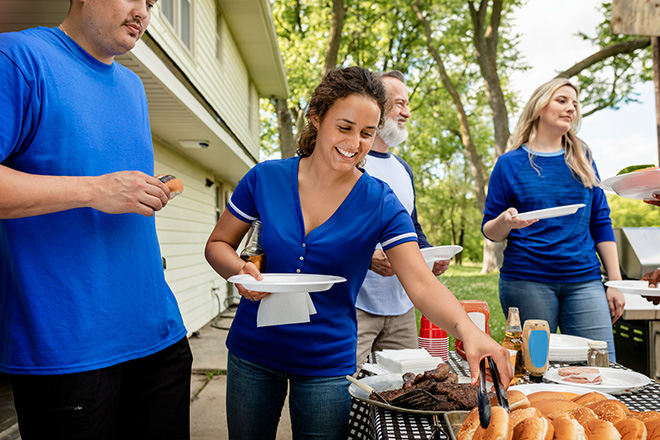 of tailgating has debatable origins; however, according to Yale professor and alumnus Thomas Bergin, the first football tailgate was in 1906 at the Harvard-Yale game. Many fans arrived in cars to picnic with those who arrived by train.
WHAT TIME TO START TAILGATING?
The average tailgate lasts about four hours, with many going as long as five or six hours for games scheduled later in the day. Die-hard fans will often begin tailgating around 6 a.m. for games that start around midday, while others will go as far as setting up the night before. Since tailgating is such a popular
activity, showing up late means you won't find a spot to park and set up. Be sure to get your things organized the day before and pack up your car early. Make plans with your friends to meet at a specific location, and keep in mind that some stadiums have rules about how early tailgating is allowed to start. Attendees should always check with the local stadium rules to see when they can show up before making their way to the parking lots.
BEST TYPES OF FOOD FOR TAILGATING
The most common munchies that make their way into tailgating events are casual easy-to-make finger foods. However, some fans like to get creative and fun with their game-day food options. You might even find grills cooking up shrimp, steaks, and, yes, even crawfish. While there aren't any real requirements to what you should bring or make, many popular tailgating foods include: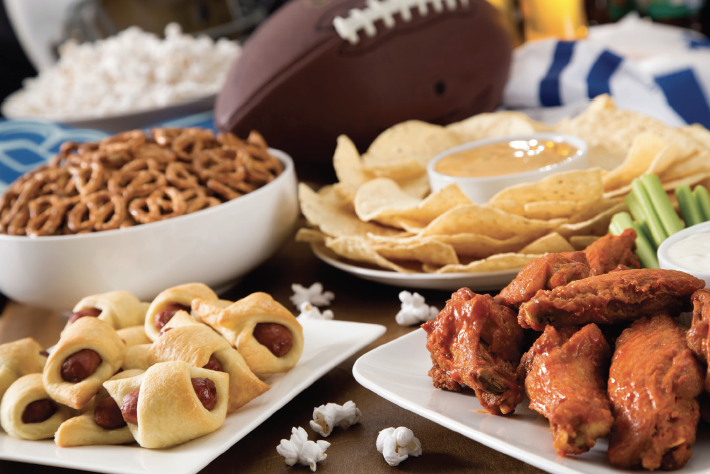 MEATS AND VEGGIES FOR GRILLING
The main course of most tailgating parties includes hotdogs, hamburgers, sausage, wings, ribs, and chicken. You can also grill veggies like corn on the cob and cheese-stuffed peppers. Don't forget the buns.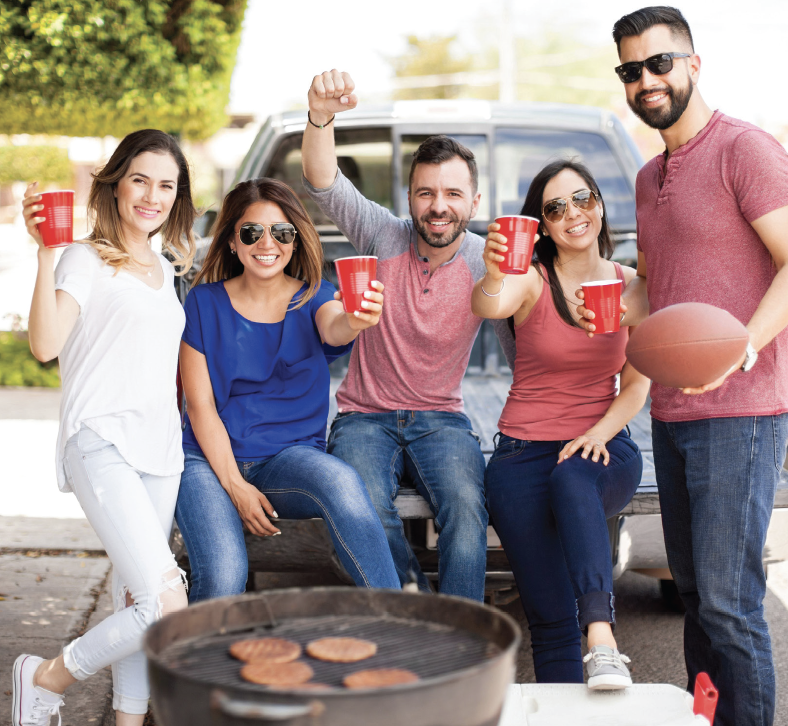 CROCKPOT DISHES
Popular recipes include buffalo chicken dip, slow cooker french dip, cocktail meatballs, bacon-wrapped smokies, and chili.
CHIPS & DIP 
Shop for an assortment of chip flavors and varieties that you can easily transfer to big bowls for sharing. Enjoy solo or with your favorite dips, like buffalo chicken, queso, salsa, and guacamole.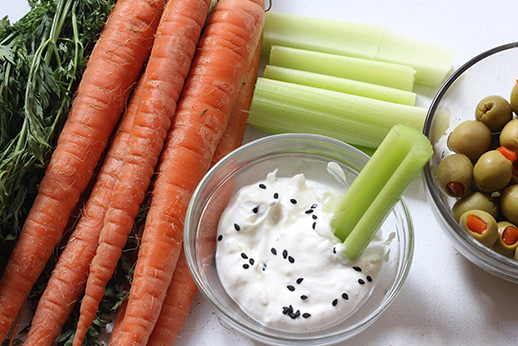 CONDIMENTS AND TOPPERS
Ketchup, mustard, mayonnaise, pickles, onions, tomatoes, and lettuce are essential game-day companions.
SIDES
Make a few side dishes at home and pop them into a reusable container. Popular side dishes include beans, potato salad, pasta salad, greens, and slaw.
SNACKS
For the perfect tailgate bites, be sure to bring trail mix, pretzels, veggie sticks, and cheeses. 
DESSERT
Everyone loves a sweet treat after their meal. Easy tailgate dessert options include cookies, brownies, and candy.
DRINKS
Keep reading.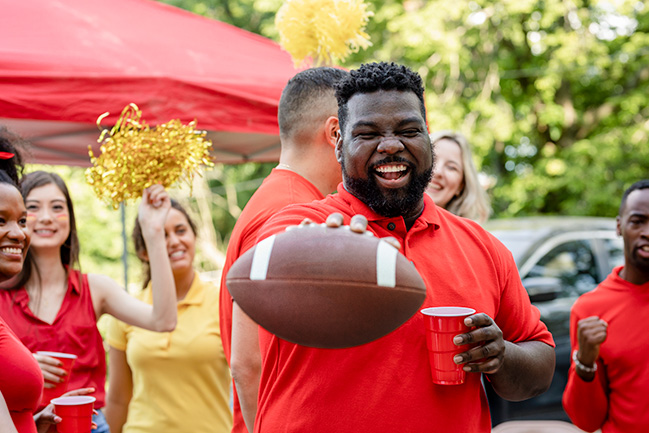 Grills. The grill is essential during
a tailgate because it is the primary method used to cook your food. Many fans choose to bring plenty of additional sides and snacks, but the grilling is the main event. Without a good grill that's big enough for you and your friends, you may be looking at some very hungry football fans. One grill is often enough to supply food for an average group, so unless your party extends across several cars, a single grill is all you need. On the other hand, it can be handy to have multiple grills going simultaneously to accommodate different foods. One focuses on meats, burgers, and hotdogs, while another cooks up tasty veggies. Crockpots. A crockpot is an excellent addition to your tailgating list. You can make just about anything with it, from dips to chili to BBQ pulled pork. Enjoying hot comfort foods can be particularly beneficial when the weather gets cooler, and you and your friends spend hours outside before the game. You'll need a power outlet to keep the crockpot going, so be sure to have the right equipment before you get to the parking lot. Coolers. When you spend hours a day outside, you'll need a cooler to hold all the drinks, ice, and foods that need to stay chilled. A good rule of thumb is one cooler per car. A basic icebox that you take to the beach works well. Drinks. Most tailgaters have alcoholic and non-alcoholic beverages ready to sip throughout the day. Be sure to pack plenty of water, sodas, and energy drinks. For the boozy side of the drink menu, standard beverages include beer and hard seltzers. If you feel like preparing a few cocktails, try a Bloody-Mary for early-day drinking or margaritas in the afternoon. Chairs. After long hours standing, cooking, and chatting with friends, you'll want a comfortable spot to rest and relax before the big game. Portable chairs offer convenience and mobility, and setup takes seconds. Most teams sell branded portable chairs, so you can show your team spirit while you take a load off. Popular options are durable, lightweight, and easy to collapse. Choose one with cup holders or a small foldout table attached to the side to keep your food and drinks safe. Wireless speakers. Whether you're listening to your favorite playlist or game-day interviews and announcements, you'll want a wireless speaker that everyone can enjoy. Choose one with longer battery life so you don't run out of power in the middle of your pre-party.
BEST GAMES & ACTIVITIES FOR YOUR TAILGATE
Since tailgating lasts for hours, you'll need some activities that will keep you and your friends entertained while you wait for the main event to start. Depending on the activity, you may want to carve out some space next to the cars, or you can bring your equipment to a nearby grassy area. The most popular games to play at a tailgate include:
🏈

Corn hole




🏈 Beer pong




🏈 Washers/Washer Board




🏈 Catch (football, baseball)




🏈 Spikeball




🏈 Ladder ball




🏈 Frisbee
TYPES OF MUSIC TO GET YOU PUMPED UP FOR THE GAME
While some tailgaters prefer to stream pre-game commentary, high-energy music is the most fun way to get you and your friends pumped up before the game. Create a playlist on your favorite streaming app, like Spotify or Apple Music. Some apps even allow friends to collaborate on the same playlist from their devices, so everyone gets a chance to play their favorite stadium anthem. Some teams also have specific songs that play at every game, like "Eye of the Tiger" by Survivor and "We Will Rock You" by Queen. Queue up your favorite feel-good songs or draw some inspiration from Billboard's top ten best tailgating songs.
GOOD COMPANY 
Of all the ingredients you'll need for a great tailgate party, good friends should be top of the list. The entire spirit of a tailgate lies in the camaraderie of fans, joyously celebrating their favorite team. If you are going to a game from your alma mater, consider contacting other alumni for a fun reunion. For national team games, gather your friends, relatives, and neighbors for an enjoyable day of food, drinks, and sports.