Executive director of the Robinson Film Center
Wendell Riley is settling into his new office as executive director of the Robinson Film Center. The whiteboard behind his desk is filled with scribbled notes and reminders. Baby Yoda is perched on that whiteboard, looking over Riley's shoulder as he looks to the Robinson's future.
"My mission and my charge to everyone here is to spread our wings further," he said. "RFC has an amazing legacy. I said when I started that I was joining a winning team. There is nothing we have done we need to scrap and start over."
Collectively, the mission at Robinson Film Center is to "educate, enrich and entertain this region through the medium of film," Riley said. Personally, it is an opportunity for him to merge two lifelong passions. "Education is the first step," Riley said. "I have the ability to do the thing that I love, which is being near to the film industry and participate in the film industry, but also to help other people through film literacy for the community."
For Riley, serving as the executive director of Robinson Film Center is the dream job he didn't dream existed as a child growing up in Trinidad and Tobago. "When I was a kid, I had a passion for the arts and humanities," he said. "But I couldn't see a pathway for me as a young person to have a viable career in the entertainment industry, where I am successful and able to take care of my family."
He is committed to showing that path to young people in Shreveport and Bossier City. "There are many kids in Shreveport- Bossier who don't have those pathways," he said. "Maybe if we provided those pathways, we may be able to put our arms around some kids who otherwise would ultimately get thrown to the wayside or end up in unfulfilling careers or jobs."
Riley was raised by his single mother in Port of Spain, the capital city of the small, Caribbean island nation. Instead of going to a large, multi-screen cineplex, Riley had access to about 10 intimate movie houses within walking distance of his house. What he discovered in those movie houses shaped his world view.
"It just felt completely random, but perfect," he said. "Each cinema house had a different theme. One would show A movies, one would show B movies, one would show older films, one would show martial arts films, one would
show Bollywood films. I essentially was surrounded by international cinema. That informed a lot of the things that I am very passionate about."
Riley engrossed himself in cinema. He collected Starlog, Fangoria, and any other fan magazines he could get his hands on. Film unlocked his creativity.
But his mom had other plans. "I was deemed the academic in the family," he said. "In the British system, which we have in Trinidad because we were once a colony of Great Britain, you pick your subjects very early on in life. You pick your major essentially in high school. I wanted to do all the humanities stuff. I wanted to do literature and art. My mom was like, 'No, you're going to do business.'" He did study business in high school. When he came to America for college, he chose to major in marketing. "I had the dream of working in advertising — working in Manhattan or something like that," he said.
That dream didn't last long. "After graduating with my marketing degree, I realized that for every one of me there were 200,000 other marketing graduates all over the country," he said. "I sort of aimlessly wandered the wilderness of corporate America — working in jobs I was not really happy in. I am someone who, if I am not passionate about something, it's really hard to motivate myself, even if I have an aptitude for it. I was probably a terrible employee back then."
Riley earned an MBA in his late 20s. That's when he arrived in Shreveport, still unsure of his future. "I sort of stumbled into Moonbot Studios," Riley said. "They actually hired me to help them with their HR. They were a growing studio at that time. They had just won the Oscar. They were staffing up to do more productions. I came on and said I could do HR. That was mostly true."
Halloween is a fun start to the holiday season, but just remember it can be frightening and dangerous for your pet. However, with a little extra precaution, you and your pet can safely celebrate this spooktacular day!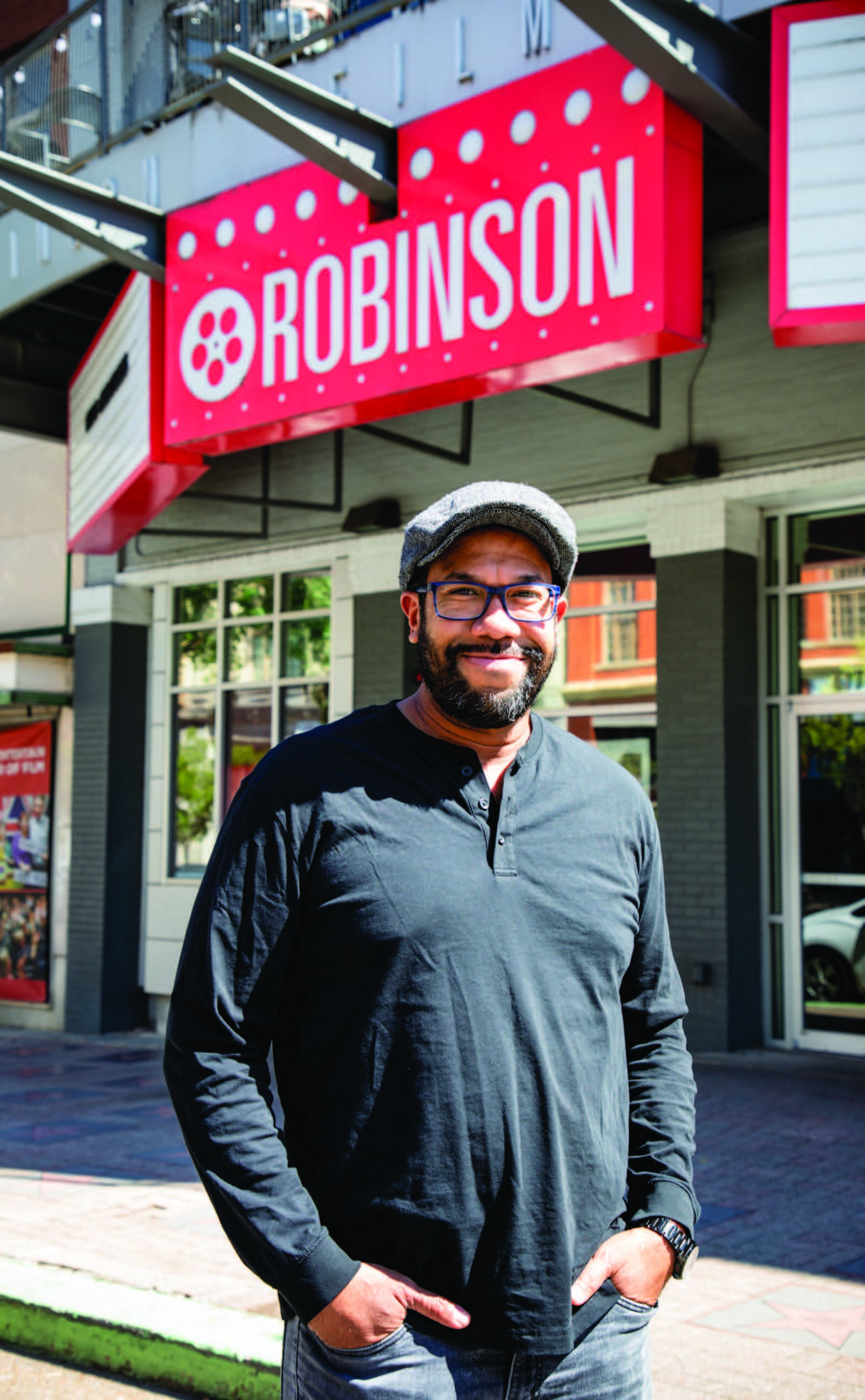 Riley helped Moonbot recruit animators to Shreveport, "versus going to Hollywood, or New York, or Montreal — terrible cities like that." As the studio grew, so did his opportunity to advance. "We lost one of our production managers," he recalls. "At the time, I basically walked into my boss's office and said, 'I think I could probably do this job.' He looked at me and said, 'I think you can as well. Let me think about it, and I will get back to you tomorrow.' The next day I went in, and he said, 'I am going to give you a shot.' That was sort of the beginning of my journey in film and entertainment."
He had found the place where his vocation became his avocation. "I remember my first couple of months there," he said. "The Oscar statue was sitting there on a big desk. So, you'd walk by it every time you went to the kitchen. I wanted to touch it, but I had this image in my mind that these bars would drop, and alarms would go off. That's how much it meant to me as a young nerd who found the place that suddenly made sense.
"I was terrified that they would send me home. I was more scared somebody would pull me in their office and say, 'You can't come back tomorrow.' That's how much it meant all of a sudden. It changed the trajectory of my life."
The curtain ultimately fell on that chapter of his life when Moonbot Studios went out of business. Riley considered following some of his co-workers to Dallas, where they were starting another animation studio. But at that point he was co-parenting a daughter with his ex-wife. Staying in Shreveport became more important, "even though it meant putting that part of my career on pause," he said.
Finding a new role was difficult with no other animation studios in town. "My resume was this strange mix of this random business stuff and award winning animation producer," he said. "Nobody knew what to do with me. I wouldn't get callbacks for interviews or anything like that."
One man did know what to do with Riley. That man was Gregory Kallenberg, executive director of Rational Middle and the Prize Foundation, who was producing a documentary series on immigration at the time. Riley jumped so quickly at the opportunity that the subject matter did not resonate with him initially.
"That was another amazing opportunity for me," Riley said. "I never imagined a career in documentary filmmaking. Then, throughout that process, it became this other personal journey of discovery for me because we were talking about issues that were near and dear to my heart as an immigrant in this nation."
Riley left Rational Middle as the rigorous travel schedule took a toll on family life in Shreveport. But Kallenberg remains a staunch supporter of Riley in his current position. "Wendell has been a Prize brother and a Rational Middle brother," Kallenberg said. "We have fought a lot on the front lines together. Wendell burns bright. He is a bright spirit who is incredibly important to our community. I can't think of a better, more forthright person to walk alongside than Wendell. The RFC is one of the most important entities in north Louisiana. The fact they have found Wendell is something that is incredibly exciting to me."
After Rational Middle, Riley became media and external relations director at LSU Shreveport. There, he got to combine his creativity with his business acumen in support of another of his passions — education. "I am a firm believer in the value of education," says Riley. According to LSUS Chancellor Larry Clark, "Wendell was vital in elevating LSU Shreveport in this community. His unique background made him an asset to me and the University."
"When RFC eventually came calling, it slowly kind of dawned on me that this role would allow me to seamlessly blend the two," said Riley. As the executive director of the Robinson Film Center, Riley wants to play a role in recruiting, fostering and growing filmmakers and the film industry in Shreveport. As a movie lover, he wants to inspire the appreciation for cinema that has fueled him since childhood. "There is something about film that is the thing for me," Riley said. "It's the combination of so many other art forms. Even bad movies are still fulfilling for me.
"I want that for everyone. However you engage with film. Whether you like going to the movies as a collective experience, where you go with your friends and have a great time. You like watching movies with big audiences where everybody's reacting and yelling at the screen and laughing when you're supposed to. Or if you are like me, who prefers a matinee where I can sit in the very middle of the theater with very few people in there. Man, there's nothing like it. It's magical thing."
Scott Anderson is a freelance writer with more than 20 years' experience in journalism. He enjoys discovering and sharing people's stories.