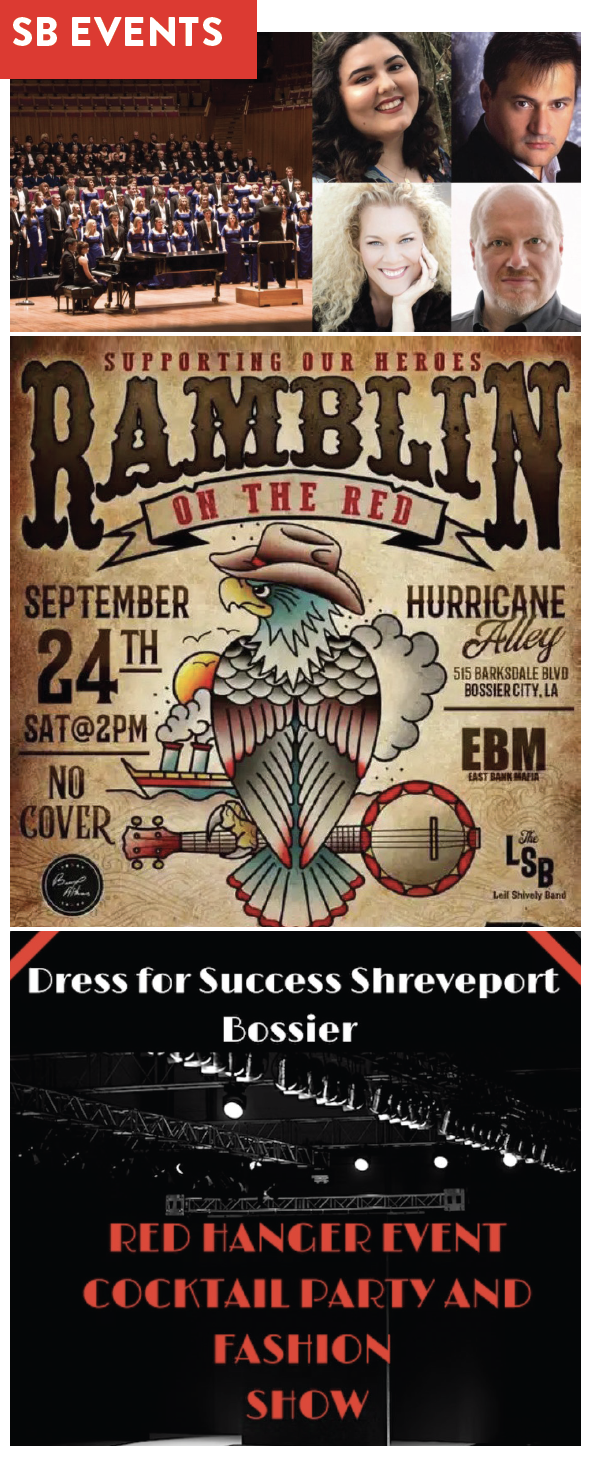 BEETHOVEN'S 9TH: REVOLUTION IN MUSIC
Venue: Shreveport Symphony Orchestra Date: September 24th
Time: 7:30pm
Info: ShreveportSymphony.com
The mighty Symphony No.9 by Beethoven opens its season with tenor and Louisiana native Paul Groves, soprano Sarah Rees, Grammy-winning mez-zo-soprano Michelle DeYoung, bass Dennis Jesse, and the Centenary College Choir, Northwestern State University Choir, and Prisma Vocal Ensemble.
RAMBLIN ON THE RED
Venue: Hurricane Alley Date: September 24th Time: 2pm
Free benefit concert! Raffles and donations for EveryWarrior.org. Artists performing are Tildon Gillum, Beaux Atkins, Zebb Rogers Music, Leif Shively Band, and Lucas Jagneaux Music.
DRESS FOR SUCCESS
SHREVEPORT BOSSIER ANNUAL FUNDRAISER
Venue: Sci-Port Discovery Center Date: September 29th
Time: 5:30pm-8:30pm
Join Dress for Success for their 10th annual fundraiser, The Red Hang-er Event. This event will be a cocktail party and a client-based fashion show. The proceeds from the event will support four Dress for Success programs that help women enter and reenter the workforce.
GAMEPORT EXHIBIT AT SCI-PORT
Venue: Festival Plaza
Date: May 27th-Oct 2nd
Time: www.sci-port.org Sci-Port Discovery Center's special exhibit, GamePort, will be open through October 2, 2022. From coding challenges to classic games, Game-Port puts a new spin on learning S.T.E.M. 
RED RIVER REVEL
Venue: Festival Plaza Date: October 1-9
Time: check website Price: check website Info: redriverrevel.com
This festival for all ages cele-brates the visual and perform-ing arts. Enjoy great food and music and shop the artists' booths!
SHREVEPORT CARD SHOW
Venue: Acrosports & The Fieldhouse Date: October 8th and 9th Time: 9am-5pm The largest card show in Lou-isiana returns this October 8th  and 9th! The Shreveport Card Show will take place at AcroSports and The Fieldhouse on Line Avenue, located at 735 American Way. Doors open at 9am and close at 5pm  on both days. Admission is just $2. There will be 100 tables with ven-dors from five states selling, buying, and trading sports cards, memorabilia, Pokémon, and more! Come experience one of the fastest-growing hobbies in the country, taking place right here in your backyard!
PRIZE FEST 2022
Venue: Downtown Shreveport
Date: Weekend 1: Music & Fashion – Oct 14-Oct 16
Weekend 2:
Film, Food, & Comedy Oct 14-Oct 16
Info: www.sci-port.org
Prize Fest 2022 returns for two weekends in downtown Shreveport. Quite simply, this is one of the most amaz-ing culmination of festivals on planet earth. The infa-mous Film Prize, sonorous Music Prize, and delectable Food Prize live here. Join the fun!
PAWS IN THE PARK 2022

Venue: Riverpark Church (Old Hamel's Park) Date: October 15th Time: 10am-3pm Paws in the Park NWLA is an event organized and put on by Real Estate to the Rescue, a local 501(c)3 non-profit or-ganization focused on help-ing the  area animal shelters and rescues. There will be animal advocates, adoptable animals, a pet costume con-test, food trucks, vendors, cake walks, raffles, a kid zone, and much more!
MAYORAL FORUM
Venue: Southwood High School Auditorium
Date: October 25th Time: 5pm-7pm This is a joint effort of SHBA, SHNA, and the League of Women Voters. Candidates who are holding or have held office are invited to partici-pate. From 5-6 pm, there will be networking in the hallway outside of the auditorium, and from 6-7pm, there will be the question-and-answer forum hosted by Scott Hughes.
BOSSIER CITY FARMERS MARKET
Venue: Pierre Bossier Mall Date: Every Saturday through November Time: Saturdays 9am-5pm Price: Free Info: www.bossiercity farmersmarket.com Visit the Bossier City Farmers Market for produce, arts & crafts, food trucks, handmade goods, plants, baked goods, and much more!
CREATE YOUR GLASS-BLOWING ART WORKSHOPS
Venue: Sanctuary Glass Date: Recurring weekly Price: Contact for pricing Info: sanctuaryglassstudio.com
Time: Wed–Thur, 9am-5pm , Fri–Sat, 12pm-8pm Sunday, 9am-5pm
Visit the Sanctuary Glass Studio and create your own glass artwork. An artist assists you in creating one-of-a-kind art.