BY SCOTT ANDERSON
Jennifer Carsillo loves to share her passions whenever and wherever she can.
The classical violinist and actress has several opportunities coming up to share her passion for music and film, both locally and internationally. This winter, Carsillo will be traveling to Cuba as a Cultural Ambassador. But first, Carsillo is part of welcoming Cuban piano virtuoso Aldo López-Gavilán for two performances in Shreveport.
López-Gavilán will join the Shreveport Symphony for the Willis-Knighton Masterworks Series performance "Latin Nights" at 7:30 p.m. Nov. 19 at RiverView Theater. The performance will celebrate music of the Americas and will feature López- Gavilán's work "Emporium," Ravel's "Bolero" and the world premiere of "Cloud Scraper: Symphony Americana," a work the symphony commissioned Shreveport native James Eakin III to compose.
The next day, Carsillo will join López-Gavilán in a concert of chamber music, marking her return to the stage in her first violin performance since late last spring, when a rotator cuff injury sidelined her playing. The Noel Foundation Chamber Music Series recital begins at 3 p.m. at Anderson Auditorium on the Centenary College campus. That performance features López-Gavilán on piano, Ertan Torgul and Carsillo on violin, Michele Gunn on viola and Brett Andrews on cello. They will present several of López-Gavilán's original compositions. The next time López-Gavilán and Carsillo see each other will be in February 2023, when Carsillo and her husband, Shreveport Symphony Music Director Michael Butterman, will travel as guests of the Cuban government to Havana.
"Michael's worked with Aldo before," she said. "They got along really well, and Michael adores his music. Aldo's wife is the conductor of the Havana Chamber Orchestra, which is an amazing group of musicians. We are so excited to have this opportunity to experience the culture of Cuba through the arts."
Before she embarks on that cultural mission, Carsillo will perform as a violin soloist in "Christmas…as it should be," a concert of holiday favorites arranged by Phillip Wade, formerly the music minister at Cypress Baptist Church in Benton. "We are presenting the best Christmas songs, both sacred and secular, in a fresh and powerful way," Wade said. He added that he considers it an honor to arrange the songs for Carsillo to perform. "There are good violinists, there are very good violinists, then there is Jennifer," he said.
"Christmas…as it should be" will be at 7 p.m. Dec. 9 and 10, with a 4 p.m. matinee on Dec. 10, at the Emmett Hook Center. Tickets are available online at tix.com.
But music is not her only passion. Carsillo is a multidimensional artist. It goes back to her childhood in California, where she once dreamed of being a "Vallerina."
No, don't try to correct her. "My mom was like, 'That's' wonderful, but it's pronounced ballerina with a B.' I was like, 'I don't know what that is. I want to be a VALLerina.' I was so headstrong, so confident about myself. I 'knew' that's what it was called."
Her aunt took her to see "The Nutcracker" when she was five. Carsillo remembers being "enchanted" by the entire experience — "the music, the dancing, the acting, the costumes. I knew I wanted that in my life."
She stepped onto a stage for the first time cast as Lucy Van Pelt in a Charlie Brown play.
"I was kind of a shy child," she said. "But I felt happy on stage.I was never nervous."
After that role as Lucy, Carsillo played several small parts in school performances. But her drama teachers saw something in her when she had a tiny part in a musical production.
"My drama teacher encouraged me to improvise," Carsillo said. "She told me to just take it and go with it. That was my introduction to improvisation. I loved that freedom."
In the fourth grade, Carsillo got the chance to choose any musical instrument to learn to play at school. For her, there was no other choice than the violin. Just like watching "The Nutcracker" inspired her to dance, watching a young woman play the violin lit another fire in her.
"I was, 'Ooooh, yes!' So I went home and told my parents I wanted to play violin. They were like, 'That's sweet, but what happened to wanting to be a Vallerina?'"
Her parents fostered this new passion, and Carsillo nurtured both for a while. When she auditioned and was accepted at the Young Conservatory at the American Conservatory Theater in San Francisco, she spent the summer juggling acting and playing the violin. Her acting teachers told her she was doing too much music. Her violin teacher told her she was doing too much acting. Her parents told her it was time to make a choice.
She chose the violin. "I guess because acting came so easily to me, I didn't value it as much," she said. "Violin was so hard. I took to it well. But there is so much that goes into it… so much more I wanted to learn."
Carsillo still considers herself a student of the violin. "I can't perfect it," she said. "I can play well, and I have played at Carnegie Hall and many other great venues, but I will always be striving for perfection. And I will never reach it."
But Carsillo never lost her passion for acting, either. Her mind would often drift to thinking about the kinds of roles she longed to play if she were an actor, especially during bouts of tendinitis when she had to limit her concertizing. Carsillo began to ask herself why she couldn't do both. As she and Butterman traveled the country with their music careers, she began to explore acting again. She was signed by an acting agency, and right away landed some commercials. But she also had to decline several jobs, including a good movie role, because of her commitments with the violin.
"I said to myself, 'Why did I ever think this is going to happen? I knew I could do it; I just didn't have time for the opportunities."
The Music Directorship of the symphony brought Carsillo and Butterman to Shreveport in 2006, at which point Carsillo was concentrating on balancing motherhood of a two-year-old with a violin career. Their daughter, Olivia ("Bunny"), later excelled as a competitive dancer and an actress at Shreveport Little Theater Academy. It stirred something in Carsillo.
"I saw how much fun she was having onstage, but I could kind of feel I was a little more into it for her than she was," Carsillo said. "She loved it, but I was SO into it. I decided I should pay attention as to why."
Bunny was homeschooled while Carsillo and Butterman both traveled the country for performances. When Bunny decided to attend public school in the eighth grade, that necessitated Carsillo to stay in Shreveport with her. Without homeschooling duties, she had a lot more free time during the day, but found she couldn't physically add seven more hours of violin to her routine.
Carsillo was asked by the Shreveport Opera to play the title role in "Fiddler on the Roof." She enjoyed her experience so much that she prepared a monologue and answered an open call at Shreveport Little Theatre. John Daniel cast her as the lead in "Dead Man's Cell Phone," a play by Sarah Ruhl. "It was like coming home," she said of being on stage again. "It was so comfortable. I had been out of that whole scene for so long. I don't know what made me think I could do it. But it all came back." Carsillo has been in seven theatre productions at SLT, including starring roles in the musicals "MAMMA MIA!" and Steve Martin's "Bright Star." She also won Bravo! Awards for Best Leading Actress and Best Supporting Actress in the 2018-19 season.
Carsillo also began hearing about something called Film Prize. As with everything else in her life, she dove straight into the deep end. She worked with fellow "Dead Man's Cell Phone" actor Camille Gladney to create the short film Gloria for the 2018 Louisiana Film Prize.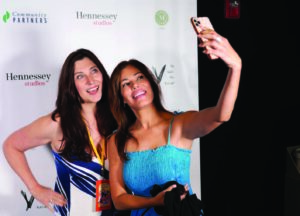 Anatomy of a Selfie: Los Angeles-based actress Iris Almario (Tales of The Walking Dead, NCIS) coming out to support friend Jennifer Carsillo for her appearance as "Angel" in the Hollywood premiere of Hard Up. (Photo credit: Ilja von Nagel, Valley Film Fest 2022)
 It won a Founders Circle award that year. It also launched Carsillo into an even broader array of creative outlets.
Since 2018, she has acted in twenty films to date (more are in the works), including several shorts that have been Official Selections at Film Prize. Carsillo has performed a variety of on and off-screen roles for a number of other Film Prize (and feature length) projects. In 2019, she starred as her great-grandmother in St. Esther Day, which she co-wrote with Gladney. The following two years, Carsillo appeared in and composed/ performed the music for writer-director Abigail Kruger's films, Green's Alley and Amber the Acrobat, part of a trilogy of films that premiered at Film Prize. Amber the Acrobat has screened in film festivals around the world, including the Berlin Short Film Festival, Berlin and Amsterdam Lift Off Film Festivals, Wisconsin Film Festival, and Berlin Art Film Festival. Carsillo will soon represent the short at the Hollywood Florida Film Festival. Attending film festivals is something Carsillo enjoys greatly, as it allows her to meet other filmmakers and "see all the creativity in independent film, which is really inspiring."
For this year's Film Prize, she played a British character, Corporal Shawcross, in the Top 5 Film Bamber Bridge, a World War II-era short film that explored the issue of racism, by 2021 Grand-Prize winner Mark Bonner. And Carsillo received a special gift herself as she was altering the costume Bonner provided, a genuine World War II uniform. "I found some secrets in the pocket," she said. "That was the coolest thing ever. I reached my hand in and I pulled out this art deco lighter. I just burst out crying. It was so emotional to think that was actually used by a soldier. I also pulled out an old British coin from the breast pocket. I just popped them back in and said, 'This is for the next person that gets to wear this costume.'"
Carsillo said she is grateful to Shreveport for giving her the opportunity to embrace all of her artistic interests. "There are so many motivated people here, and it has been fun to pool our talents to create art, be it for the stage or screen. I have been so fortunate to do so many different things: story writing, scriptwriting, producing, costumes, helping with art design. And in the world of performing, acting, dancing, singing, violin, and composing. I'm thrilled to have really unique opportunities here in Shreveport." But since the pandemic, Carsillo says that acting auditions are mostly taped, so she's been able to take advantage of callbacks and projects throughout the country. Case in point, Carsillo just booked a beauty campaign for Bambu Earth, a brand she has admired for its safe ingredients and belief that beauty shines through healthy, natural skin.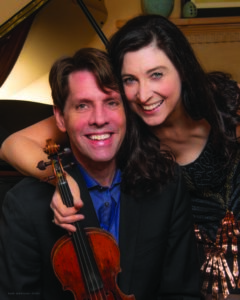 Whatever role she is playing, Carsillo has one goal when it comes to her audience. "The thing that has been important to me—in whatever endeavor—is to infuse my passion for the activity into it," she said. "I want them to feel how important it is."
Michael Butterman and Jennifer Carsillo at their home in Shreveport. (Photo credit: Neil Johnson)