[vc_row][vc_column][vc_column_text]
SB WEDDINGS
Kallie Bethard & Tyler Rash
MAY 28, 2022 • COUSHATTA, LA
[/vc_column_text][vc_column_text]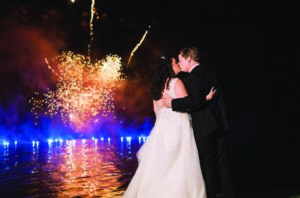 Kallie Robyn Bethard of Coushatta and Tyler Rash of Shreveport were united in marriage on Saturday, May 28, 2022, at half-past six o'clock in the evening at First United Methodist Church in Coushatta.
Kallie is the daughter of Mr. and Mrs. Robert Edgerton Bethard. Tyler is the son of Mr. and Mrs. Mike Rash. Kallie and Tyler met at the beginning of their Occupational Therapy
 Masters Program. During the two years of school, they first developed a close friendship which consisted of many hours of studying together. Then, they began dating, continuing to support one another while achieving their educational goals.
A reception followed at the Bethard family lakeside home in Coushatta. As the guests entered the outdoor tent, they were greeted by champagne with a customized photo floating in the  bubbly. The tent was adorned with beautiful chandeliers and a custom dance floor featuring the  couple's customized wedding crest. The guests enjoyed the entertainment provided by the performance band, Az-IzZ.
The evening concluded with extravagant fire works as the couple exited in a vehicle chosen by the groom while gold sparklers cascaded around them. The couple will reside in Shreveport with their two dogs, Rivers and Tito, following their honeymoon to St. Lucia.
Bakery: Sweetie Cakes, Benton
Beverage Selfie: The Grand Bevy
Food and Bar Catering: Chef John Folse, Baton Rouge
Ceremony Musicians: Four Seasons String Quartet, Shreveport
Ceremony: First United Methodist Church, Coushatta
Fireworks: Pyromania, Shreveport
Florist: In Great Detail, Monroe
Live Painter: Torregrossa Art by Stephanie Torregrossa Gaffney, Baton Rouge
Hair and Makeup: Shepherd and Co. A Beauty Bar, Bossier City
Officiants: Reverend Curtis Carroll and Reverend Stuart Sherman
Photographer: Laura Caraway Photography, Shreveport
Reception: Bethard Family Home in Coushatta
Reception Musicians: Az-IzZ, Atlanta, GA Tent, Lighting, and Flooring: Pelican Tents and Events, Shreveport
Transportation: SHV Chauffeured Limousine and Red River Trailways, iShuttle, LLC
Videographer: Cupio Media
Wedding Coordinator: Leslie Campbell Weddings and Events, Baton Rouge
Wedding Stylist: Margo Bouanchaud and Lance Hayes, Baton Rouge
Wedding Invitations/Save the Date: Paper 'N Things, Baton Rouge
[/vc_column_text][/vc_column][/vc_row]