[vc_row][vc_column][vc_column_text]
SB WEDDINGS
Avery Bryan & Joseph Bingham
APRIL 30, 2022 • SHREVEPORT, LA
[/vc_column_text][vc_column_text]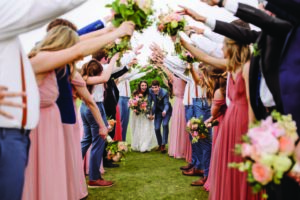 Avery Caroline Bryan and Joseph Anthony Bingham were united in marriage on Saturday, April 30, 2022, at David Toms 265 Academy in Shreveport, Louisiana. Parents of the bride are Kevin and Donna Bryan, and the groom's parents are Jeff and Connie Bingham.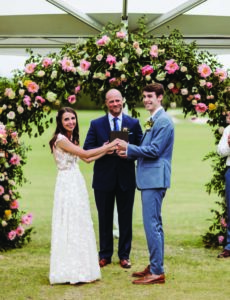 Avery and Joe love riding their tandem bike and chose "Let's Ride" as the theme of the wedding. A beautiful sketch of tandem bike image enhanced the dance floor, and a tandem bike was parked nearby, with a beautiful floral bouquet in the basket. Garden and tea roses, ranunculus, peonies, eucalyptus, hydrangeas, snaps, tulips, bells of Ireland, and hypericum adorned the venue.
Beautiful green bars were set up outside, along with plenty of lounge seating and round tables. Champagne was passed during cocktail hour and guests were treated to pasta, carving, salmon, charcuterie, and Louisiana-specialty stations. For dessert, cakes in four flavors were served. The five-tier round white wedding cake was decorated with a cascade of florals down the side.
Sparkling overhead were 21 disco balls hung from the sail cloth tent. Guests had a great time taking photos in the photo booth, donning hats and glasses, and dancing into the evening.
Avery and Joe exited the reception under a shower of sparklers and left in the same 1988 Jeep Wrangler that Avery's parents drove away in from their wedding reception almost 32 years ago.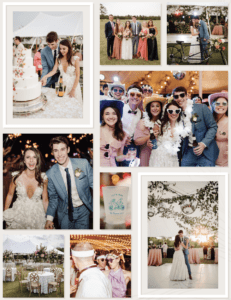 VENDORS:
Wedding Planning & Coordination: Delia Jeffcoat Events
Florals & Designs: The Colony House
Tents & Rentals: Pelican Tents and Events
Additional Rentals: P .O.S.H Couture Rentals, P erch Event Décor
Catering: The Upper Crust
Cakes: Social Bites
DJ: DJ Michael Green
Venue: David Toms Academy
Linen: BBJ LA Tavola/Nuage Designs
Photographer: Jamie Pratt Photography
Picture Booth: Pikcher Booth
Dance Floor Design: Rebecca Hargrove Design
Paper: The Paper Tulip
Dress: Bridal Boutique
Dress Designer: BERTA
Hair and Makeup: Chemistry Hair Salon
Graphic Design: Evan Bryan
[/vc_column_text][/vc_column][/vc_row]