ON
THE
MARKET
A MID-CENTURY MODERN MANSION OFF ELLERBE ROAD
BY ADAM BAILEY
PHOTOGRAPHY BY JEFF MILLER, PELICAN IMAGING
Patience and persistence—wood, stone and glass dominate the exterior and give the interior a touch of the rustic. This gem of a home is designed to both reflect and blend in with its surroundings through its overall style and choice of materials.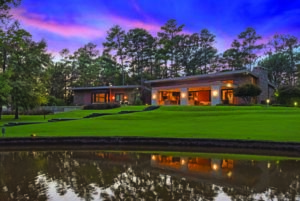 Ellerbe Road. Head south down Ellerbe Road and you'll soon find an unparalleled opportunity to reside in a stunning contemporary private estate that meets the modernity of today's lifestyle. Situated on nearly twelve beautiful acres, and just outside Shreveport's city limits, sits the embodiment of refined living—offering privacy and elegance in a comfortable, state-of-the-art home that pays homage to the midcentury modern's architectural history. Its very image demonstrates strong horizontal planes, sleek lines, deep overhangs, a cantilevered roof, a grounded foundation, an open concept, large windows, and utilitarian design—all which exemplifies everything that is midcentury and modern, a metaphor of prefabricated steel and glass that transcends time and place."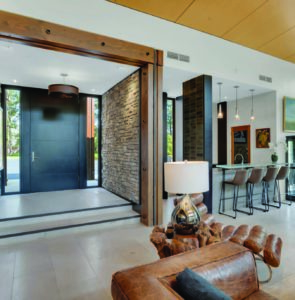 As you enter the property through its restricted access gate, you are enclosed within a secluded environment—an impeccably manicured outdoor space that has breathtaking views and unobstructed views of the verdant lawn and surrounding woods, framed by its cedar post-and-beam design and floor-toceiling walls of glass. Wood and stone can be found everywhere throughout the home. The entry canopy is made of local cypress and a custom, steel structure frames the mahogany front door.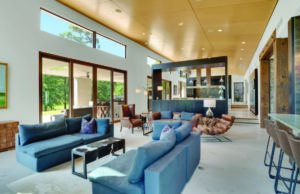 An open floor plan inside warms up the place, allowing free flow between the living and dining area. The custom, open kitchen concept ties together the dining and living areas with its impressive countertops, top-of-the-line Wolf and Miele appliances, two sinks, and a wine closet so you never have to suffer through a lukewarm glass of white wine. The restaurant-grade fume hood is custom and compliments the African hardwood cabinetry.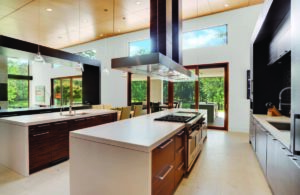 Take note of the soaring ceilings in the living and kitchen area which are made of Rift Cut White Oak. Furnishings include a combination of midcentury sofas and chairs and other period and modern accessories, as well as light fixtures to achieve a midcentury-imagined interior respectful of the home's roots.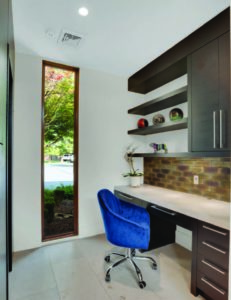 The glorious indoor living space seamlessly expands to the outdoors where you will find a plethora of decks, patios, and a large pool enveloped by the surrounding mature foliage. A wide bank of sliding glass walls open up to the outdoor patios and kitchen areas, which include ceiling heaters and floor-to-ceiling electric screens—effectively extending the living areas out into the surrounding greenery and sunlight, easily allowing you to bring the outdoors indoor year round. Packed full of splendid extras, a Starfire glass smokeless firepit overlooking the pool and the pond, for a look that's organic rather than industrial, light rather than heavy. The pool, which is surrounded by a limestone and Brazilian Ipe wood deck, has enhancements of deck jets, a spa, a rain waterfall and a separate pool bath.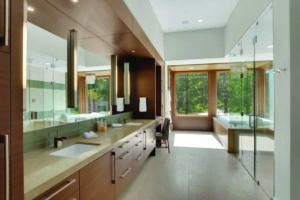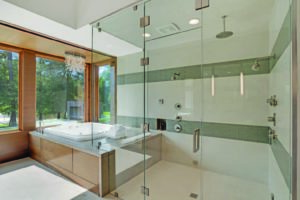 The home also features an extraordinary master suite. Sliding glass doors lead the way to a balcony for a private outdoor retreat. The suite includes an office, a fitness room, and a bath area with a two-person jacuzzi tub with a separate steam shower.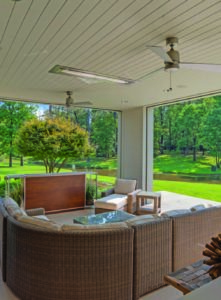 The master closet is custom—outfitted with incredible builtins and a packing station with separate suitcase storage.
The entire home, including the bedrooms, bathrooms, and even the utility room, has deep-toned, textures that pop for extremely airy vibes. The color combination adds warmth and a little extra cohesion to each unique room layout—accent walls in the bedrooms, living room built-ins, kitchen cabinets.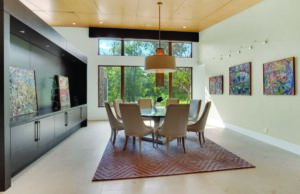 The home is nestled among multiple kinds of outdoor spaces, and each corner has easy access to exploration—with outdoor kitchen and dining area, a fire pit, and pool terrace. There are wonderful views of the stocked bass and bream pond which has been professionally managed to grow fish to their optimum size and includes a stunning fountain. In case you need something a little tidier, a well-defined lawn just the right size for a little croquet or bocce ball.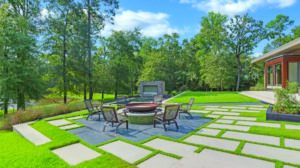 The property is fully automated to include lighting, media, climate, pool, property access, cameras and security automation that can be operated with a smart phone from anywhere. Likewise, so much is packed onto the land in a way that preserves its wooded beauty and provides maximum privacy.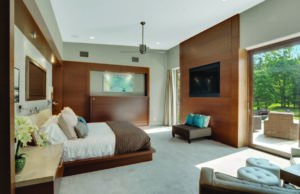 Close to everything yet far from the crowds, this one-of-a-kind midcentury modern house for sale on Robson Road is close to perfect. Interested in buying this dreamy estate? This property is one of a kind and offers the ultimate resort living experience without ever having to leave home.