Jolie Blonde – what better name for a shop full of beautiful things with a Cajun flare?
Gifts fill each nook and cranny of this small, boutique-style gift store nestled amid a row of businesses located at the busy corner of Shreveport's Wallace Lake Road and Bert Kouns Industrial Loop. Store owner Jamie Kochakian believes Jolie Blonde's success can be attributed, at least in part, to the neighboring beauty salon, spa and restaurant who refer clients to her store and vice versa.
Another reason is a diverse assortment of hand-selected merchandise.
Jolie Blonde shoppers move easily among shelves and displays of wares that include everything from gourmet foods, table décor, baby items, men's toiletries and gifts, to jewelry, holiday items and clothing. A custom-created line of candles, soap, lotion, and room spray bear the store name, and Louisiana and Cajun-themed goods can be found mixed in among almost every shelf. Kochakian's sunshiny personality is apparent throughout the shop. 
Originally from Hot Springs, Arkansas, a 19-year-old Kochakian followed her parents to Shreveport. She pursued a career in retail sales, but all the while dreamed of owning her own gift shop. After meeting and marrying her husband Tim, the young couple worked together establishing a glass repair and replacement franchise. That business's success led to 2019 plans to open a second location near their home on the southeast side of Shreveport. That expansion swung wide the door for Jamie's gift shop dream to come true. One side of the new building would house the glass franchise – the retail operation would take the other side.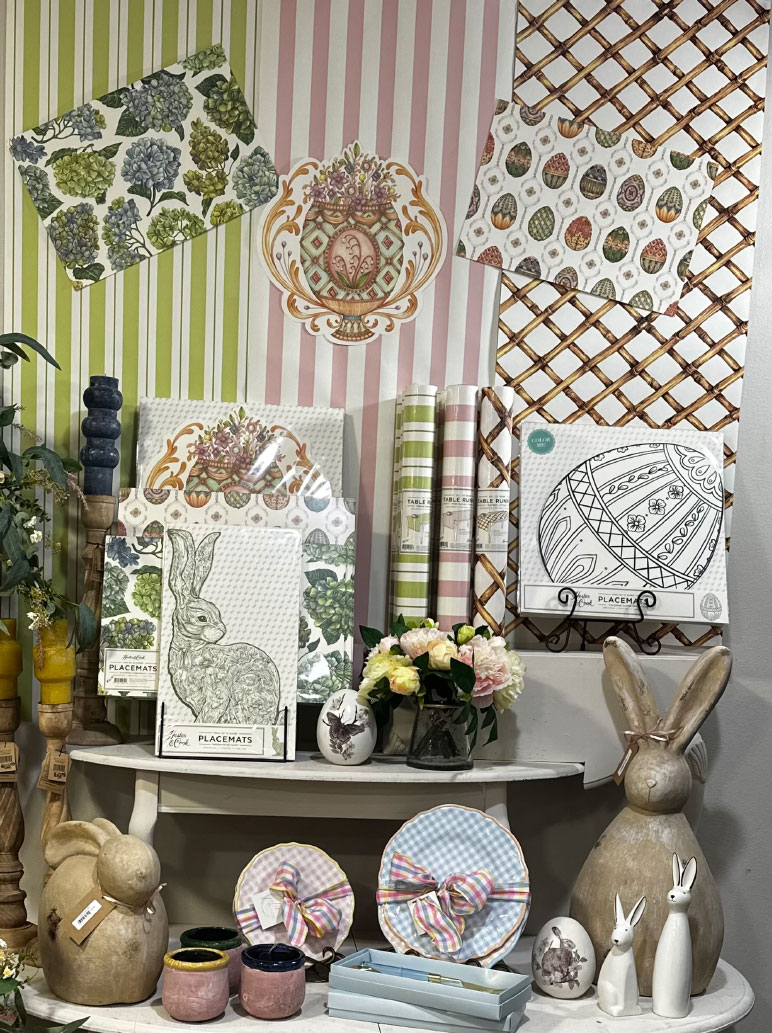 Work progressed and Jamie developed her plans for a gift shop that would exude Southern charm and Louisiana's joie de vivre. One of the first steps – select an appropriate store name. A phone call from Jamie's mother brought what seemed a natural choice – Jolie Blonde – the beautiful, fair-haired subject of Creole music, folklore, and art. 
In all aspects of life, it's said that timing is everything – and so it is in business. Entrepreneurs across America can attest that trying to open and grow a small business can be tumultuous. On Wallace Lake Road, the Kochakians dealt with building inspections, licenses, and permits that brought snag after snag and delay after delay. And while inventory piled up, so did roadblocks. Just when couple saw the proverbial light at the end of the tunnel – state and local governments announced Covid-19's mandatory quarantine. The glass shop could open. Jolie Blonde could not. 
Jamie's determination went into overdrive. She stocked the store's shelves and tweaked each display.  Her social media skills were put to the test with merchandise postings utilized to spread the word. Jolie Blonde was open for business – just not as expected. Facetime shopping took the place of browsing in person. Customers stuck at home got their retail therapy via the internet. Instead of lost time, the quarantine months were used to build a customer base. 
Today, Jolie Blonde is one of only a handful of gift shops in Southeast Shreveport. Customers now can stop by in person to see the store's unique array of offerings. A given day may find shoppers popping in before their massage at the spa next door or after their meal at the neighboring Cajun restaurant. Others come to take advantage of the shop's complimentary gift wrapping as they make their way to a birthday party or wedding shower. The small square Jolie Blonde tags adorning each gift-wrapped bag are part of the marketing plan that brings follow-up sales. According to Jamie, an expanded website is on tap for 2023 and word-of-mouth recommendations continue to draw new customers.  
 After overcoming multiple unforeseen adversities, Jamie Kochakian's Jolie Blonde is a study in one businesswoman's determination to beat the odds. She admits to working too much – because the shop is always on her mind. She also confesses to a strong sense of competition, but not competition at all costs. Her business strategy includes building others up, and among the store's burgeoning shelves are many items on consignment from local artists and goods purchased locally in Shreveport-Bossier and from sources located in Louisiana, Texas, Tennessee, and Mississippi – all lending the personality of the beautiful Jolie Blonde to the gift shop that bears her name.