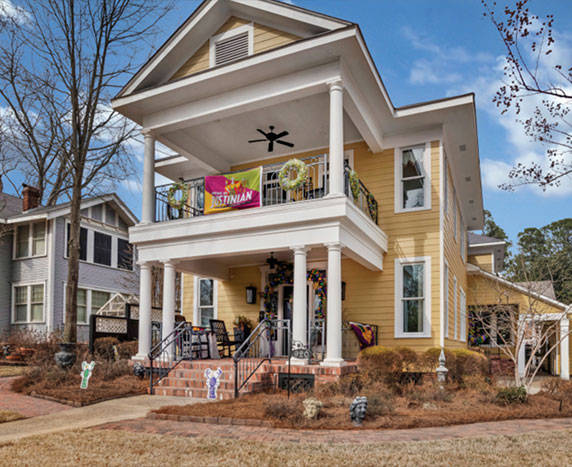 Located within walking distance to Shreveport's R.W. Norton Art Gallery, this remodeled two-story American foursquare blends vintage period details seamlessly with modern elegance. Step inside to see this simple and inspiring home remodel.
SHREVEPORT, LA. This nostalgic, pastel yellow home is the perfect example of the American Foursquare—a style that came to  define so many South Highland homes during  the early 20th century. By that time, the ornate Victorian style of the late-1800s had  run its course, giving way to houses designed with more  symmetry, clarity, and simplicity of plan.  
The foursquare plan was simple. It was a two-story  structure organized around four large, square rooms  on each floor. Normally, the home would sit high above  the street, and on the first floor there was an entry  hall, kitchen, living room and dining room—with three  bedrooms and a bathroom on the second floor. The  decorated Victorian gable disappeared, replaced by a  hip roof with the slope coming down to all four sides of  the house. A large dormer, or sometimes a gable, would  protrude from the roof slope. Victorian "gingerbread"  also gave way to reserved Classical details such as the  Ionic columns on the front porch, which hearken back to  Greek temples of three thousand years earlier.  
Carolyn Murphy Thompson is the type of house  romantic who believes old homes have souls. This featured home was originally built by the Naus family  in the early 1920s—and until 2016, the only owner.  However, as generations moved on and seasons of life  changed, they put the home up for sale. When Carolyn  noticed it was on the market, she saw more than an  older home in a historic neighborhood. She saw great  potential to design a home where memories would  be made, and stories would be told. To manifest her imagination, she knew she needed to go big. And so  big—and colorful—is what she decided to do. 
To help with her vision, Carolyn tapped Rand Knicely  to oversee the remodel project, and help preserve  the home's historic details. Her main goal was to  make the layout and style functional for her and her  husband, Graham Thompson. Knicely is an architect  and contractor who specializes in historic renovations,  whose respectful approach to historic homes has  won him numerous accolades throughout Northwest  Louisiana. "I have worked for the Murphy family for  many years and their credo has always been quality,  function, and aesthetic. The challenge with this project  was to accomplish these goals while maintaining the  character of the existing home." Carolyn was sure that  the home was in good hands.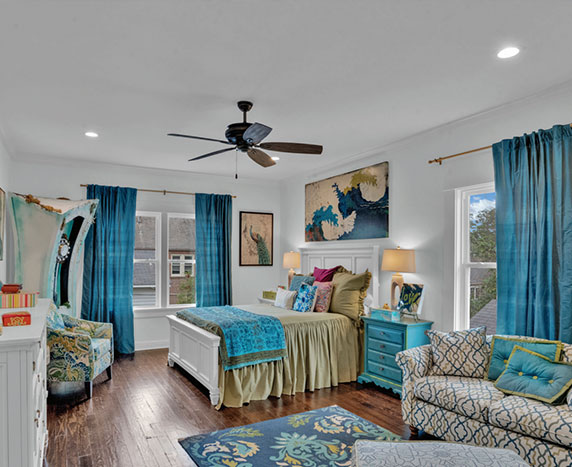 When it came to Carolyn's imagination, the layout of the first floor—including the open kitchen and den—didn't change much. But she did want to tweak the spaces to create more of an "open floor plan," which was accomplished by combining the living and dining rooms. And while the remodel may seem traditional, it embodies a kind and formal style—as it now looks more crisp and strong. Simple details were employed to the interiors to keep the  home from feeling too  formal or too heavy.  To better help with  this guidance, Carolyn  turned to her mother,  Peggy Murphy, for  her expertise in interior design. Under  Peggy's guidance, the  two embarked on a  preservation-minded  remodel pulling from  Carolyn's personal  love of art, literature,  and travel.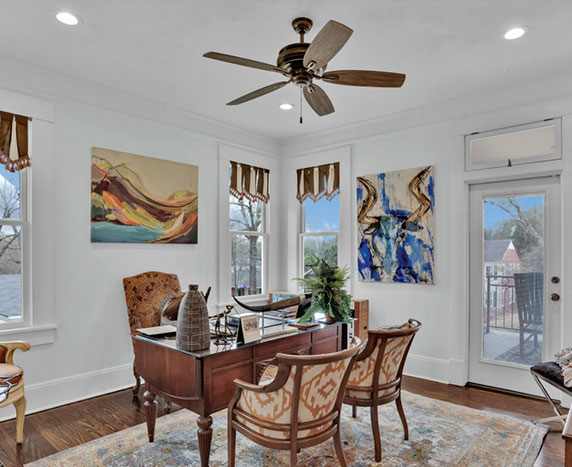 "The home is fresh and reflects a  youthfulness for its  inhabitants," admits  Peggy, a Professor  at LSU Health Shreveport, who "lightly" dabbles in interior design  when not consumed  by academia. "The  remodel emitted a  traditional, homey  feel, while the mediums and textures  add a modern edge.  This was all done to  help in retaining the  original character the  Naus family created  when they originally  built the home nearly  one hundred years  ago."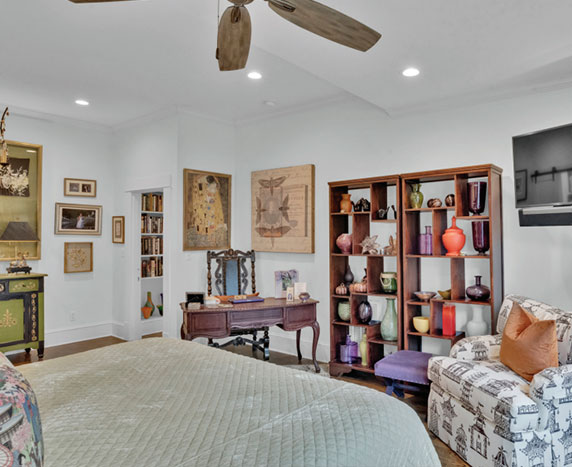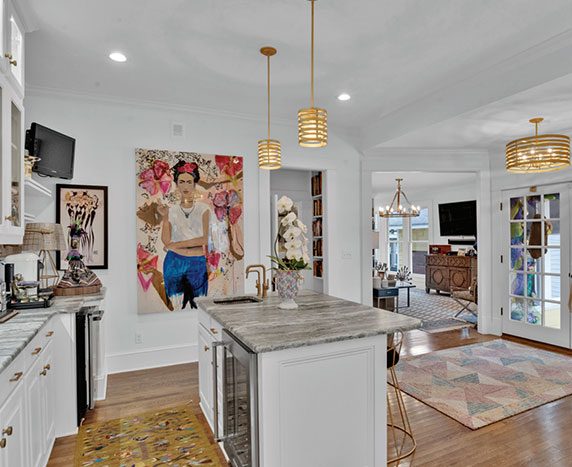 "I love creating a collection  with special and one-of-a kind pieces from all over the  world and spanning various  time periods," she said. "For  Carolyn, the aim was to create  a space full of dimension  without losing any details  along the way. The fun thing  about this design is there were  no rules, so to speak. When  it comes to proportion and  sizes, this is the perfect mix of  different elements of design." 
The den perfectly exudes  this design pedigree.  There are books—which  illuminates Carolyn's  love of literature—everywhere, literally from  the floor to the ceiling.  In addition to working  with existing furniture,  Peggy helped source art  to fill out her daughter's  exquisite art collection,  which includes the likes  of Vanicka Terhune,  Lauren Ross Simmons,  Lisa Brandeburg, Henry  Goodrich, and James  Hunter. "The den serves  multiple functions,"  states Peggy. "It's a place  to read, or watch TV from  the sofa, or even entertain  guests. It's a favorite spot  for the entire family."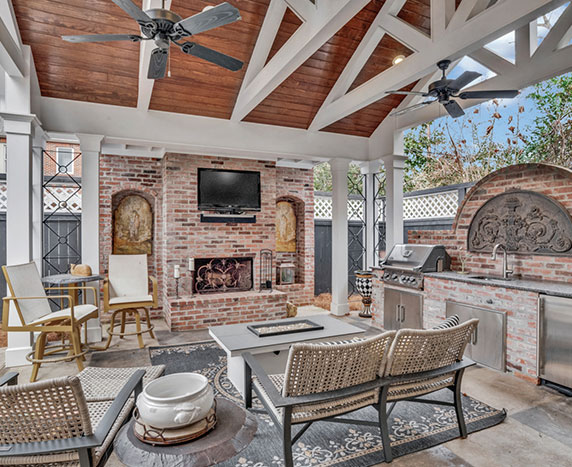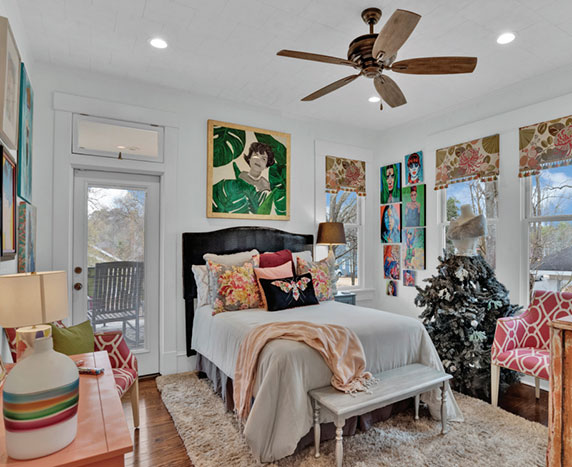 When it comes to the home's furnishings, many items  were found after scouring furniture sales, antique  stores, and consignment shops. "I enjoy the art of  consignment," admits Peggy. "All the furniture has  been collected over time—salvaged and reused or  reupholstered. The rule is—if you like it, just buy it,  because it's going to find a place somewhere." Michelle  Booth, of Milling Around Interiors, was also tapped  for collaboration on fabrics for upholstery and drapery  design. 
And while the den may be Peggy's favorite room,  she does admit there is something both striking and  sentimental about the addition of the new outdoor  room. Its large brick fireplace creates a focal point,  adds a heat source, and visually links the space with  the home. The sofa and chairs create the perfect  spot for lounging around the fireplace, making this  space usable year-round. It has a lighthearted and  celebratory feel.  
"The outdoor room—with its vaulted ceiling—is full of  distinctive pieces and was built to be an entertaining  area. The longer you look, the more detail you'll see.  Layering design elements, unique accessories and  textures were key in creating dimension and depth and  is outfitted with a mix of furniture styles." 
In the end, Peggy was able to seamlessly blend her  design style with her daughter's goal of creating a  welcoming haven bespoke with style and intrigue. "My  desire for this house was for visitors to know who my  husband and I are as people: our values, our influences,  our passions, and our roots. From architecture and  design, we were blessed with a dynamic team who  executed that goal seamlessly," says Carolyn.  
Inside and out, the result is a fresh and personal mix of  styles that works well with the historic home. "I don't  think this house is going to date out," admits Peggy.  "The remodel is harmonious with the style."  
Editor's note. When Carolyn Murphy Thompson  purchased and remodeled the home in 2016, she never  dreamed she would end up selling it. However, just  like the previous homeowners—her own seasons of life  changed. In late 2022, she put the home up for sale.  Now, seven years later, the ownership of the home  is returning to the Naus family. When a member of  the family saw it was listed, they decided they would  take a peek (even though they weren't in the market).  That quickly piqued their interest when they saw the  amazing job Carolyn and Peggy did with the remodel.  So, they bought it. And for the Naus family, the  memories and sentimentality were priceless.