Multiple Choice:
An award-winning principal should 
focus on a growth mindset. 
have a strong support system for teachers.
display a positive student interaction.
encourage student engagement with the community.
focus on academics.
all the above
If you chose "f" then you get an "A" and you've just described William ('Barry'- nowhere on his birth certificate but what everyone calls him) Carter, Principal of North DeSoto Middle School.  Carter took on the job in the first year of the Covid-19 pandemic. Subsequently, everything he planned for his first year stayed on the back burner.  Since then, he has worked diligently to build a stronger middle school community that is essential for the success of both students and teachers.
Carter believes that instead of a fixed mindset, where students believe their abilities are predetermined, a growth mindset encourages students to learn from their mistakes and failures. "We don't have bad kids.  We have kids that make bad decisions sometimes," he states. "You don't give up on them." He knows that students are motivated to continue learning and growing by celebrating successes and achievements. This approach fosters a positive attitude towards learning and helps students develop a sense of resilience and perseverance. This is only one of the key elements utilized as Principal and one reason he was named Middle School Principal of the Year.
North DeSoto Middle School has a little over 600 students in the sixth through the eighth grade. Carter places a strong emphasis on supporting the 38 career teachers and the 22 members of the support staff to keep the wheels turning. The school provides professional development opportunities and encourages collaboration and the sharing of best practices among colleagues.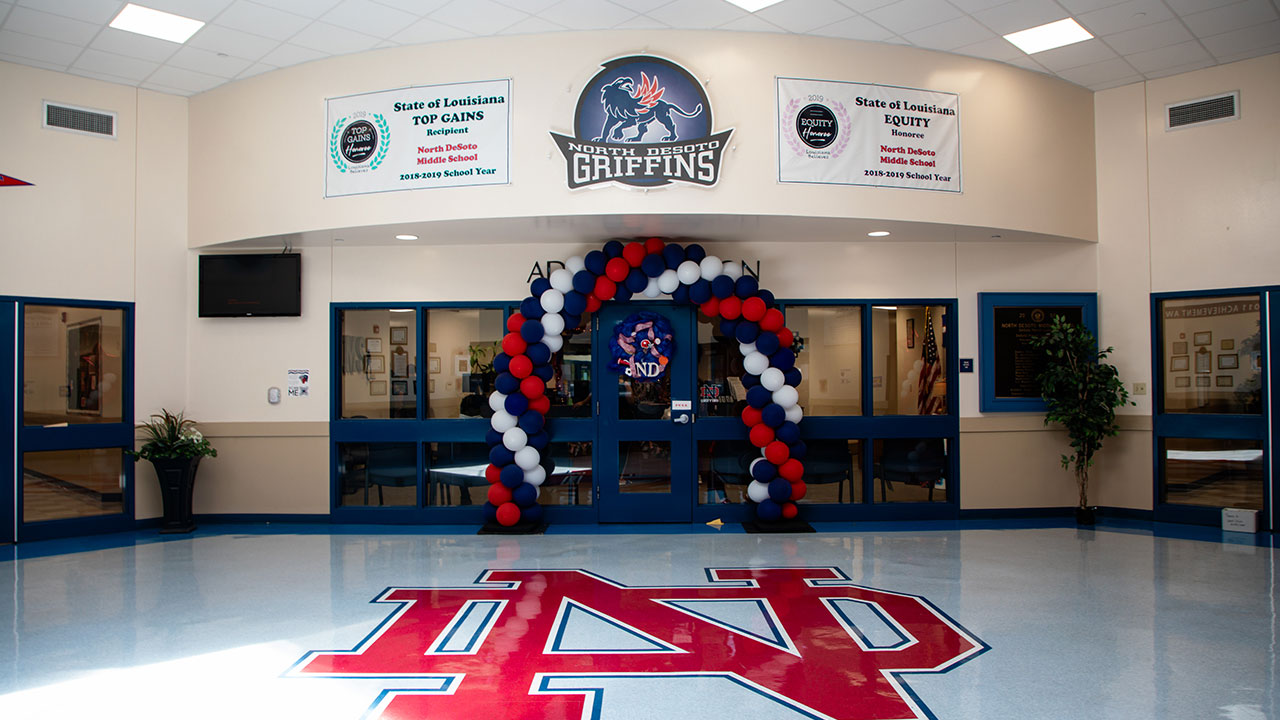 Unique to the school is the WIN (Whatever I Need) program which allows for one period during the school day for academic remediation and for student clubs and organizations to meet. This past year, Carter expanded WIN to include non-academic learning experiences. Carter believes that by teaching skills that kids need to experience and ensuring that every WIN class has a 100% service-oriented project, the students will understand the process of how the school is tied to the community. It also teaches civic pride and responsibility.
As a man of faith, Carter prays daily for his motivation and encourages his teachers and students by saying "I'll be the energy – when you're around me, just match it." Carter fosters positive behavior that encourages students to be kind, respectful, and responsible. In addition to academic success, Carter recognizes the importance of making school a positive and fun experience for students. School-wide events and activities, such as pep rallies and spirit weeks, foster school spirit and a sense of community. Student involvement in extracurricular activities is encouraged. Opportunities for students to explore their interests and develop new skills are a sign-up sheet away. By creating a positive and welcoming school culture, the Carter and his staff ensures that students enjoy coming to school and feel a sense of belonging.
Even with an education degree and a master's in educational leadership, Carter questioned whether he was the right person for the job. Like most of us, he second-guessed himself.  But with encouragement from his wife, he stepped out on faith believing that "Through un-comfortability you can find growth because "dependency" is everything on Him."