MARILYN PETTIETE
The Musical Life
BY SCOTT ANDERSON
[/vc_column_text][vc_column_text]Marilyn Pettiette is the 90-year-old matriarch of a modern-day von Trapp family, spreading a message of faith, hope and joy through song in cyberspace.
Pettiette and her family have a YouTube channel called Three Generations Singing. The channel features family members — actually from four generations — singing holiday favorites, popular tunes, jazz standards and more. In five years, the channel has grown to almost 100 videos and nearly 1,800 subscribers and more than 1 million views.
It all started with Pettiette singing Leonard Cohen's "Hallelujah" with her daughter, Julia Pettiette Doolin, and her grandson, Sean Doolin. At first, the concept was simple — to create a special memory for the family. Sean wanted to sing with his grandmother. Julia already was working with videographer Brent Latin on a project, so she asked him to record the trio.
"People thought it was so beautiful," Julia said. Soon after that, granddaughter Kelleen Doolin stepped up and wanted to do a number with her grandmother too. So they recorded "River."
"That's when we said, 'Let's get all the grandkids in a video,'" Julia said. "That Christmas, everyone comes in. There were probably about 30 of us. We did our first family group recording. Now, every Christmas we do one."
Pettiette finds a great deal of satisfaction in the success of the channel. "It's extremely gratifying," she said. "My whole reason for being… I see it expressed when Sean starts singing. And now the little ones from the next generation (to include great grandson Howell) want to play the piano and sing."
The family revels in their success. But by no means has it happened overnight for Pettiette. She began performing as a young child, about 4 or 5, on stages in Minnesota. "The church had programs going on constantly," she said. "Music was a given." As a child, she also performed as a Shirley Temple lookalike. Pettiette remembers a bit of controversy over a talent show she won when she was 7 or 8 years old. "This guy comes in and says, 'She's a professional. I've seen her sing before in Minneapolis,'" she recalled.
The Benedictine nuns at the Parish of Our Lady of Lourdes in Little Falls, Minnesota, gave Pettiette her first lessons on the piano. She received instruction in the organ from the Franciscan nuns at St. Francis High School. She continued her studies at the Minneapolis College of Music. She met entertainers there who introduced her to improvisation and jazz. Before long, she was performing in big bands throughout Minneapolis. That's also where she met her husband, saxophone player Larry "Tex" Pettiette.
"Here is this guy who's playing sax," she said. "I didn't know him well. But there was a band my friend and I wanted to hear playing at this club. Back then, women didn't go to clubs unescorted. I approached him and asked if he'd escort us to this club. I guess you could say I asked him out for our first date."
She and Larry got married. During her early days of marriage, Pettiette continued to perform in big band groups. Sometime later, a producer called her looking for someone to fill in on the "Phil Silvers Top Banana" stage show. "He said, 'I've got to have somebody who is small enough to fit into the wardrobe,'" Pettiette said. "I said, 'I'm sorry, I can't. I am three months pregnant.'"
Pettiette also saw the music business changing at that time. The popularity of the big bands was waning. With her star no longer on the rise, she told her husband she wanted to move to Shreveport to check out a new musical sensation. "People went whippy over that Hank Williams," she said. "That shut the big bands down. We came to Shreveport to see what it was all about and to be closer to Larry's family in Texas."
Pettiette began a 23-year career teaching music in the schools. "I found talent galore out there," she said of her students. Even now the family occasionally reconnects with someone who learned music from Pettiette. "We will see someone in the grocery store, and they will recognize her and say, 'Your mom had such an in impact on my life,'" Julia said. "Music really is what brings people together."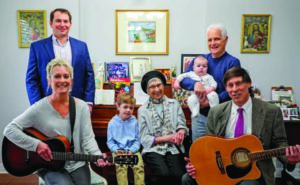 David Pettiette, Jr., Julia Pettiette Doolin, Howell Pettiette, Marilyn Pettiette, Baby Theo Pettiette, Tim Doolin, Larry Pettiette, Jr.
That unifying power of music is what carried the family when they moved out to Dixie in northern Caddo Parish. "We moved under dire circumstances," her daughter noted. "But they became some of the most wonderful times in our life because of the people and the music."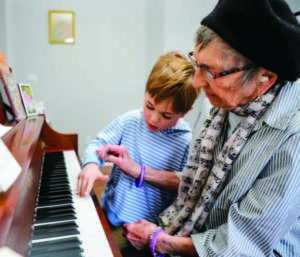 Pettiette founded the Young Americans while in Dixie. The group included her own six children and children from that rural farming community. "Everybody in Dixie wanted their kids in it," Pettiette said. "I was thinking, 'What am I out here for?' And then I find all this talent out there."
Pettiette took those neighborhood kids to perform at nursing homes, the VA hospital, and for shut-ins across the area. They even made an appearance on Bob Griffin's Saturday morning television show "Bob and His Buddies." "It identified us as a musical family," Pettiette said. "And it never left us."
The family moved back to Shreveport. The children grew up and started families of their own. Now Pettiette's clan spans four generations and the country. But the family that sings together, clings together. "It's creating wonderful memories for our family," Julia said. "We are so lucky to have these experiences with our mom."
Three Generations Singing has grown momentum despite some challenges, including a fire that destroyed Pettiette's home. While they were rebounding from that experience, they shot some of the videos for the channel at Pendley's Piano Gallery. And the family searched high and low to find a 100-year-old piano they could borrow to get just the right honky-tonk sound for one of the numbers. Clearly, Pettiette is very particular about the pianos she uses for her videos.
Then there was the pandemic. "The channel really took off during COVID, especially when no one went anywhere for two weeks," said Julia, who oversees the channel. "That's when we made the most progress."
The family is pursuing more opportunities to make progress and share their message of faith and family. "I dream of the day I open up the channel and see not just 1 million views on the channel, but 1 million views on the songs," Julia said. "We are reaching a lot of people."
The entire family encourages people to subscribe to the You- Tube channel and to follow Three Generations Singing on social media @ThreeGenerationsSinging. Pettiette said it's a message of positivity that people need right now. "We want to pull this out of people," she said. "To get them to feel what I feel."
And even at 90, Pettiette has no plans to slow down. "I'm going to do this as long as I am able to do it," she said.