CAMP AQUA at Shreveport Aquarium
Dive deep into the wonders of the ocean and experience up close animal encounters and behind the scenes fun at Shreveport Aquarium this summer!
Animal Architects! Take a dive into the ocean and learn how different marine creatures construct their underwater homes. Campers will take on the role of digger, builder and designer, and with interactive games and activities, they will have a blast acting like their favorite sea creatures, all while gaining a deeper understanding of the ocean world. (Ages 4-7 and 6-11) June 5–9, 9 a.m. – Noon, June 12–16, 9 a.m. – 4 p.m.
Reef Rangers! Track sharks, create recycled art and conduct scientific experiments in this ultimate camp for conservation heroes! Using creativity and problem-solving skills campers will help conservationists confront real-world problems by designing, building and testing their own ocean prototypes to help marine life!​ (Ages 4-7 and 6-11)
June 19–23, 9 a.m. – Noon, June 26–30, 9 a.m. – 4 p.m.
​Eco-Engineers! Dive into the deep blue and discover the incredible adaptations of our ocean pals. From speedy swordfish to camouflaging octopuses, campers will use their wild imaginations to explore ways to protect ocean habitats with animal-inspired solutions. (Ages 6-11) July 10–14, 9 a.m. – 4 p.m.


CABOSA SOCCER
The Caddo Bossier Soccer Association/Shreveport United Soccer Club is a nonprofit youth sports organization having the primary objective of teaching sportsmanship, discipline, leadership, teamwork, and physical conditioning through the game of soccer.  
The club provides facilities, training, administration, and support to more than 2,600 participants ranging from 3 years through adult from Shreveport, Bossier, and surrounding areas. CABOSA/SU programs meet the needs of youth athletes at both the recreational and competitive levels. We offer play based upon interest and ability for anyone who enjoys soccer. CABOSA/SU is an affiliate of the Louisiana Soccer Association, US Youth Soccer, and US Club Soccer.  For more information on our programs including recreational, academy, competitive, summer camps, and more, please visit our website at CABOSA.org.
Our upcoming programs include:  
Competitive Team Tryouts – 2013-2005 birth year players
Academy Open House – 2016-2014 birth year players
Youth Summer League, Youth Summer Camps, Summer Adult League
Follow us on Facebook Cabosa/Shreveport United 
Instagram cabosa_su

SCIPORT
Sciport offers summer camps that will SPARK your child's curiosity all summer long!  
Itty Bitty Camp (ages 3-5) will encourage your little scientist to explore the world around them through simple science-based activities. Our half-day, Itty Bitty Scientist camp themes are Bugs, Bees and Butterflies (June 5-9), Digging DINOS! (June 12-16), 3,2,1 BLAST OFF! (June 26-30), All Kinds of Animals (June 26-30), Oh, Sharks! (July 5-7), Jr. Mad Scientists (July 17-21), and It's a Jungle Out There (July 24-28). 
Elementary Camp (ages 6-12) will have your child performing hands-on science experiments, interacting with guest speakers, and much more. We are partnering with Bricks4Kids and Challenge Island again this summer, so there will be something for everyone. Themes range from exploring space to superheroes and villains.  All elementary camps feature hands on STEM learning that your camper will not want to miss! Please check our website for all available camps.
SPARK your curiosity all summer long at Sci-Port! Weekly summer camps begin the week of June 5 and run through the week of July 24, 2023.  To register, go to http://www.sci-port.org/camps.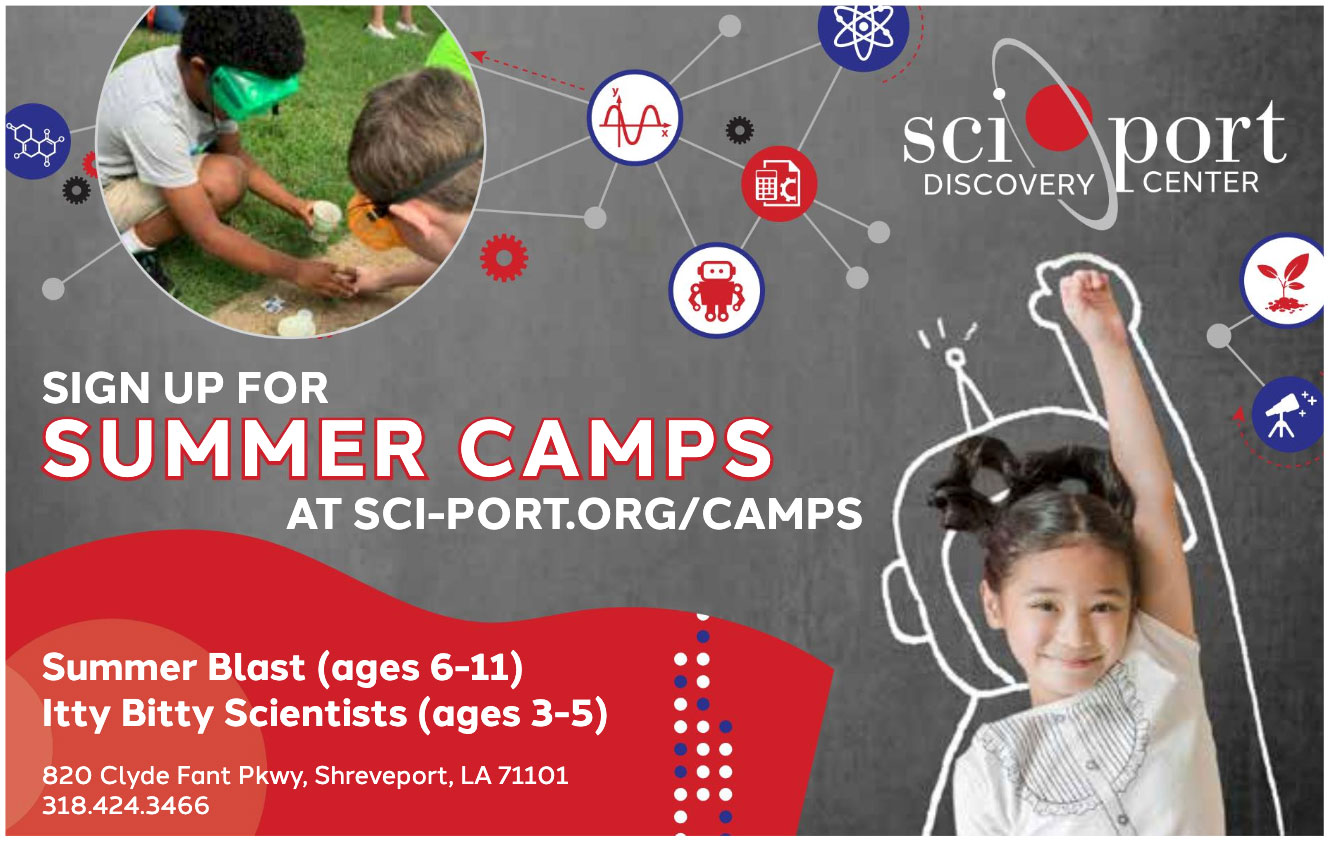 RENEE'S DANCE STUDIO
Renee's Dance Studio was established in 2007. Owner, Renee Oates, who has a Bachelor's in Theatre and Dance, has been sharing her love of dance with others as an instructor for over 20 years. The first studio campus is in Natchitoches. The second campus, located in Stonewall, opened its doors 5 years ago. Renee is passionate about combining correct technique with fun to create age-appropriate classes for every dancer! Summer registration opens in May! 
 Stonewall & Natchitoches Campuses:
Pop Diva Hip Hop Camp We will have fun learning hip hop technique, playing games, and expressing our inner "pop diva. (Ages 3-11) No experience needed. June 5-8. 
 Technique Clinic We will work on turn, leap, and choreography combos! (Intermediate/Advanced dancers ages 8-18) Dance experience needed. June 19-22.
 Ballet Princess Camp We will dress as princesses, learn ballet technique, and make crafts for mom! (Ages 3-11) No experience needed. July 17-20.