SB BEAUTY BOSS
TRAVELING IN STYLE 
BY JON PAULE CALCOTE
At one point in time, traveling was seen as a major event. People dressed accordingly, pulling out their "SUNDAY BEST" to take to the skies, roads, and railways. These days, traveling has become such a normal way of life that it seems many of us have lost our sense of traveling style and opted for a more comfortable approach. But I'm here to tell you, you don't have to sacrifice style for comfort! Looking fashion forward and stylish while feeling at ease and comfortable is totally doable.
Below are a few tips on how to travel in style: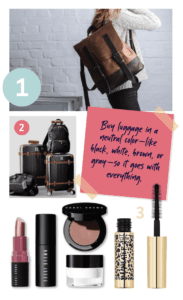 1. Carry-On Bags Whether it's a backpack, duffle bag, cross body, or large tote, we all have that extra big bag we carry while on the go. We also tend to carry valuables in them, like credit cards, identification cards, jewelry, and more. Look for a bag in a beautiful neutral shade, like black, white, brown, or gray, which will match any outfit. Try to avoid large prints or flashy branding.
2. Luggage The luggage you choose to carry is undoubtedly an accessory to your travel style and is another form of self-expression. There's no need to go out and buy a full set of designer luggage; you can find luggage that is stylish at many different price points. Just remember the luggage you select is going to speak to your sense of personal style so make sure it reflects who you are. Purchase a matching set if you truly want to travel in style!
3. Travel Size Cosmetics When traveling, you never know when you are going to have an unnecessary layover or delay and you don't want to be stuck without some of your beauty basics with you. Many brands produce their most popular products in travel sizes, or in the cosmetic industry, minis. It's a great idea to have your favorite mascara, blush, lip stick, and concealer in a small version to fit in your carry-on. And don't forget the trusty makeup wipes to clean that beautiful pallet before freshening up!
4. Easy On-the-Go Hair Styles A few timeless hair styles that are comfortable to wear and easy to achieve are the sleek high ponytail, the low bun, or the currently trending braid. Whether it's a French braid or a braided ponytail, braids look cute on anyone at any age and are one of this year's hottest looks in hair.

5. Sunglasses Not only do sunglasses protect your eyes from harmful UVA and UVB rays, but they have also become a fashion staple among those who travel frequently as sunglasses can hide the tired eyes of the weary jet lagged traveler catching a connection! The aviator style and the square frames styles are timeless choices.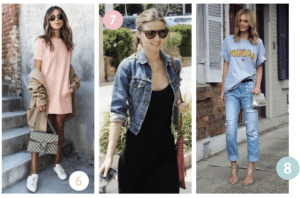 6. T-shirt Dress The T-shirt dress— cute, flirty, and easy to wear—is a great, comfortable option when on the move. Just pick your favorite color and go!
7. Denim Jacket A style staple in many closets throughout the decades, a denim jacket is a perfect choice when traveling. It's lightweight enough to carry and insulated enough to cut the chill from the A/C or cooler climates.
8. Boyfriend Jeans These jeans with the baggy fit are both comfortable and stylish, an easy wear no matter your means of transport this traveling season.
9. Travel Shoes When running through airports or train stations, or even just riding in a car, comfortable shoes are a must. Many individuals turn to their trusty athletic sneaker…but there are so many other, more stylish options. Why not try a mule slide, or an adorable pair of timeless ballet flats? In the cooler seasons, a flat ankle bootie is a great choice, and a knee-high boot will keep you warm yet stylish and comfortable.