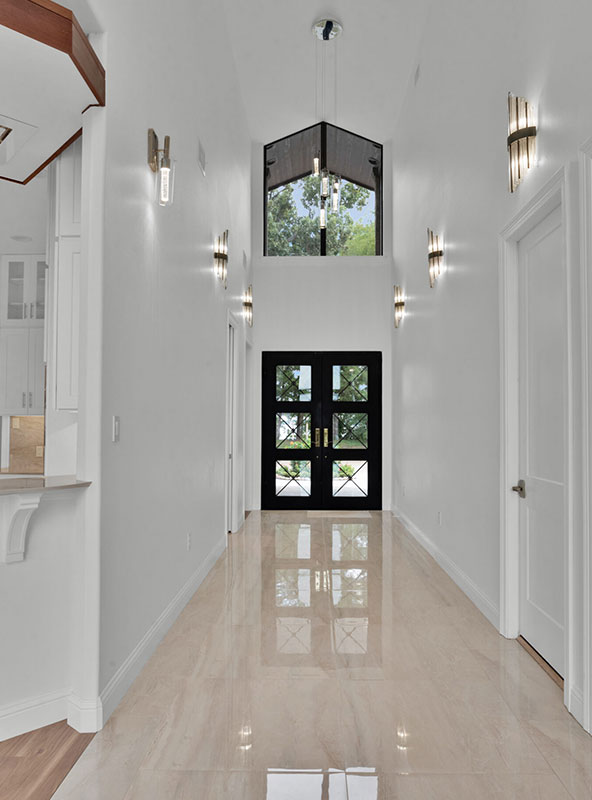 BY ADAM BAILEY 
PHOTOGRAPHY BY PELICAN IMAGING
A newly built, contemporary lake house on Shreveport's Cross Lake offers spectacular views and serves as a relaxing retreat just minutes away from downtown Shreveport. While it could easily accommodate a party of 100—its multigenerational accommodations make this home a must-see for any potential homebuyer.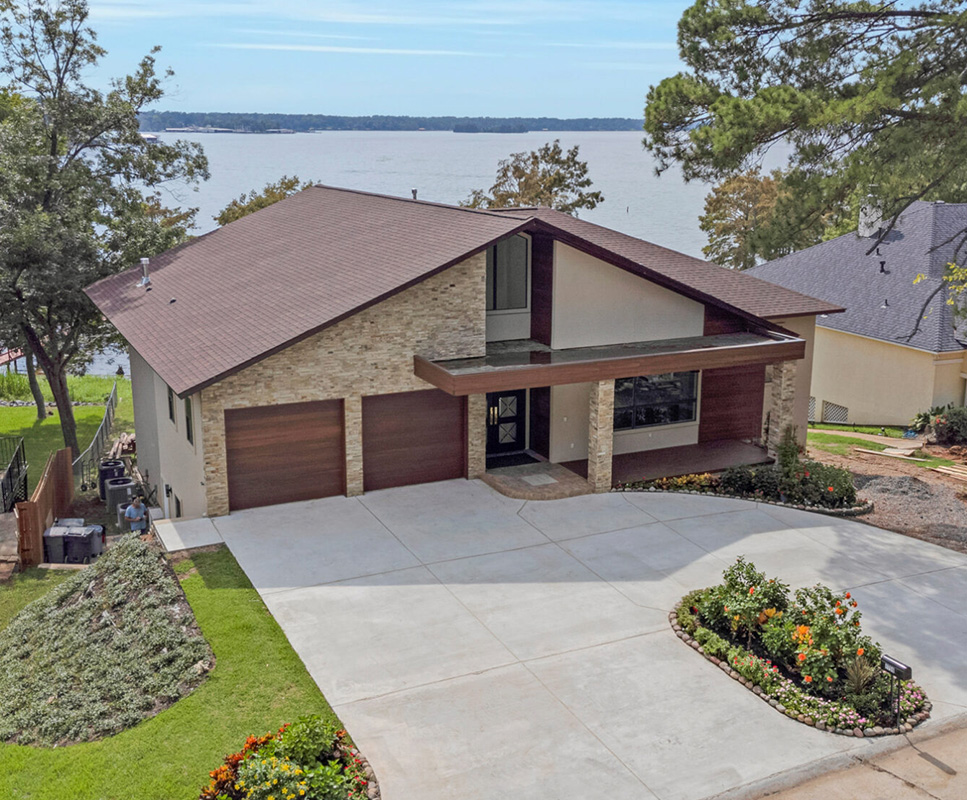 Sometimes architecture intuitively connects people to a place while remaining minimal and unselfish enough to allow the outdoor environment to do most of the talking. Such is the case with this contemporary lake house on Shreveport's Cross Lake. This home remains rooted in its place, responding to the natural environment and blending flawlessly into the landscape, all with multigenerational living features.
For many people, a multigenerational home is just the home they already live in. At some point or another, many families across three (or even more) generations choose to live together for any number of reasons. And, in many parts of the world, it's incredibly common to do so. 
This often takes place in a separate dwelling on the same house plot, sometimes called secondary suites, in-law apartments, casitas, or affectionately nicknamed granny annexes. Yet, a single house can function perfectly with multiple generations living under one roof. There are many benefits to having multiple generations in one household—shared costs, closer family bonds, and easier aging-in-place (to name a few). The challenge for many families is finding the perfect home to meet the unique needs and preferences of each member.
This newly built contemporary lake house on Shreveport's Cross Lake does just that.
Built with a simple, unadorned architecture that recalls Prairie style, the home's appearance is a bit of an anomaly among the more rustic 'lake houses' seen throughout Cross Lake. The homeowner—who wished to remain anonymous—was both the designer and builder and kept the exterior architecture, as well as the surrounding lake and woods, in mind when the layout was chosen. 
"The inspiration for this house was shaped by the owner's passion for modern design, as well as aspirations for a lake home where generations can stay, engage, and make memories," says realtor Chris Holloway, the home's listing agent with Ethos Home Group. "The idea was simple.  Create a contemporary, multi-generational house connecting nature and family." 
The result is a clean, casual, and comfortable 6-bedroom, 3-1/2-bathroom home, encompassing 5,220 square feet, that is scaled and oriented to be nearly hidden amongst the grass and trees. It seamlessly blends in with the natural landscape, offering total privacy. Unpretentious in materiality, the structure has a rawness and honesty to it—the exterior walls are clad with Brazilian Redwood and stucco, with refinement being created through well-crafted detailing. "The approach on materials was to be really practical with them," says Holloway. "The intent for the ornament of the house should come from the views."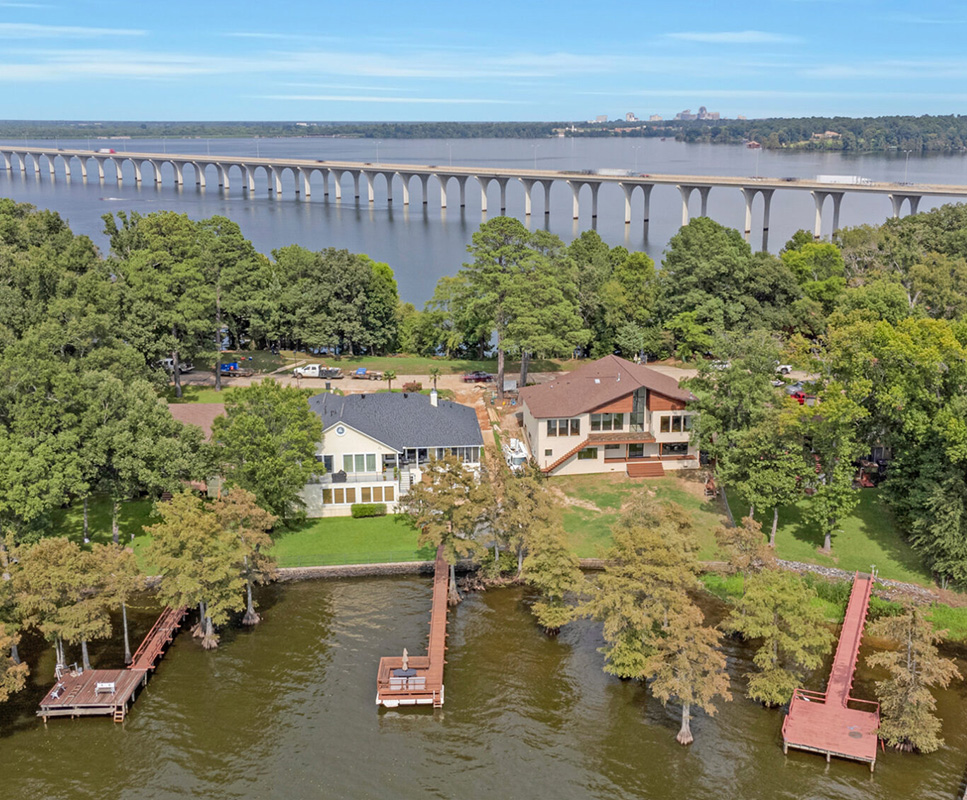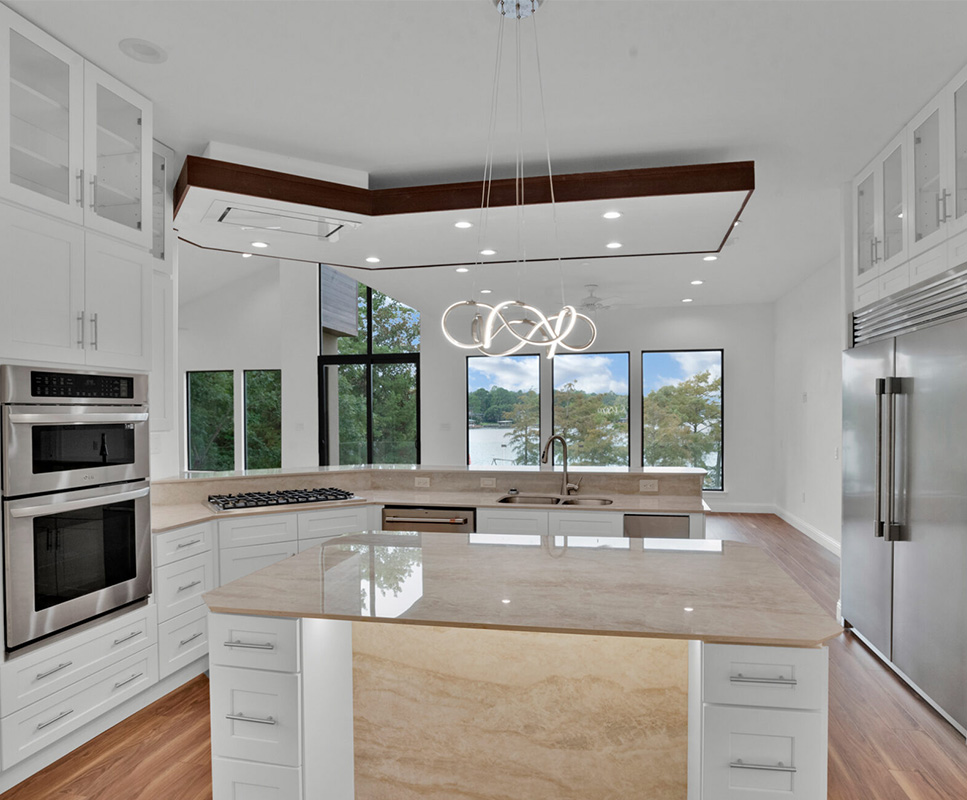 Inside, generous windows, huge glass facades, and sliding doors erase the lines of the walls and allow natural light and stunning views to pour in.  The interiors remain contemporary, refined, and welcoming without being untouchable. While the house has a clean and somewhat formal look, its design can take a beating—literally! "The owner chose durable materials that can stand up to the constant parade of muddy boots, dogs, kids, and party guests that could occupy any of its spaces. through here," said Holloway. "For example, the floors are luxury vinyl.
Communal spaces are found on the ground floor—including the kitchen, keeping room, and living room—all open to one another. The primary bedroom is on the main floor, with access to the kitchen. The bottom floor houses a full kitchen as well, along with four bedrooms and two full baths, an office, and a flex room. "The bottom-floor office, which also can serve as a bedroom, has huge views—with the doors offering easy access down to the lake."
There is even residual space on the bottom floor (underneath the main floor) that remains unfinished. It could easily be turned into a finished-out basement or custom home theatre—with ample room for additional storage and access to the electrical and ductwork.
Large expanses of glass provide tons of natural light and offer immersive views of the lake and wooded landscape. "That is what is fun about this house," Holloway says. "This property is one of only a handful on Cross Lake that offer views of the water from both the front and back of the house. You get these two dramatic experiences in this one space, and all you must do is turn around. You can look right straight ahead, and you have this view of the lake. And then you turn around and see a different area of the lake. This is the place that I am just delighted by."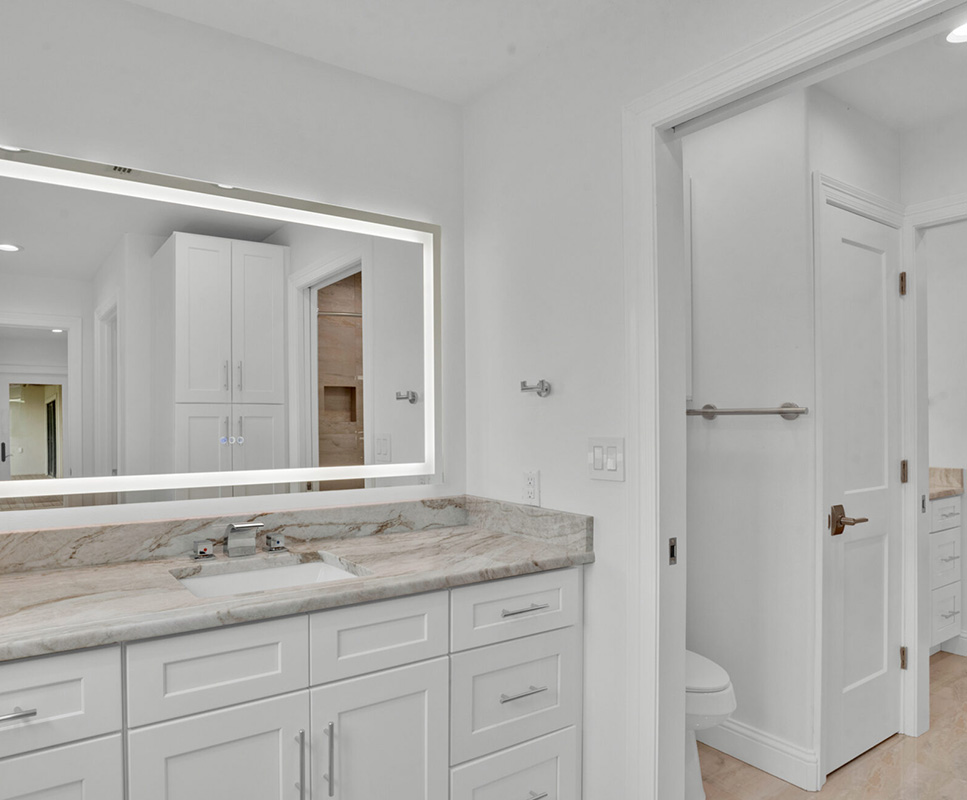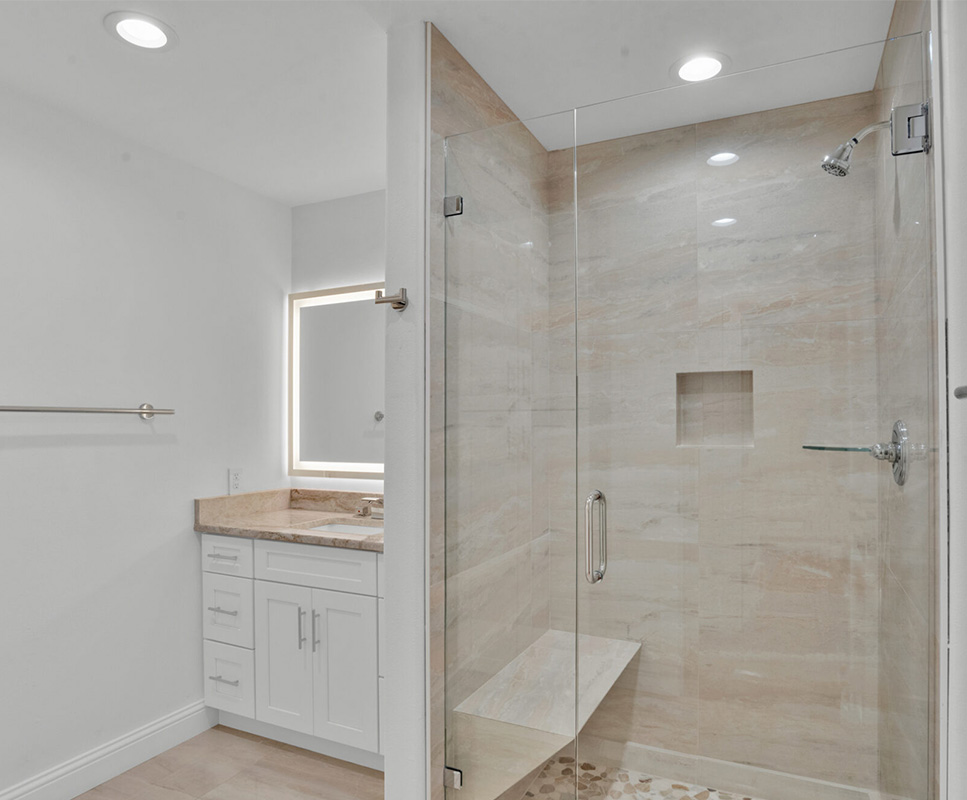 An interior stairwell and an unfinished elevator shaft connect the floors to accommodate people of all ages and mobilities. Should a buyer not want to put in an elevator, the space can easily be finished out to add additional storage space.
The large kitchen is a chef's dream, equipped with top-of-the-line appliances with smart, sophisticated features including a Moen smart faucet, a Viking 6-burner cooktop, and a Wolf vent.  The kitchen is also fitted with countertops and backsplash made of Dekton, a Spanish composite material that is highly resistant to stains, scratches, and heat.  There is ample storage in the kitchen as the cabinets extend all the way to the ten-foot ceiling. 
"This is a very high-performance kitchen, but it has a more casual feel," Holloway admits.
The primary bedroom is a luxurious retreat with an ensuite, spa-like bathroom that is flooded with natural light, complimented by quartz countertops, smart mirrors, a massage tub, and a spacious multi-jetted shower. A massive dual, custom closet is complete with its own access to the laundry area. 
All-in-all, this on-the-market home is a beautiful, contemporary lake house that emphasizes the views of the lake with multigenerational living components.  Open spaces with a direct view of the lake upon entry, living areas that foster entertaining and gathering, and wonderful outdoor living areas easily connect the house to the lake, and beyond. The open-concept layout was created with a focus on functionality and aesthetics. A contemporary feel evolves using light and bright neutral tones with simple detailing. 
"All homes and projects end up being unique," Holloways explains, "but the custom nature of this site, coupled with this design, makes it truly unique. This home design brings with it a sophisticated, design-savvy plan by an owner-builder that was open to exploring new ideas and who pushed the envelope to be creative."
Interested in buying this dreamy estate? This one-of-a-kind contemporary lake house is close to perfect.