Light it UP!

 
The BAKOWSKI BRIDGE OF LIGHTS Isn't Just Any Bridge
BY ADAM BAILEY
Bridges come in all styles, shapes, and sizes. Whether it is what took place on that bridge, its innovative design, or its setting—bridges are memorable. And sometimes, they are worth seeking out even if you simply wish to gaze on them.
Ask anyone. The bridge is arguably one of the most transformative engineering marvels of our time. Throughout history, they have brought people together to not only close the gaps between physical obstacles, but have helped find ways for people to share a multitude of experiences.
Remember the significance of the Bering Strait Land Bridge? The place most archaeologists agree humans first passed from Asia to populate the Americas. Or, thousands of years later, the newly opened Brooklyn Bridge, where Showman P.T. Barnum led 21 elephants, 7 camels, and 10 dromedaries to prove the bridge's safety (not to mention its usefulness as a public-relations opportunity). What about that known bridge that cuts your commute in half? I bet it has a name, even if it's an unofficial one.
Why are they significant? Bridges connect people, communities, and economies—creating possibilities out of impossibilities. They are a powerful creator of opportunity; more than just spans of pavement across a chasm. A bridge is a metaphor that defines a connection through communication and art, binding people together on an issue or idea.
Think about it. The concept of what the bridge is, and what it can become. That notion, too, is constantly changing. Over the last two decades, cities from London to New York, from San Francisco to Singapore, have transformed their city's bridges into breathtaking canvasses of light illuminating the landscape—reinvigorating new life where these sprawling structures have made their connections.
Now, thanks to a public and private sector commitment, Shreveport-Bossier will join in this up-and-coming architectural lighting trend that will display a spectacular palette of light, art, color, and creativity over the Red River with the Bakowski Bridge of Lights.
In 1994, anyone driving through Shreveport-Bossier got to enjoy the glow of the neon lights that adorned the Texas Street Bridge. Even though many people questioned its cost and scratched their heads over the project, the goal was to create a signature piece of public art that would not only help define Shreveport in a creative, strikingly visual, and very public way, but to help connect Shreveport with its sister city on the other side of the river. Was it successful? Absolutely! Has it not become a lasting image that, even to this day, helped give an identity to Shreveport-Bossier? To many, it became a beacon of pride for the two cities and attracted events such as the Miss Teen and Miss USA pageants, where it was proudly boasted, "Our runway is paved in Neon!"
Unfortunately—due to vibration, road dust, weather, and father time—the lights stopped working. However, a recent renovation project on the bridge is calling for something new; one that has been six years in the making. The Shreveport Regional Arts Council (SRAC)—the "Public Art Arm" of the City of Shreveport— took the lead to re-light the bridge. Now, the Texas Street Bridge—officially known as the Long-Allen Bridge—is set to be updated and outfitted with over 13,000 LED lights that will illuminate all 2,982 feet of the bridge, thanks in large part to a one-million-dollar commitment from Dr. George Bakowski and his wife, Sandra.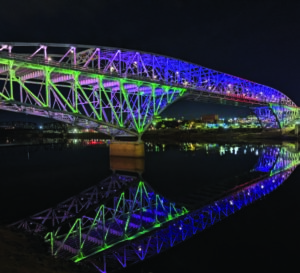 "For over forty-five years, Shreveport-Bossier has generously supported my optometry practice, and what better way to bring our community together than with light—uniting people with the civic pride as nothing else will," said Dr. Bakowski. "It will be a catalyst for community involvement, pride and, hopefully, spur economic development."
The project to relight the bridge, according to Dr. Bakowski, was his wife's idea. Over six years ago, when the couple read that the bridge's neon lights had been extinguished, it was Mrs. Bakowski who said that something should be done to recreate a sense of civic pride for both Shreveport and Bossier City. "George and I are glad to bring this project to light," says Mrs. Bakowski. "The aim is to not only showcase the great work of art to those traveling daily on I-20, but it will transform the landscape of the Red River and unite the communities and economic development within both Shreveport and Bossier City. Our hope is that this is the first step in incentivizing others to contribute to a new era of vitality for our area of northwest Louisiana and help create a symbol of vision for the community."
Along with Bakowski's donation, the City of Shreveport, the City of Bossier City, the Red River Waterway Commission, and the Louisiana Public Service Commission committed funding for the road lighting and the installation of the new lights. Other project donors were the Downtown Development Authority and Will Atkins who are supporting the programming and maintenance of the bridge. Furthermore, the Shreveport Regional Arts Council (SRAC) has enlisted a team of local artists, designers, and IT professionals to create a state-of-the-art bridge lighting system. SRAC is counting on this team to commit to using the project as a pipeline for training artists, both young and old, to be able to add coding (and other technical skills) to their professional art careers.
"Shreveport is alight with creativity, talent, and public-private cooperation," said SRAC Executive Director Pam Atchison. "The Bakowski Bridge of Lights is going to astound people with its interactive and constantly morphing colors, shapes, and forms. It will be a show-stopping statement on the skyline of our two cities, all designed by local artists, both young and old, and programmed by IT professionals—all from right here in northwest Louisiana."
Everyone—from professionals to kids to newlyweds to all those in between—will be able to contribute to its success.
To begin, William Joyce will showcase his light show at the grand opening, which will include choreographed music and fireworks that culminate in a crescendo of music and energy. According to Joyce, "It will be like nothing I have ever done before—a fundamental shift in our skyline, turning the bridge into a light sculpture in a dynamic, ever-changing way and pushing technology as far as we can push it to see what we can accomplish. It's going to be the heartbeat that courses life between our two cities!"
Keith Hanson, Chief Technology Officer, and Smart Cities Director for the City of Shreveport, alongside SRAC's artist-in-residence, will collaborate all the primary IT-professional programming for the bridge. Hansen stated he is excited about multiple opportunities afforded by both artists and IT professionals and thinks the opportunity will create a new movement within the city. "This work is a cool blend of the ideas and skills of technologists and artists. I will also have the opportunity to mentor young minds in art and technology to hopefully catapult them into a new career," said Hanson.
The general public, too, will be able to purchase bridge lighting designs for celebrations, special occasions, and announcements, and specific lighting programs can feature an assortment of causes such as Breast Cancer and AIDS Awareness. Riverfront venues such as the Sci-Port rooftop and the Shreveport Aquarium patio (now heated, cooled, and covered) have developed special packages for weddings, baby gender reveals, anniversaries, etc. These events can include a custom-designed light show for the special occasion.
The bridge lights can also be programmed to welcome visitors to conventions, announce major community events such as the Independence Bowl, the Bass Pro Classic Tournament, Mudbug Madness, and the Red River Revel. Stacy Brown, President and CEO of the Shreveport/Bossier Convention & Tourist Bureau, believes the bridge will "provide an iconic landmark Testing the lights. Photo: SRAC that ties Shreveport and Bossier City together in a way that resonates with residents and visitors. It will also be a unique tool to entice conventions and events to northwest Louisiana with the opportunity to customize the lights to showcase their events."
Furthermore, starting in June 2022, the first Friday of every month on alternating sides of the river, there will be parties under the bridge with an arts market, street performers, and food trucks. Students from Southern University at Shreveport, Bossier Parish Community College, Caddo Parish Public Schools, and the VOA Lighthouse Afterschool Program plan to create light shows. The bridge, needless to say, will be constantly changing to be the best thing to experience this year.
Just ask anyone involved. They all believe it will be more than just a visual feast. It will be a living, moving example of how art can help transform a city—on many fronts—and it will certainly illuminate the importance of public art, in general. In an era where traditional funding, respect, and attention to gutsy creative endeavors seem to have waned dramatically, shifting to the more distracting fancies found in the babble of Facebook updates, Twitter spawns, or the empty mental calories found in watching TikTok videos—The Bridge of Lights has all the makings to be a remarkable concept.
Here are a few reasons worth noting.
First, public art has come a long way from granite statues of men in city parks. And it's not just about the scale of something like the Bridge of Lights. It's what technology has made possible— art that's dynamic, that shifts mood and shape, and sometimes augments reality. To put it simply, this bridge can create connections—literally and metaphorically. Much like a campfire stimulates conversation and participation from those surrounding it, the Bridge of Lights will be doing something similar. And while it doesn't hurt that it's eye-catching— from many points on both sides of the Red River—the added perk is that you will be able to connect with somebody next to you who is also experiencing the same thing you are. It definitely will be a focal point in which people can gather around.
Beyond 'connection,' the work unites art with technology. And if there's one thing Shreveport-Bossier understands— especially considering SRAC's involvement—it's "art" and "techy" things.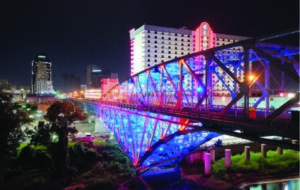 Finally, there's the economic boost— the work is bound to lure travelers near and far into the area. While many upcoming, high-profile, events such as Mudbug Madness will attract swarms of visitors to downtown, many will flock to various points of interest on both sides of the river for the lone purpose to experience the bridge.
According to Pam Atchison, a tool SRAC plans to use to help measure economic impact is called the Signify Social Media app, which tracks where "Bakowski Bridge Lights" chatter originates. "For example, we will know when someone makes an Instagram post from the Jack Binion's restaurant at the Horseshoe Casino, or posts on Facebook from the Louisiana Boardwalk. This information will be shared with the area businesses so that they may consider advertising campaigns." Atchison believes the bridge will funnel new economic benefits into the local economy for years to come.
The bottom line is, The Bridge of Lights can be used as a model for how other cities can become more inventive with their infrastructure and public art. There can be little question that digital technology is now the driver, in not just how we interact with our environment, but also in how we view it. And whether its method is to enhance the world around us or to change entirely how it appears, this is where public art is headed. It will be a catalyst indeed. With that being said …light it up!