Getting Ready for the
BIG DAY:
SKINCARE TREATMENTS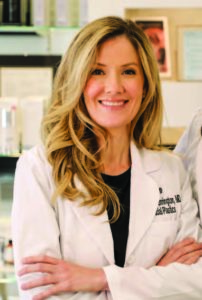 BY DR. LINDSEY PENNINGTON
As we emerge from winter and two years of quarantine—including this most recent Omicron wave—there is a lot to look forward to this spring in Louisiana, including the first real wedding season since 2019.
Whether you are a guest, the Mother of the Bride, or the Bride herself, you no doubt want to have flawless skin for that special day. The best time to start planning for any upcoming event, though, is now!
Give yourself enough time to make a plan with your physician, as well as enough time to accomplish it. As women who have experienced that pressure for everything to be perfect on that special day, we know how much you want to put your best face forward!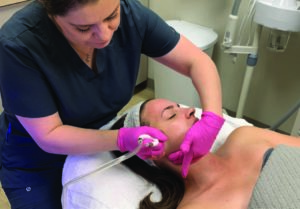 Lauren Vizza undergoing a Diamond Glow Dermalin fusion
6-12 MONTHS BEFORE THE BIG DAY
This is the best time for Brides or Mother of the Brides (and Grooms) to set up a complimentary consultation and exam to determine your goals and develop a plan. A six to twelve month timeline gives enough time to trial new skincare products or undergo a treatment or laser that could have a little downtime while working around your busy schedule of engagement parties, bachelorette parties, bridal showers, and the Big Day. Your skin also needs enough time to regenerate the collagen needed to lift, tighten, shrink pores, and smooth out the fine lines and wrinkles.
A popular non-invasive treatment to achieve those goals is the Morpheus8 device, which uses micro-needling with radio frequency. It combines three treatments into one: radiofrequency for skin tightening, micro needling for collagen production, plus laser skin resurfacing.
At any age, this is an amazing treatment to do on the face, neck and chest with minimal downtime. Treatments should always be overseen by a physician who is trained and experienced with the procedure as these devices have amazing results but are very operator dependent. The settings have to be adjusted based on your age, anatomy, skin type and goals.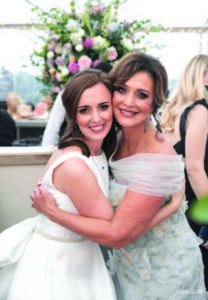 Jordan (Sandifer) Danvers & Mother of the Bride Waynette Ballengee
Photo: John Cain 
4-6 MONTHS BEFORE THE BIG DAY
Four to six months before a major event is the optimal time to start facial volume restoration with fillers such as Juvederm or Restylane. These can add instant subtle volume on their own, or if the goal is to stimulate your body's own collagen, products like Radiesse or Sculptra are also options. These products are used to lift and contour the cheeks, fill the temples, smooth nasolabial folds, sculpt the jawline and plump the lips.
When done by the right cosmetic physician, dermal fillers can provide a natural result that puts volume back in the areas where you have lost it over time to restore your natural beauty. It can feel very overwhelming when trying to make these decisions, so be sure to depend on the experts for guidance, whether you have a very specific concern to address, or just require a general consultation to guide you through your options.
There is also a medical grade skincare routine to further reach your skin goals. Products such as SkinMedica's TNS Advanced+ Serum is a great addition to any in-office treatment to increase collagen and elastin production and aid in skin renewal. In a clinical study, patients using this product felt they looked up to six years younger after just twelve weeks. If your concern is acne, pigment, sun spots or facial redness, then four to six months gives your physician plenty of time to get you on a prescription treatment and for it to work before the big day.
Some conditions may require in office laser treatments to correct, so you should plan for any needed downtime. With so many options, a consultation with a board-certified cosmetic physician to tailor an individual plan for you is so important.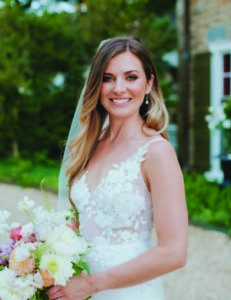 Haley (Bagwell) Lewis. Photo: Justin Kunimoto
3-4 MONTHS BEFORE THE BIG DAY
Three to four months out from your event is a great time to get your neuromodulator treatment with Botox or Dysport. These products take two weeks to show results, so you want to give enough time for the treatment to kick-in, while also allowing time for a touch up to ensure it looks perfect.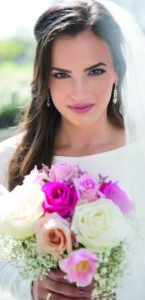 2-3 MONTHS BEFORE THE BIG DAY
We also recommend starting facials a couple months out from your event to make sure your skin is glowing by the big day. The DiamondGlow Deluxe dermal infusion is a non-invasive, medical 3-in-1 treatment that simultaneously exfoliates, extracts and infuses skin with condition-specific serums. It is the first and only critically timed, exfoliation-to serum treatment technology with optimal-depth delivery for immediate and long-lasting results on all skin types-with no downtime!
Depending on your skin goals this facial can be tailored to provide hydration, brighten skin, fight acne or improve collagen production. "I personally did DiamondGlow Facials monthly leading up to my wedding, including the week of my wedding," says dermatologist Skylar Souyoul, MD. "It calmed my acne, cleaned out my pores, and helped my professional make-up sit so much smoother on my skin."
Lauren Vizza. Photo: Zac Grimaldo
Dr. Lindsey Pennington is the only female double Board-Certified Facial Plastic Surgeon with a solo private practice in the State of Louisiana. She focuses on both non-invasive and surgical facial rejuvenation. She is joined by Dr. Skylar Souyoul, Board Certified Dermatologist, in Shreveport at their office on Line Ave, Lindsey Pennington, MD Facial Plastics. All brides and the mother of the bride presented here are patients of Dr. Pennington.