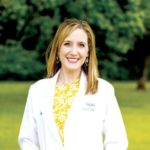 Rabalais Dental Centre offers general family dentistry for all ages. The team approach to dentistry, which includes the patient, is most important from start to finish. Treatment ranges from general dental care to complex dental procedures, utilizing modern technology. Services include dental cosmetic procedures, crowns, bridges, implant restoration and a wide array of other preventative care procedures.
Dr. Rabalais earned a Bachelor of Science from the University of Louisiana at Monroe, a master's degree from Louisiana Tech, and her doctorate from Louisiana State University Dental School at New Orleans. Dr. Rabalais is a member of the American Dental Association, the Louisiana Dental Association and the Spear Study Group.
Should I go to the dentist even if I am not having any symptoms?
Absolutely! Even if you do not have any symptoms, you can still have dental health problems that only a dentist can diagnose. Many times, cavities or gum disease can be silent; this is the best time to address the problem. Regular dental visits will also help to prevent bigger problems from developing. Maintaining proper dental visit frequency is also an important part of your overall health. It is also important to inform your dentist of any changes in your medical history since many medical conditions can affect your dental health too.
What causes bad breath?
Bad breath, called halitosis, can be an annoying and embarrassing problem. The cause could be something simple like onions or garlic but for 85 percent of people suffering from bad breath daily, there is actually a dental concern present. The problem could be one or more of the following:  gum disease, cavities, dry mouth, bacteria on the tongue or even oral cancer. Using a mouth rinse will not cure the problem — It will only mask it. For someone suffering from bad breath, the best option is to see a dentist for a proper exam to fully diagnose the problem.
Is teeth grinding really a problem?
Yes, teeth grinding can lead to big problems. One of the most common causes of teeth grinding is stress but it is also linked to malalignment of teeth, some medications or even some medical conditions. Problems that can occur are damage to teeth or dental work, pain in the jaw, headaches, tooth mobility and tooth sensitivity. It is important to inform your dentist if you are experiencing any of these problems. It is common to treat teeth grinding with an appliance called a nightguard.
Sponsored by Dr. Shelly Rabalais.