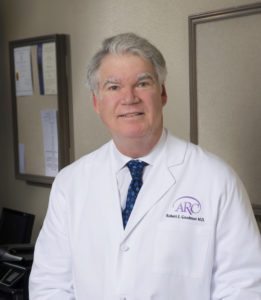 Board certified rheumatologist, Robert E. Goodman, M.D., of the Arthritis & Rheumatology Clinic in Shreveport combines his specialized training and 33 years of experience with personalized care to provide patients with leading-edge technology along with the latest treatment options.
What sort of conditions do rheumatologists treat?
Rheumatologists provide state-of-the-art diagnosis and treatment for diseases that affect the body's connective tissue, including more than 100 different diseases that can cause arthritis or inflammation of the joints and bones. Rheumatologists also specialize in diagnosing and treating certain autoimmune diseases and offer continuing care for patients with musculoskeletal disorders.
Some of the diseases and conditions I diagnose and treat include rheumatoid arthritis, osteoarthritis, psoriatic arthritis, fibromyalgia, gout, lupus, ankylosing spondylitis, polymyalgia rheumatica, polymyositis, scleroderma, Sjogren's syndrome, & osteoporosis.
What is your treatment philosophy?
Blending the latest scientific information with personalized patient care is the way I approach the treatment of patients. It is my honor to partner with patients in their healthcare, and it is definitely a team approach. I work closely with each patient, along with their primary care physician, as well as other healthcare professionals.
In the past decade, there have been many advances and breakthroughs in the field of rheumatology that have proven effective in controlling symptoms, as well as slowing the progression of disease. The result is new and better treatment options and continually improving outcomes for patients. Many rheumatic diseases are chronic conditions, and while there may not be a cure for your condition, very effective management is available for most. Since rheumatic disease affects everyone differently, the key to the best outcome is to work with your rheumatologist to learn what works best for you.
What else would you like for patients to know about arthritis and rheumatic conditions?
You are not alone. An estimated 50 million people in the United States of all ages and genders have arthritis or other rheumatic conditions. Together we can make a big difference in how much your condition affects your quality of life so you can continue to say yes to the things that are important to you!
For more information, or to make an appointment with Dr. Goodman, call 318-424-9240, or find us on the web at www.arthdoc.com, and on Facebook at facebook.com/arthdoc.
Sponsored by Robert E. Goodman.