BY ADAM BAILEY
When the first customers walked through the doors of Sibley Hardware in 'old' Bossier City a century ago, little did they know how much the world would change in the next 100 years?
Don Tubbs—the current owner of Tubbs Hardware—has always had the drive to succeed in business. As a 12-year-old, he mindfully did anything and everything he could at the Holmes Hardware Store—from stocking the shelves to sweeping the floors to threading pipe. Just to make a dollar.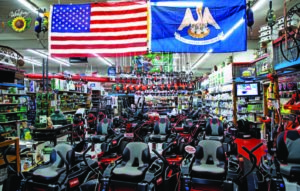 "I grew up poor," admits Tubbs. "If there was something I wanted—like a new pair of jeans or a new pair of shoes—I had to work hard in order to get it. Working at the Holmes Hardware Store gave me that opportunity. One that has flourished to this day."
After graduating from Bossier High School, he joined the Bossier City Fire Department. But, on his days off, he continued to work at Holmes Hardware as his side job.
In 1979, Mr. Julian Holmes had Holmes Hardware up for sale. According to Tubbs, "Mr. Holmes and his wife were very ill and in their early 80s. Their only daughter had no interest in running a hardware store. He approached me and said that I had always told him I wanted to buy the place. If I wanted it, I could buy it."
After all, Tubbs, having practically grown up in the store, understood the hardware business and believed he could succeed. "So many people believe that my dad owned the hardware store. That simply is not the case. My father died when I was a teenager and, unfortunately, he never knew I would one day own a hardware store. When I told Mr. Holmes I wanted to purchase his store, he owner-financed it to me. That's how I got my start in the hardware business. For that, I am eternally grateful."
The rest—as they often say—is history. Or should we say history was in the making?
Shortly after acquiring Holmes Hardware, Tubbs bought the business next door— Teekell Brothers Department Store— enlarging his real-estate footprint in Old Bossier. In 1983, he bought Graham Hardware on Highway 80 at Benton Road and decided to merge the two stores to reduce overhead. From there, his business simply grew, and grew, and grew. According to Tubbs, "I was simply doing what God wanted me to do."
Today, Tubbs Hardware offers lawnmowers, parts, services, outdoor cooking, rentals, and Cajun gifts. It's a unique Louisiana business that not only offers the latest in hardware supplies, but unique, one-of-a-kind Louisiana souvenirs like Cajun spices, culinary products, fleur-delis decorations, and—most importantly— Mardi Gras accessories. "Tourism," notes Tubbs "is a fun part of our Bossier City location." And it shows—especially when it comes to their King Cakes.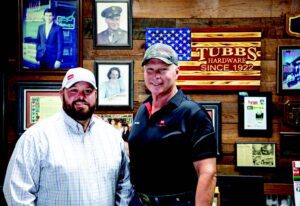 The 'Tubbs King Cake' is baked from a recipe that's a secret in the Tubbs family. Tubbs created the recipe over 20 years ago and has a large production house that bakes his cakes for his store. Each year, Tubbs goes to the production house to make sure the right ingredients are in place—which is a lot of filling and rich texture.
As famous as his King Cakes are, Don is a country boy at heart, and in 1989, after having children, he moved his family to Benton where they could enjoy the "country life and go to school." Falling in love with the area, it felt only fitting to build a second location. So, in 2003, Tubbs opened the 'country location' in Benton—which specializes in Toro/Exmark mowers, STIHL outdoor power equipment, utility trailers, porch furniture, and Ventrac tractors.
Today, with two stores, and thousands of loyal customers, Tubbs puts an emphasis on customer service within the hardware community. That's the one thing he says has kept him in business. "Someone will come in and say they need a new faucet and I will ask, 'What is wrong with the old one?'" Tubbs claims.
"I grew up poor, if there was something I wanted — I had to work hard in order to get it."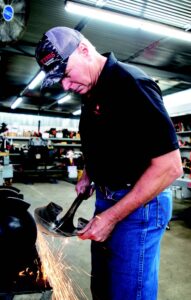 "If the faucet is dripping, it is possible a couple of 29-cent washers will work. It could save the customer from purchasing a $130 new kitchen faucet. I would rather them buy that 29-cent washer a thousand times than that $130 faucet just once."
The philosophy also makes the job easier for the family and staff. "How would you rather spend your day?" Tubbs said. "Selling hardware or helping people?"
Tubbs has seen booms and drops in the building market. He's seen technology change the 0course of the hardware business. "To be honest, the smart phone is the best thing that ever happened to me. Customers will come in, search for an item, and find that not only do I offer cheaper prices, I often offer better products.
He's even multigenerational when it comes to his sales acumen and longevity. From buying the equipment he sells, to being trained on how to use it, he has sold to fathers, sons, and now grandsons. His employees have become his family, and the customers have become his friends. "In the end," says Tubbs "it all boils down to vigilance in keeping up with the marketplace and competition. You got to do it every day. Because in this business, everything happens so fast."
"But I wouldn't change a thing," Tubbs said. "I could retire. I could sit at home. But these are lifelong friends and if I stopped I wouldn't see them. I'm not ready for that. Until I am, I will continue to walk the aisles to meet the individual needs of my customers."
Service after the sale is also critical to the Tubbs brand, and Tubbs has it. "I give God the credit for providing me with wonderful people to help run my business. Curtis Harvey is my right hand man at the Bossier store, and is very knowledgeable and customer-service minded. I am also extremely blessed that that my son, after working for Halliburton for 11 years, chose to come and work in the family business. He brought all his leadership experience in the oil fields and runs my country store in Benton. I thank God every day for my committed staff and loyal Ark-La-Tex customers."
One thing that has stayed the same is the stores remain closed on Sundays. The idea started with Mr. Holmes so that he could go to church, Tubbs said. That's one of many traditions that has continued to remain in place. Tubbs Hardware is open six days a week and closed on Sundays —to give his employees time to spend with their families or attend church.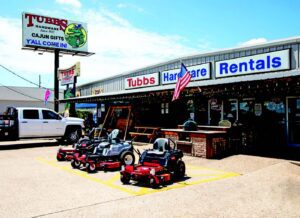 "After all—where would I be without my family and friends."