It was early 1973.  Shreveport was designated as one of the first Bicentennial Cities in the United States. To understand why our city received this designation, you need to go back even further to 1966 when a commission was established by the federal government to plan and develop the commemoration of the 200th anniversary of the United States through local, state, national, and international activities. As of April 4, 1975, the Bicentennial Administration had either granted or was in the process of granting official Bicentennial recognition to 1,766 federal projects. To gain this recognition and receive federal grant money, a community had to establish a Bicentennial planning group and have one or more projects that would have a residual benefit beyond 1976. As of April 1, 1975, a total of 3,502 communities had been recognized as Bicentennial communities and Shreveport was one of them.
Mayor Calhoun Allen selected a 20-member Regional Bicentennial Commission to plan and coordinate events that would celebrate this nation's 200th birthday.  The Task Force consisted of Leone Reeder, Robert Buseick, Eleanor Colquitt, Louis Collier, Cathey Graham, Delton Harrison, Ed Henderson, Sally Paschall, Gladys Lincoln, Jackie Nesbitt, Grove Ohlenst, Jacques Steinau, Jean Sartoris, and Virginia Shehee.  It was Eleanor Colquitt's suggestion that Shreveport needed an art festival and away they went. 
Blissfully ignorant of what obstacles lay ahead, such as location, funding, and manpower, the Festival Planning Committee of the Task Force went to work. With $15,000 from the commission, they approached the only volunteer-based group they knew of that had enough man (woman) power, enthusiasm, and credibility to pull this off.  The Shreveport Junior League not only embraced the idea but agreed to co-sponsor the week-long event with matching funds as their Bicentennial gift to the community.  The Louisiana Bicentennial Commission granted an additional $7550 along with another $1000 from the Louisiana Council for Music and Performance Arts for a grand total of $38,550 in the first budget.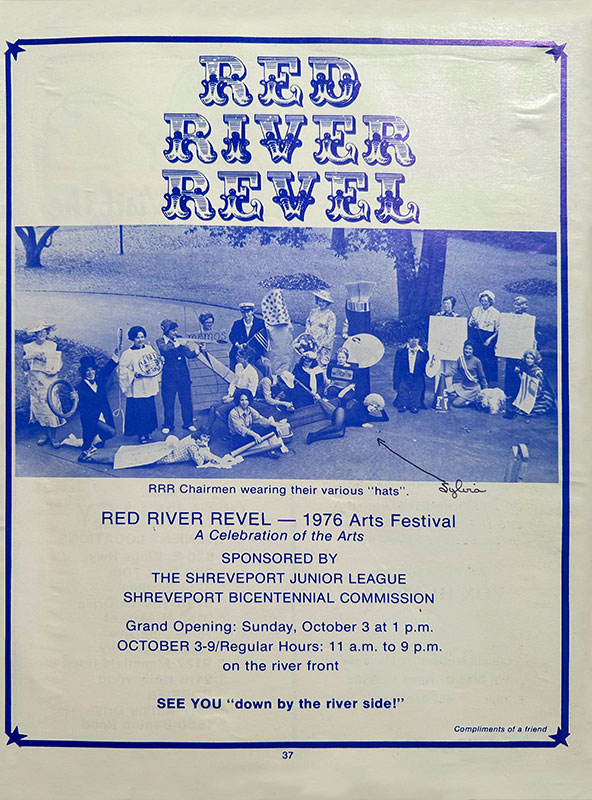 An all-star group of volunteers, well-known in the community as being creative, was assembled and given a blank slate to begin this journey with.  It was decided that a contest would be held to determine a name for the festival.  One member of this group, Sylvia Goodman, won the contest and doodled a prototype logo using the three "R" s in the name: Red River Revel. "While the committee was discussing further how to come up with the name, I was practicing a little alliteration on a piece of paper," Sylvia reminisces. 
It was time for a road trip to other cities with festivals for a little "research and development." The two co-chairs, Leone Reeder and Sally Paschall led the band of volunteers to places like Oklahoma City and Fargo, North Dakota to see first-hand how to plan and develop a successful festival.  Everything was starting to come together.  Bill Weiner designed the artist's booths and tents (using leftover piping from Gym Dandy of Bossier City); The Links and the Musicians Union were asked to volunteer their time and talent.  Cecilia Sawyer wrote a song and made the "Captain Red" mascot costume. Nancy Humphrey became "Captain Red" as she went around to businesses and organizations promoting the festival.  
Held downtown on the riverfront, the Red River Revel was coming together nicely.  Bill Fountain, director of the Bicentennial Commission coordinated and supervised the work crews, policemen, and firemen.  Policies and goals were established: no private parties in connection with the festival; artists would be juried and pay the Revel a commission; no admission fees, every child in 4th-6th grade would come; food would be provided by non-profit groups; all arts groups would work together for the betterment of the week-long festival.
Over the years, the Red River Revel has grown into the largest annual outdoor event in the region. Music, dance, theatre, and visual arts are all showcased in one unique location – alongside the Red River. The Revel, designed to be both educational and entertaining, attracts people of all ages and from all walks of life. The event aims to foster a sense of community and encourage people to collaborate in the creative process.
In addition to promoting the arts, the Revel serves as a platform for people to learn about traditional and contemporary methods of artistic expression. The Revel is more than brightly colored tents and booths.  Its more than roasted turkey legs, funnel cakes, and cotton candy.  The Revel brings together a diverse group of people to our region to enjoy both educational and recreational activities while also having a positive influence on Shreveport's image.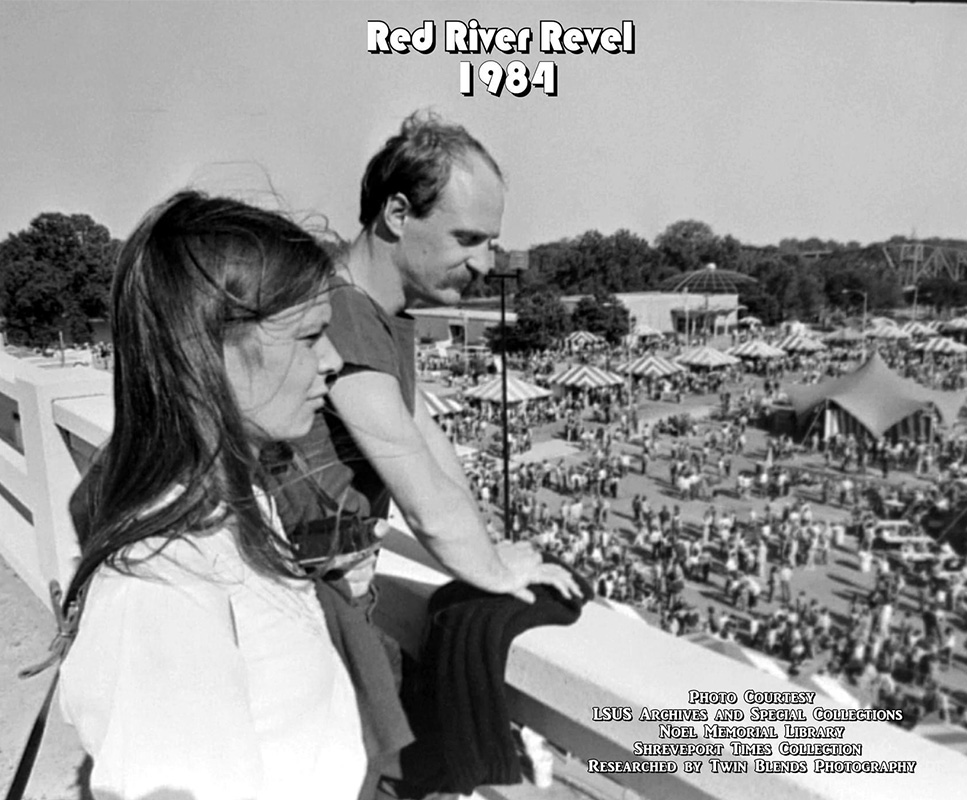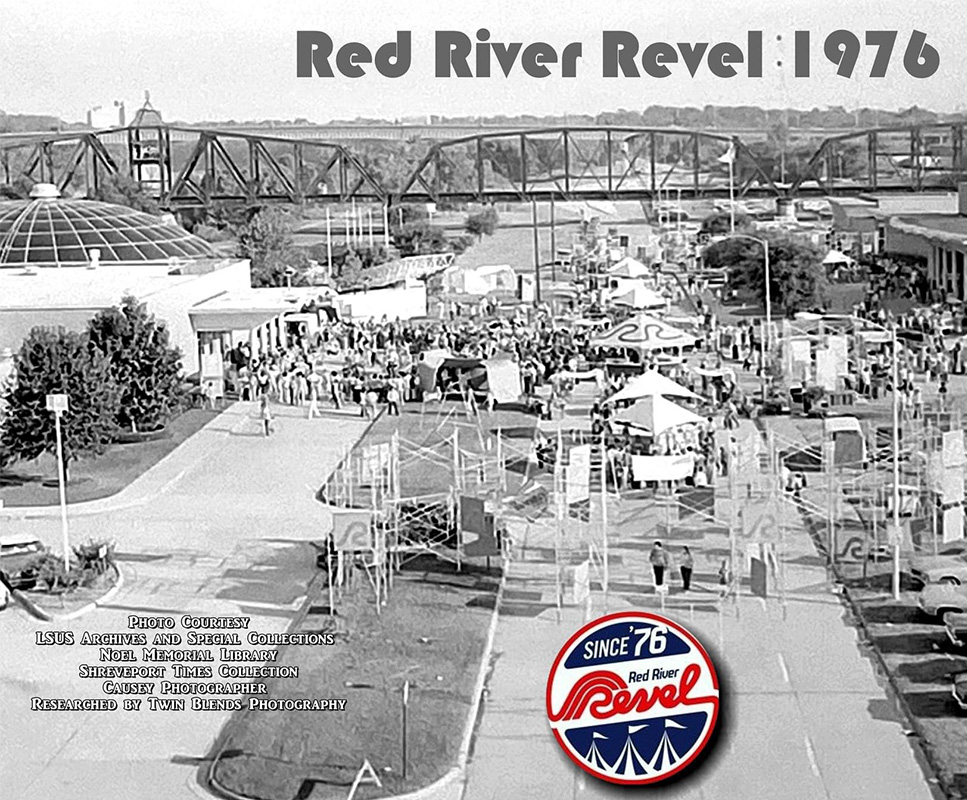 In just his second year as executive director, Logan Lewis already understands and appreciates how special the Revel is to the community of the Ark-La-Tex.  "The Revel acts as a barometer of our civic pride, "Lewis begins.  He goes on to say that "There is a very important piece of historical significance to the festival that needs to be paid attention to.  There are numerous events that happen at the Revel on an annual basis that binds the community together."  Lewis himself fell in love with the Revel when he was on one of the stages performing with his band.  He felt like he belonged with the Revel and soon found himself putting in his resume to become the executive director. Having learned a great deal from his first year as Executive Director, Lewis expects this year to be bigger and better.
He and the only other full-time staff member of the Revel team, Amy Robertson, work tirelessly to ensure that the army of volunteers is well served.  They understand that without those volunteers, activities like the mock dig, face-painting, and sand art – activities that are three generations of memories old wouldn't succeed.  To become a volunteer, contact the organizers at volunteers@redriverrevel.com.
In recent years, the festival has added several new events and attractions to its lineup. This year, activities for the kids have been brought more into focus with the all-new DMZ (Discovery Maker Zone) Experience. The Blue Cross/Blue Shield DMZ Stage will feature a Youth Talent Show, Live Music Performances, Street Performers, and Theatre Groups. Kids will love the Obstacle Course, Laser Tag, Face 2 Face Climbing Wall, and the Nerf Battle Maze. Kids can pop over for a movie at the I-Max theatre at Sci-Port while mom and dad can enjoy browsing the artist's tents to find a treasure for the home.
The Riverfront Music Stage features a variety of musical and performing arts acts that this year include a tribute to Tom Petty and the Heartbreakers. In addition, the festival offers an array of art and craft vendors, and street performers. The Red River Revel strives to create a safe and welcoming environment for all participants. As stated by the original proclamation that established the festival in 1973, the Red River Revel "aims to lead all citizens of Shreveport to a better understanding of the importance of the arts in our lives". It has certainly achieved this goal, as the Red River Revel continues to provide a unique and enjoyable weeklong experience for all who attend. 
Patrons of the Red River Revel have a significant role to play in its success. For instance, the Revel offers a new payment process that allows patrons to use wristbands to conveniently pre-load and pay for items. The wristband is like having a pre-paid credit card on your arm. Additionally, the Red River Revel partners with local non-profits, which use the Revel as a platform to raise funds and provide local and international dishes to patrons. This demonstrates the Revel's commitment to the community.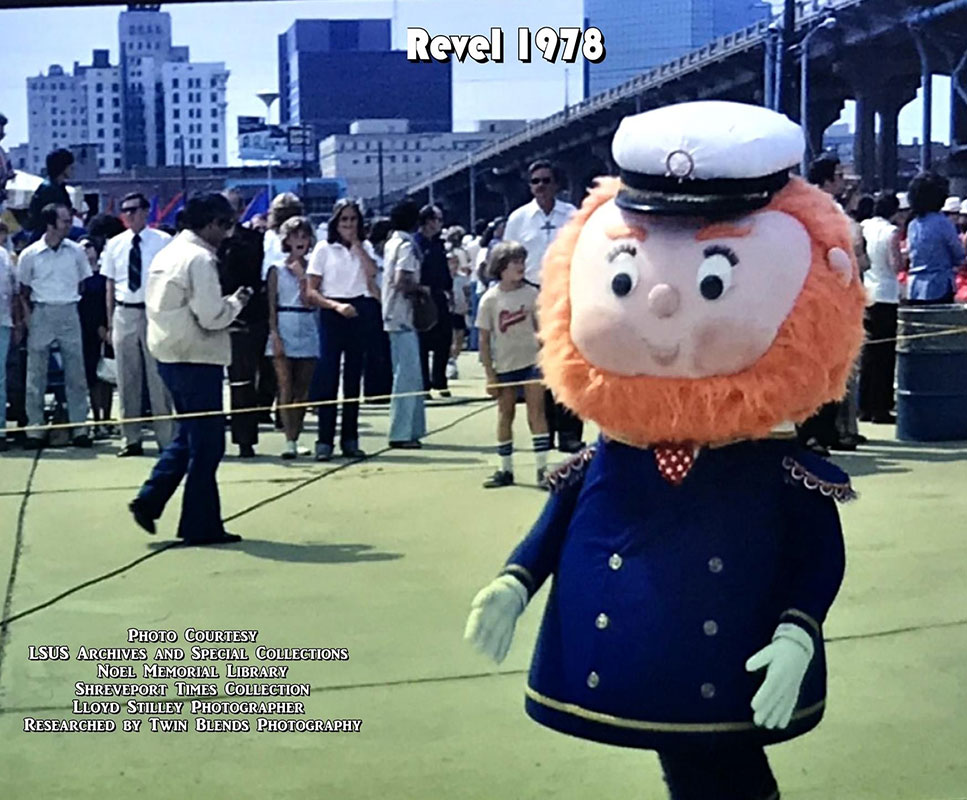 Celebrating its 47th year, the Revel has grown with each event.  For example, attending The Red River Revel Makes You a Downtown VIP.  With a Revel wristband, you will gain access to dozens of shops including dining & drink specials. With Revel+ patrons can continue the festivities at post-Revel night parties and music with discounted admission and specials that run October 1-9th.  A free shuttle to get you from place to place will run Saturdays from 11 am to 10 pm and Thursday and Friday from 5 pm to 10 pm.
Also new this year, The Revel is offering teachers, administrators, and staff members of Bossier Parish Schools free admission Tuesday night.  Caddo Parish School members have their free time on Wednesday night.  Admission for everyone else is free until 5:00 on weekdays, then $5 after 5 pm.  Saturday and Sunday admission is $5. Tickets are available at the admission gate only. The Revel opens daily at 11:00 AM and closes at 9:00 PM on Sunday, Monday, Tuesday, and Wednesday, and at 10:00 PM on Thursday, Friday, and Saturday. The Children's Area closes at 8:00 PM daily. Art Alley closes one hour before the festival closes each day.
Leave your pets at home.  This includes birds, small dogs, cats, snakes, or any other type of animal. Registered service dogs are allowed with the proper credentials.
Street parking is free after 5 PM, Monday-Friday, and on weekends.
Free parking lots are located at:
Brazzel (102 Lake St)

Railyard Lot (70 Lake St)

UHaul (315 Lake St).
Limited Handicapped Parking is available behind Riverview Hall (83 Crockett St, enter from Commerce St) and is available on a first-come, first-served basis.
Red River Revel 2023 features four stages, one in Art Alley for singer/song writers, and an additional 32 artist booths. This brings the total to over 100 artists coming from far and wide to share their talent and hopefully find new homes for their art pieces. Also new, a video wall and sports bar so that you won't miss your games.  A "Song Confessional" allows you to step into an airstream trailer and tell your story.  A musician will turn it into a song to be performed Tuesday night on the mainstage.  "We have such a wonderful history to draw upon and we are also in this new digital age where we can begin to look at the new ways to incorporate art and education into the things that we're doing," said Lewis.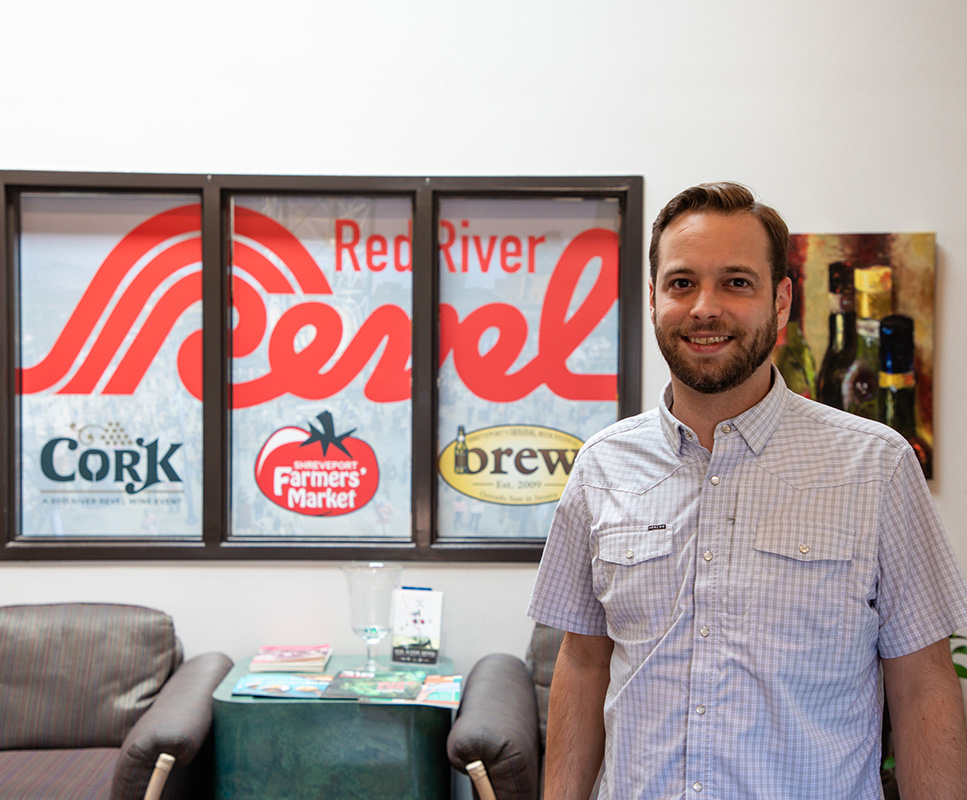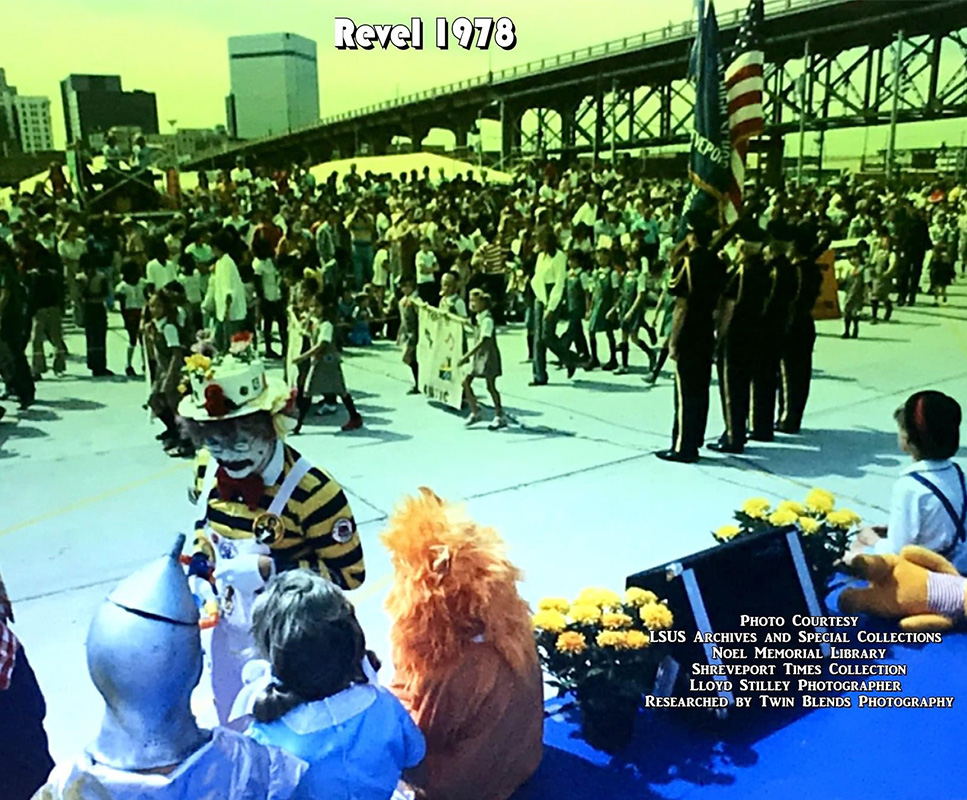 And what a history. From that first committee meeting and a contest won by Shreveport legend, Sylvia Goodman to name the festival to the energy of today's new executive director, Logan Lewis, the Red River Revel is a huge part of the quality of life here in Shreveport-Bossier.  It's safe to say that we've more than met the requirements set forth in 1966 to receive federal grant money. The Shreveport Bicentennial planning group provided a worthwhile project that has had a tremendous residual benefit beyond 1976 to our community.