BY HAILAY LAWSON
Now that 2023 is officially here, what better way to welcome the New Year than with the help of your furry friend? The New Year is an excellent opportunity to set a few new goals inspired by your pet. Whether you want to lose a few pounds or live a healthier lifestyle, your pet can help motivate you. Taking a few tips from your pet just might help you stick to those New Year's resolutions.
Check out these pet-inspired New Year's resolutions.
Resolution #1: Stress Less
Finding time to play with your pet will help balance out the stressors in your life. Get a new toy and try to play every day, even if it's just for a few minutes. Interacting with your pet will help relieve your stress.
Resolution #2: Love Unconditionally
If pets can teach us one thing about life, it's how to love unconditionally. Your pet is always there to happily greet you at the door after a hard day at work or snuggle you when it's just been a rough day. How amazing would the world be if more people loved unconditionally as our pets do?
Resolution #3: Try Something New
Whoever said, "you can't teach an old dog (or old cat) new tricks," didn't know what they were talking about! Learning something new is a great way for us and our pets to keep a sharp mind. So, try a new hobby or activity that challenges your brain for the New Year.
Resolution #4: Drink More Water
Staying hydrated is essential for your pet's health as well as your own. Recommendations for daily water intake are the same for people and dogs. The rule of thumb is about 0.5 to 1 ounce of water per pound of body weight per day. When your pet takes a sip, don't forget to take one yourself, too!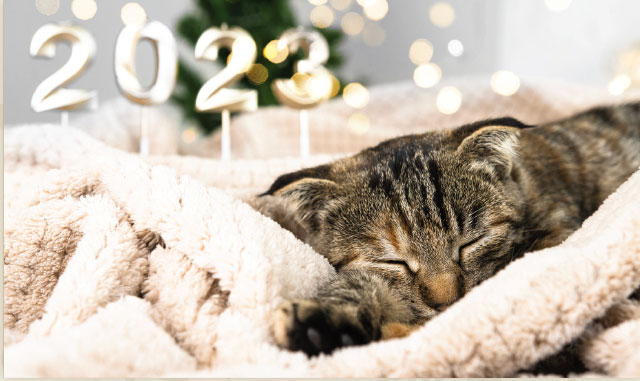 Resolution #5: Relax
If there is one thing pets show us — it's how to relax! Did you know that cats sleep 16-20 hours per day, and dogs sleep about 12-14 hours per day? However, you will probably want to keep your cat naps a tad bit shorter. A quick 30-minute nap will help you get through a tough day. Or, try spending some one-on-one time with your pet watching some TV or cuddling.
Resolution #6: Take A Walk
Get outside and walk your dog! Dog walking is a great way to get in shape for you and your dog. One of the biggest health benefits of owning a dog is improved cardiovascular health. Remember, diet is only part of the equation when it comes to health and weight control; increasing activity is also necessary. So, be sure to get plenty of exercise throughout the coming year.
Resolution #7: Smile and Live in the Moment
Did you know that people who smile more often see health benefits such as lower blood pressure and pain relief? With the hustle and bustle of everyday life, it is a constant challenge to stay in the moment. When a pet spends time with you, he is not worrying about the past or stressing about the future — he is just enjoying the moment. Which is something we should all try to be better at!
Resolution #8: Get a Check Up
It is said that the greatest wealth is health. So the New Year is a great time to commit to making health and well-being a priority. Keeping up with annual exams is important for long-term health — for you and your pet! See your doctor and take your pet to the vet regularly to catch any potential health problems before they begin.
Set some goals to make some positive changes in the New Year. Create a plan that can help you stick to your New Year's resolutions. Maybe even lean on your pet to help you reach those goals — they won't mind. But, most importantly, get excited, get healthy, and spend some time with your pet!