One of the things Louisianians take pride in is their legendary Mardi Gras culture. Mardi Gras celebrations became a cornerstone of the state's roots in the early 18th century. Pre-Lenton celebrations are traditional in countries around the world dating back to Medieval Europe, but they didn't become part of American history until the late 1600s/early 1700s. It was during this time that explorers Pierre Le Moyne d'Iberville and Jean-Baptiste Sieur de Bienville landed not far from present-day New Orleans. They solidified their landing with a celebration and named their landing spot Pointe du Mardi Gras once their men realized that their arrival fell on Fat Tuesday. Though the property lines of Louisiana have changed over centuries, the culture of Mardi Gras in Louisiana hasn't dissipated. Mardi Gras is so ingrained in our state's DNA that in 1875 the signing of the Mardi Gras Act made Fat Tuesday an official holiday in Louisiana. Though other states may have Mardi Gras celebrations, no other state can say that their government offices, schools, or businesses halt operations for a moment because of it. Louisianians never cease to love its sea of purple, green, and gold. The spirit of revelry infects all who have the courage to scream, "THROW ME SOMETHING, MISTER"!
Mardi Gras celebrations in Northwest Louisiana began in the late 1980s. In the early 1990s, Matthew Linn, a resident of Shreveport's Highland neighborhood and Krewe of Highland's Chairman of the Board, moved back home and had a vision of starting a neighborhood Mardi Gras parade. Linn stated that the idea seemed fun and easy to assemble, so he presented his idea to the Highland Area Partnership who were eager to be part of the movement. Soon after, the Highland Restoration Association along with others joined in. Says Linn, "The Reid, Bonvillian, and Linn families along with a few board members from HRA (Highland Restoration Association) and HAP (Highland Area Partnership) were in the first parade. The Reid family has been and is currently a pillar in our organization. Without Cyndie and Chuck Reid, The Krewe of Highland would not exist". Over the years, the parade route has changed and expanded due to need. According to Linn, their current route is in support of the Krewe's dear friend Robert Baucum of Marilynn's Place, a staple in SBC history. Robert's brother, Trey, has been the Krewe's Master of Ceremony for many years. The route may have been modified over the years and other krewes have developed within the Krewe of Highland, but the Highland parade always rolls the Sunday before Fat Tuesday at 2pm.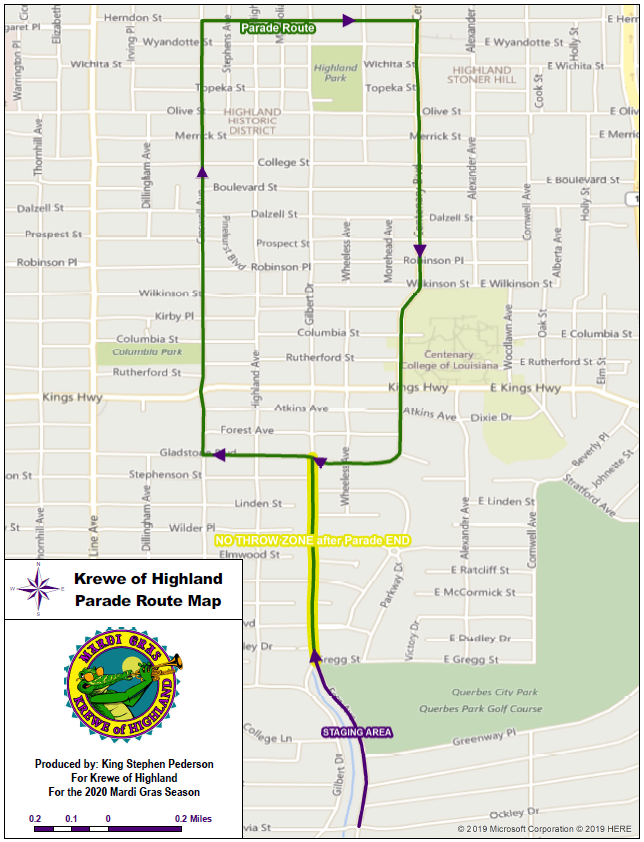 The Krewe is founded on inclusivity, encouraging originality and uniqueness. They stand by their mission to promote community cooperation, neighborhood spirit, creativity, and diversity. Though there are quite a few Mardi Gras parades and Krewes in the SBC that attract people from all over, the Krewe of Highland parade almost feels like one big neighborhood block party. With the parade rolling right down the neighborhood streets, many residents tailgate in their front yards and enjoy the free show that strolls past their homes. Everyone's feet are moving to irresistible beats, there's a cornucopia of Louisiana cuisine, neighbors are bonding, business owners are merrily promoting their services, upside-down umbrellas are everywhere ready to catch beads and other throws. There's no way that you can attend a Krewe of Highland parade and not feel a sense of community. "We encourage everyone to put on their freak and do some shameless self-promotion. We want locally owned companies to use us for team building and ask them to please throw promotable and usable goods to the crowd". Highland is best known for its unique throws. Beads are a given during Mardi Gras, but those out-of-the-ordinary throws are what help make memories. 
Paradegoers can expect to see everything from packs of Ramen Noodles to tasty MoonPies. If you're lucky, you just might catch a neatly wrapped, warm hotdog. Linn states, "Unique throws started with the infamous Jeff Clark, David Clark, and John Head aka Johnny Hot Dog with the "Eat Me" float. The "Eat Me" float, which developed into the Krewe of Bar-B-Que, throws 5,000 hot dogs. Our most special and unique throws are reserved for north of Kings Highway."
Not long after the Krewe of Highland's birth, board members Marsha and Terry Millican had the idea of incorporating the Krewe as a non-profit focused on uplifting the Highland area. After running the idea past Linn and other board members, they decided to begin work on developing the non-profit portion of the Krewe of Highland. SBC residents may not realize that Mardi Gras season is only part of what Krewes are all about. There's more community involvement than one might think. "The Mardi Gras Krewes do more for our city and community to foster friendship and tourism than any other function of the 318. We the Krewes are not a one-hit, one-night wonder", says Linn. When the board sees a need in the Highland/South Highland/Madison Park community that aligns with their bylaws, they do their best to rectify that situation. They've been known to buy trumpets for C.E. Byrd's band as well as conduct park renovations. For example, the Krewe is responsible for the rewiring of Columbia Park so that The Highland Jazz and Blues Festival doesn't have to use generators to power the bands. They also placed security lights around the park for nighttime security. Linn explained that they are currently embarking on a quarter-million-dollar Highland Park renovation, a planting project, and sprucing up all neutral grounds in Highland, South Highland, and Madison Park. With Mardi Gras season not far away, they'll soon be gearing up for the 2024 Coronation where they'll announce their King, Queen, Captain, and Theme. Anyone who's interested in being part of this great organization or would like to roll out in the 2024 parade is encouraged to visit their website. Says Linn, "We welcome everyone who loves thy neighbor. Just sign up at KreweOfHighland.org."