JUNIOR LEAGUE COOKBOOKS
BY ELLEN TRICE
"A RECIPE IS A STORY THAT ENDS WITH A GOOD MEAL."
— AUTHOR PAT CONROY
Delicious times three with a bit of history thrown in is the best way to describe cookbook collection of the Junior League of Shreveport-Bossier, Inc. The Junior League is an organization of women committed to promoting voluntarism, developing the potential of women, and improving communities through the effective action and leadership of trained volunteers. Its purpose is exclusively educational and charitable.
These tasty tomes trace their culinary history back just short of six decades. Make no mistake, these are excellent— even award-winning—cookbooks. But A Cook's Tour of Shreveport (1964), Revel (1980), and Mardi Gras to Mistletoe (2007) are much more than just cookbooks. Each volume provides a snapshot of Shreveport-Bossier at their time of publication not only in their texts, illustrations and designs, but right down to the inclusion of recipes from our cities' favorite restaurants of each era, say JLSB Cookbook Chair Maggie Malone.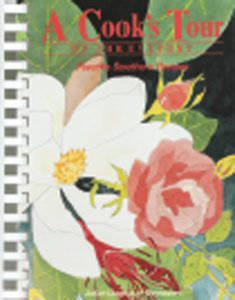 If you are hoping to re-create your grandmother's chocolate cake or the hushpuppies once served at Smith's Cross Lake Inn, A Cook's Tour of Shreveport is the place to go. With 300+ pages of recipes for everything from homestyle dishes and dinner party entrees to snacks once shared in front of the family's new color television, the Junior League's first foray into the land of fund-raising cookbooks is a true classic. Hand-drawn illustrations at the beginning of each section feature Shreveport-Bossier landmarks and attractions of the day.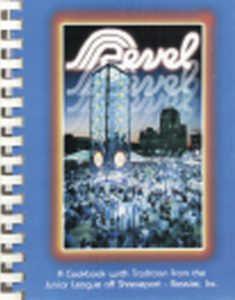 Throwing a party? The opening pages of Revel provide suggested menus and planning tips for events grouped by season. From an Easter Egg Hunt in the Spring Revel section to Cajun Christmas in Winter Revel, cooks can find a year's worth of suggestions for perfect celebrations. Each entry references the page numbers where corresponding recipes can be found. Colorful, stylized graphics fill Revel's pages and add to its 1980s flare that features favorite recipes contributed by members and friends of the Junior League, including Chef Abe Ritman's Crayfish Etouffee and Chef Joe Fertitta's Farmer's Omelet.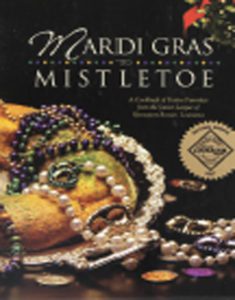 The gem in this cookbook trifecta is certainly Mardi Gras to Mistletoe. Created in collaboration with local writer and photographer Neil Johnson, this photo-filled publication is coffee table quality and a top pick for displaying on a kitchen cookbook stand. In addition to images from Johnson's library of Northwest Louisiana attractions and events, Mardi Gras to Mistletoe features tabletops tastefully set with dishes created from recipes included in the cookbook. "I have respected the work of the Junior League through the decades," says Johnson. "It was a distinct honor to work with them on Mardi Gras to Mistletoe, and I'm proud of what we created. Plus, it was fun!" he says, noting that many of the dishes prepared for the photo sessions were consumed shortly after the shoots.
Inventories of all three cookbooks are available. The JLSB dedicates proceeds from cookbook sales toward the funding of philanthropic projects with special emphasis on its Red Apron Pantry and Health Literacy Summer Camp – both of which are food related.
What a tasty idea for a holiday gift! 
www.jlsb.org
318.469.8476