[vc_row][vc_column][vc_column_text]
A MODERN FRENCH 
Country Style 
SMART HOME 
[/vc_column_text][vc_column_text]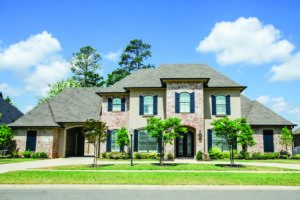 With stunning curb appeal and carefully curated design features, this custom build by Bella Mason is a serene sanctuary. Take a peek at this gorgeous St. Charles  Place retreat!
Shreveport. Grayson Bailey isn't a stranger to luxury. As a successful business-owner, Bailey has built arguably the most successful Bail Bond firm in the Northwest Louisiana area. So, it shouldn't come as a shock that there is something special about one particular property located within Shreveport's outskirts, just south of where Southern Loop meets Norris Ferry Road. A place he calls home.
Located in the exclusive gated community called St. Charles Place—a stone's throw from Wallace Lake the roughly 4,300-square-foot residence rests on an eloquent third-acre lot. The two-story stunner, a secluded French Country-style sanctuary, infuses incomparable warmth and welcome!
Traditional elements mingleD with French country features elevate this home into a stunning and timeless classic. Details, colors, and textures work together to establish the unique style of the home. Light and airy, substantial and welcoming, this home shines because it accentuates and appreciates the simple things.
But what exactly is French Country? Just like it sounds, French country style springs from the countryside of France to neighborhoods across the U.S. with widespread interpretation. It's an unstudied, collected approach, built on firmly entrenched local traditions and on cherished objects handed down through generations. The look is effortlessly chic and includes many architectural variations from French farmhouse to chateaux, French colonial, and Creole to Acadian. Simple and sin-cere yet effortlessly elegant, it satisfies the soul as much as the eye.
Bailey's affinity for designing something that fit his family's needs helped inspire the four-bed-room,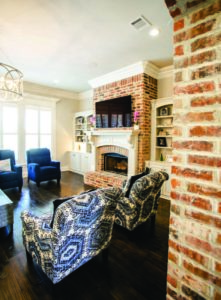 four-and-a-half-bath family abode, which boasts an open floor plan, oversized windows, and a backyard fit for entertaining. Old World charm, use of open space, and iPad technology remotely controlling HVAC/media/lighting/security, are just a few of its additional innovative features. It all seamlessly flows together to form a perfectly picturesque landscape.
"The curb appeal is the first thing that grabs you," says Bailey. Additionally, Bailey's innovative and inspired de-sign style lends itself to a tranquil interior that highlights organic tones and capitalizes on natural light. The home, which was completed in 2019, has been a longstanding dream for Bailey for some time. "I had been looking to buy a home for years, but I couldn't find any-thing that was the right fit for me and my family. So, I decided to build. That way I could have everything I wanted."
As far as the location. "St. Charles is such a unique little community," Bailey admits. "There aren't very many gated communities in Shreveport, and it has been there for several years. I just love the neighborhood and the community. Furthermore, the house doesn't give away all its secrets the minute you walk through the front door. It's a home you have to explore, and every new room is a surprise."
The Right Fit
Bailey was able to complement the setting of the home with an equally extraordinary design team—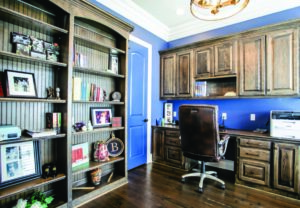 designer George Plaxco, builder Christopher Strandridge of Bella Maison Builders, and Michael Moore of Morehead Pools, who helmed the pool and landscape construction. Together, they poured their visions and expertise into a house filled with tried-and-true decorating ideas that stand the test of time.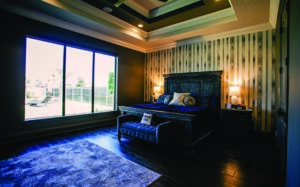 Refined Ease
Noticeably, it's the details of this home that give it a Country French flavor. Sidelights and arches dress the front door, offering a warm welcome. With a steeply pitched, hipped roof and exterior walls of stucco and brick, the house offers elegance as well as Southern charm. Inside,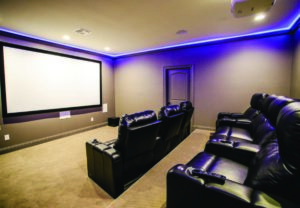 rooms are thoughtfully proportioned with airy 10-foot ceilings. Careful placement of the windows and doors allows both tradition-al and contemporary furniture arrangements. The plan features a central foyer flanked by the study and the dining room. The comfortable family room contains a fireplace, a bookcase wall, and view-catching, wall-to-wall windows. French doors expand the living area onto the patio and outdoor kitchen. The kitchen opens to a spacious breakfast area with a box bay window. Up-stairs, a central stair hall organizes the bedrooms, baths, art room, music room and theatre.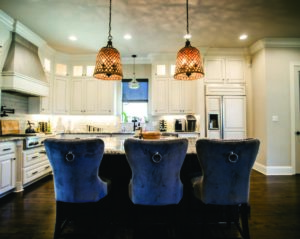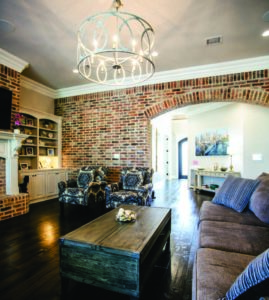 Centralized Kitchen
The modern kitchen is a sight to behold, with a beautiful brick archway that stretches into the living room—giving the space a heightened level of warmth and depth. The hardwood floors provide the home with an aged look. "The goal was to give it an old world-meets-modern feel," Bailey says of the ambiance. "The house has a transitional feel, but you have that warmth of texture there, so it's not too cold. There's a sense of coziness." The result is a space that perfectly balances out the neutral-colored walls. Other standout features include the granite countertop on the island and the backsplash behind the stovetop.
Establishing Whole Home Control
Technology was very important in this home's design. Bailey, along with Matt Hollowell with Electronic Interiors, was able to seamlessly integrate smart technology throughout the home, starting in the driveway and lead-ing all the way through to the landscaping in the backyard. From doorbells, security cameras, and control panels—nothing was off limits to be able to regulate. Essentially, every room provides audio, temperature, and lighting control. "I wanted to ensure I had the basics already in-stalled when the home was built, but also leave the door open for upgrades and further integration."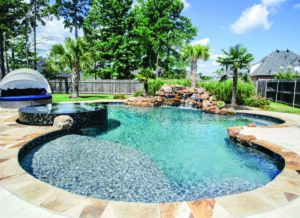 Creating an Outdoor Attraction
The rear covered porch—with plenty of room of living space—is divided into two sections: a cooking area and a sitting area. It wouldn't be a true Southern house without somewhere to watch the world go by.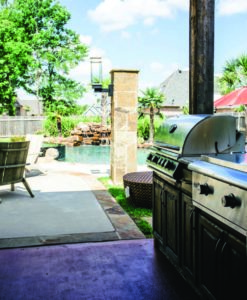 "Typically, you see an outdoor living room attached to the main living room and an outdoor kitchen attached to a kitchen. We flipped that notion and set the outside living room right behind the kitchen," Bailey says. The furniture can easily withstand the elements, while low-maintenance flooring mimics the look of hardwood. Centering the hangout zone around the fireplace keeps the space inviting year-round. A fire pit and pool lie just beyond. The space is perfectly designed for not only weekend cook-outs, but any type of outdoor event. Between the outdoor kitchen, the lounge area on the patio, and the fire pit, there are plenty of places for guests to gather.[/vc_column_text][/vc_column][/vc_row]