It's almost time for trick-or-treating! Halloween is a fun time for us, but it can be a real fright for our pets. A dog's natural instinct is to protect the home and alert you to strangers, while a cat typically prefers a quiet evening with the family. Trick-or-treaters knocking on your door or ringing the doorbell can be very stressful for both dogs and cats.
Halloween can be a spooky night but keeping your pet safe doesn't have to be tricky. Check out these tips and tricks to keep your pet safe on a Happy Howl-O-Ween!
Watch the Treat Bowl
Candies can be very toxic to pets, especially chocolate (baking, dark, milk, etc.) and xylitol (a sugar substitute) which are common ingredients in many candies. Keep all treats out of paws' reach. The candy bowl is for trick-or-treaters—not for Fluffy. Call your veterinarian or the ASPCA Poison
Control Center at (888) 426-4435 immediately if your pet gets into the Halloween treats. Luckily, there are plenty of pet-safe Halloween recipes online that you can make for your pet to enjoy safely.
Halloween Pet Costumes
Don't force a costume on your pet. Not all pets enjoy wearing a costume. Most pets prefer their birthday suit, and costumes can be an unnecessary source of stress and anxiety. If you do dress up your pet, make sure your pet is comfortable. The costume should not block their sight or ability to breathe, bark, or meow. Check the costume carefully for dangling objects that can be chewed off and eaten, and make sure your pet can move around easily and not get overheated. Always have your pet try on the costume before the big night and if they seem distressed, consider skipping the costume this year.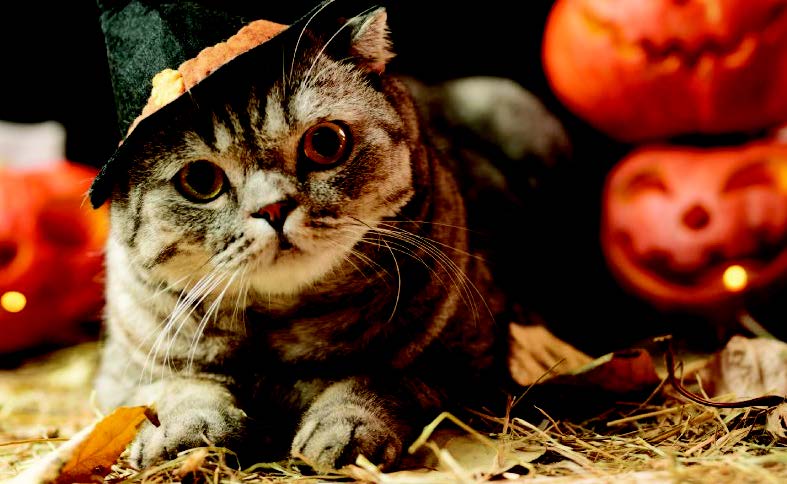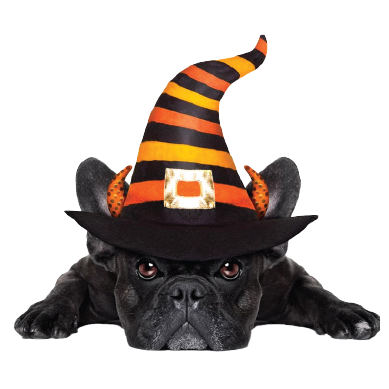 Decorations Dangers
Decorations can be a choking hazard and a danger to your pet. Many decorations may contain wires, which is a problem if chewed. Popular Halloween plants such as pumpkins and decorative corn are relatively nontoxic but can result in stomach issues for pets who nibble on them. In addition, a piece of the pumpkin rind could cause an intestinal blockage. Also, keep in mind while a carved pumpkin is certainly a lot of fun, a pet can easily knock over a lit pumpkin and start a fire, and a curious feline is especially at risk of getting singed by a candle flame.
Pet Identification
Halloween brings a rush of activity to your front door, and these strangers can often spook your pet and cause them to run away. So, when opening the door for trick-or-treaters, be careful that your dog or cat doesn't dart outside. But just in case they escape, make sure your pets have identification (a collar with ID tags and/or a microchip) that will make it easy for someone to contact you and return your pet home.
Halloween is a fun start to the holiday season, but just remember it can be frightening and dangerous for your pet. However, with a little extra precaution, you and your pet can safely celebrate this spooktacular day!