By Elizabeth Beard Deal. Photography by Christal Childress, Sweet Pea Pixels
Local organization helps families with children suffering with arthritis and the doctors who treat them.
Did you know children get arthritis?
Arthritis is still generally thought of as an older-person's disease, but over 300,000 children suffer from arthritis in the United States. Arthritis in children is always painful, sometimes crippling, and occasionally fatal. Early diagnosis is critical. There are only 200 pediatric rheumatologists in the US, making it difficult for many children to see a specialist on an ongoing basis. It can be a long road to diagnosis, and many children have overlapping diseases. Children suffer from extreme physical and emotional pain. Many report feeling isolated because friends and family misunderstand this "unseen" chronic illness. There is an example of one child who was playing basketball and cello before his diagnosis, but now can't even manage school but 4 hours a day. Medications can cost up to $200,000 year.
For 30 years, local non-profit Children and Arthritis, Inc., founded by Dr. Thomas Pressly, has addressed the difficulties faced by children suffering from rheumatic diseases and their families. The mission is to provide information and support to families of children who suffer from arthritis and other autoimmune diseases. Pressly, a Shreveport rheumatologist in private practice, also operates the clinic for rheumatic illnesses at Shriner Children's Hospital in Shreveport.
 Parents of children diagnosed with this chronic illness struggle with knowing what type of treatment is appropriate and worry about side effects. Treatments can be difficult because of coexisting conditions or contraindications of medications. Even administering medications can be an issue; many children become anxious at the anticipation of a shot – and one of the main medications causes burning at the injection site. At school, an IEP or 504 accommodation plan is usually needed. 
 The family unit can also be disrupted. Siblings often feel forgotten and act out. Examples include a sibling who was dealing with depression  and stealing cars and another who attempted suicide. Financial implications surpass just the medication cost; parents struggle with missing work, and one mother had to give up her career to take care of her child. The divorce rate hovers at 75% for families dealing with a chronic illness. 
Children and Arthritis provides a welcome opportunity to these families with an annual summer weekend program, Camp Jambalaya Jubilee, held at the serene campus of Centenary College. What makes this camp unique is that it does not serve just the child with the illness, but serves the entire family. While the children participate in camp activities, parents and guardians attend sessions with physicians and family therapists. Teens also have their own therapy sessions together.
Camp serves families with children (under 18) who suffer from rheumatic diseases in the southern region, primarily LA, TX, MS, AR. The families stay in dorm rooms on campus and all meals and activities are included. Camp fees are nominal, so families may attend regardless of financial situation, and transportation is provided in many cases to help families attend. Approximately 50% of attending families qualify for Medicaid. Camp Jambalaya Jubilee provides services to families that they may not be able to access or afford easily or elsewhere. Additional funding above these camp fees are required to cover the camp expenses and come from grants from local organizations as well as generous individual and corporate donors.
Many families return year after year, having closely bonded with other families in their same situation. They listen and console one another, mentor "new" families attending, and learn from one another. A new family to camp said, "Words cannot adequately express the positive impact this weekend has had on our family. It was truly powerful! Many thanks!"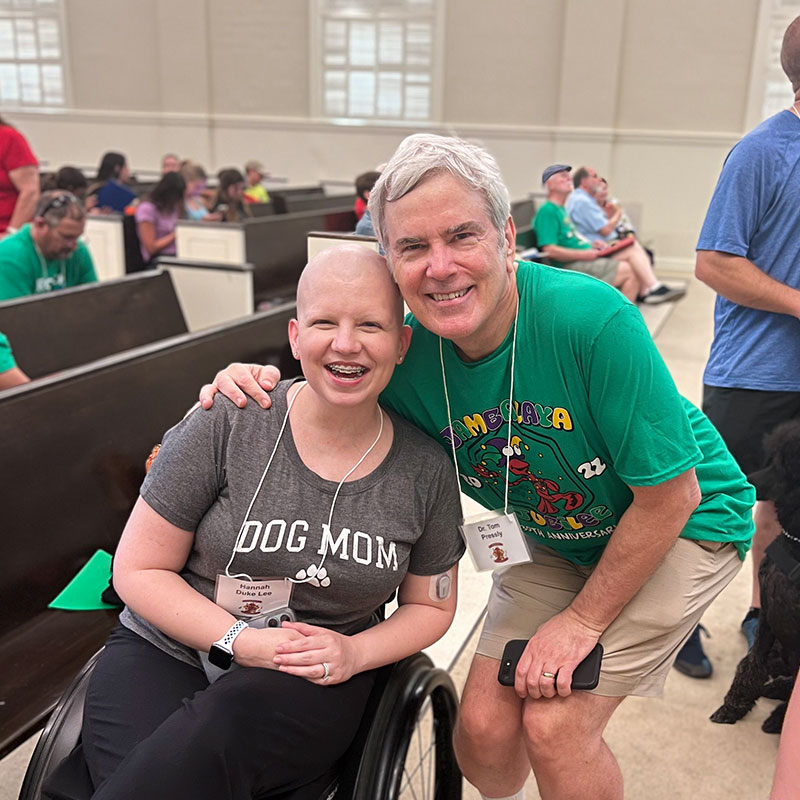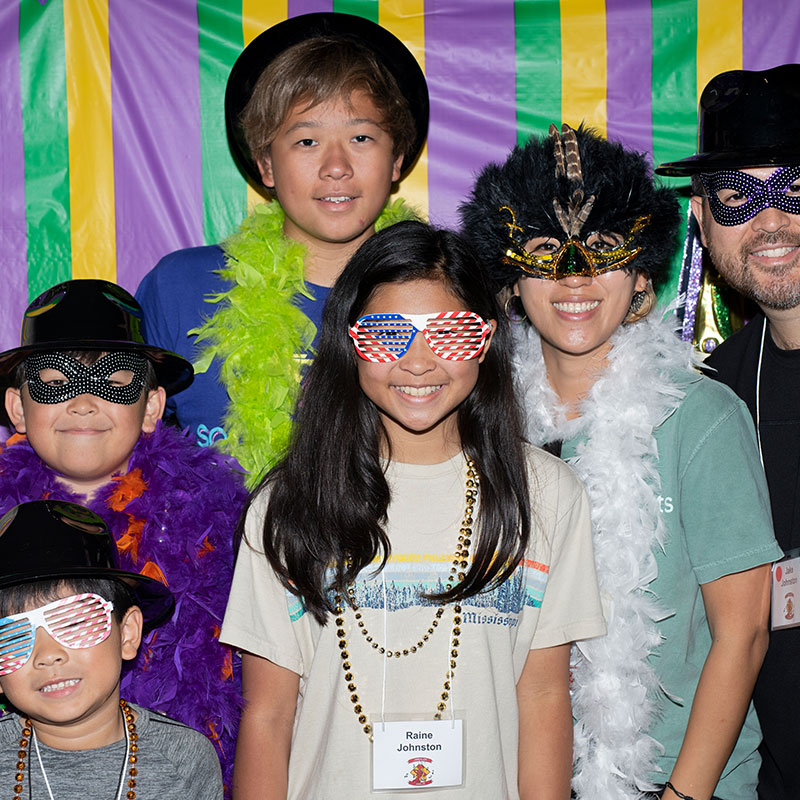 The goal of the camp is to empower families through education, encouragement, and enjoyment, helping families alleviate the frustration of chronic illness. 
Education: Camp Jambalaya Jubilee's adult small group meetings provide families with access to top pediatric rheumatologists from around the country, dentists, orthopedic surgeons, ENTs, nephrologists, cardiologists, hand surgeons, ophthalmologists, nurses, family therapists, physical therapists and occupational therapists. Parents learn about new research and medications, how to watch for signs and symptoms, and ways to work with the school system. Local organization TEAMS steps in here.
Encouragement: Camp Jambalaya Jubilee's small group counseling sessions give families the opportunity to talk with family therapists and address underlying issues, such as marital strife, siblings having feelings of neglect, or fears regarding the illness. These sessions have proven invaluable to fostering connections between families and healing strained relationships. Dr. George Wolcott has been involved from the beginning and brings a team of therapists each year to work with the families.
Enjoyment: Camp Jambalaya Jubilee's camp program for children includes a number of special needs accessible activities such as bowling, swimming, arcades, games, and arts and crafts. Because all children are able to participate in every activity, they experience a sense of normalcy, maybe for the first time. Parents report that children look forward to camp each year with great anticipation. Special family evening recreation is intended to facilitate relationship building between families. Activities include a Mardi Gras parade, an outdoor carnival, and an evening outing to places like the YMCA and Sci-Port.
Overall, families return to camp year after year to receive patient education, patient peer support, caregivers support and patient advocacy information—all critical needs within these families. They gain unprecedented access to doctors, surgeons, specialists, and therapists, all dedicated to helping them cope with the physical, emotional, and financial challenges of having a child or sibling with chronic illness. 
At the 30th anniversary of camp in 2022, 20 former campers (over age 18) participated, and the families learned about how far the medicines and treatments have come over the years. Several of these camp alumni are wheelchair bound which isn't the case for most newer patients due to the advancement in medical diagnosis and treatments. The former campers shared their stories of success and trials. Parents saw how their own children would be able to navigate adulthood with the illness.  
The other mission of Children and Arthritis is to help with early diagnosis of the condition through continuing education to medical practitioners, especially pediatricians who are the first point of contact for these children. The organization has hosted the medical Cassidy Conference: Advances in Pediatric Rheumatology. At the most recent in 2022, Willis- Knighton Health System was the presenting sponsor, in partnership with the 
Northwest Louisiana Pediatric Society, Pediatric Rheumatologists of the South (PROs), and Shriners Hospitals for Children-Shreveport, where the conference was held. The conference featured world-renowned faculty speakers. The conference was a chance for new and experienced pediatric rheumatologists and pediatricians to come together and share their knowledge of advances in infectious disease and pediatric rheumatology, allowing for new thought processes and innovative techniques.
The Cassidy Conference is named in memory of Dr. James T. Cassidy, an exceptional rheumatologist and professor who was considered "the father of pediatric rheumatology." Cassidy was internationally recognized for his work in pediatric rheumatology and wrote the first textbook, "Textbook of Pediatric Rheumatology."
Cassidy was an instructor and mentor to Pressly and was also instrumental in starting Camp Jambalaya Jubilee. 
childrenandarthritis.org